tagliatelle with mushrooms and asparagus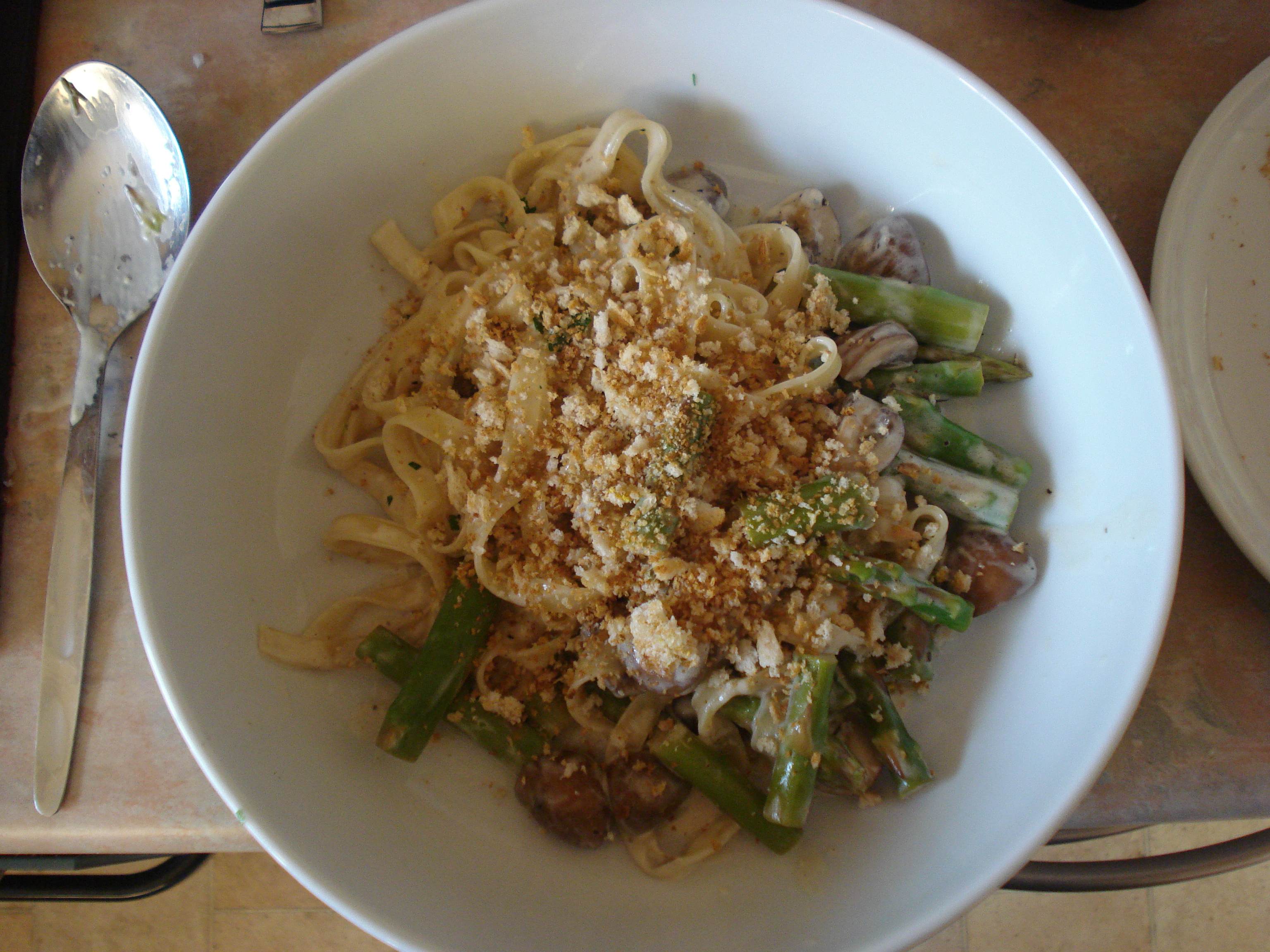 Well lookee here, another Ottolenghi recipe. And yes, it's from Plenty
, since you ask. It's one of those kind of throw-it-in pasta recipes that I like, where the sauce is made in the same time as the pasta boils. In Ottolenghi's original recipe it's not explicit but you work out that you need four pans going at once which is a little mean. I've simplified mine down so you have a far-more-acceptable 1 frying pan + 1 saucepan combo. The crunch provided by the breadcrumb topping is a winner, I will certainly use it elsewhere.
Based on Yotam Ottolenghi's crunchy pappardelle recipe.
Tagliatelle with mushrooms and asparagus (serves 2):
Handful of breadcrumbs
Zest of 1 lemon
1 garlic clove, grated
4 tagliatelle nests
Small bundle of asparagus, chopped into pieces
250g chestnut mushrooms, quartered
3 thyme sprigs, leaves picked
100ml white wine
150ml double cream
A tablespoon of chopped parsley
Combine the breadcrumbs, garlic and lemon and fry in a hot, dry pan until the breadcrumbs are browned and toasted. Toss often to ensure they don't catch on one side. Remove from the pan to one side and wipe it down with kitchen towel.
In the same pan, add a little olive oil and fry the mushrooms and thyme until they start to soften. When tender add the white wine and bubble hard until this reduces by half.
Boil the pasta according to the packet instructions. When there's 4 minutes to go, chuck in the asparagus pieces. Drain the lot together but reserve a little cooking water.
Back in the pan, add the cream and allow to come to a simmer. Check for seasoning and add a splash of pasta water, then stir the lot together thoroughly so the sauce coats the pasta and asparagus. Chuck on some parsley and serve topped with the crispy breadcrumbs.