after dinner mints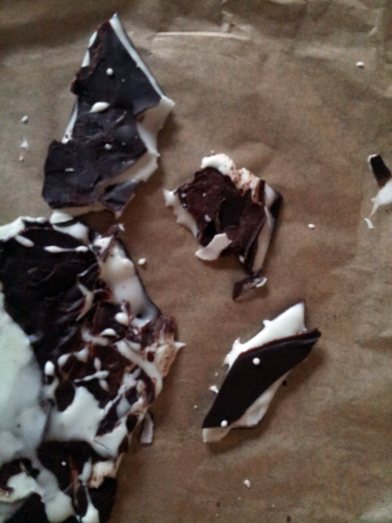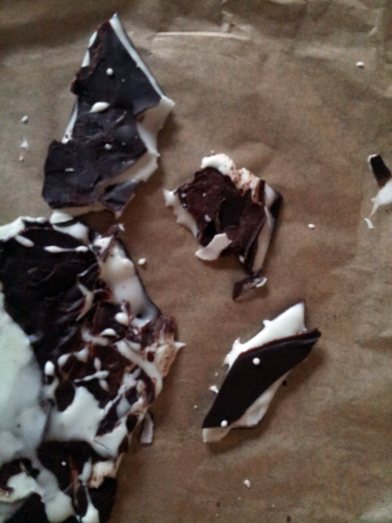 When food ideas strike me, I can't let them go. Such as my idea to make After-Eight style mints. The experiment was pretty good, but of all things to get wrong, I got the chocolate wrong. I used some of Willie's 100% cacao and it was just too bitter for the mint. Find a piece where the chocolate was wafer-thin and it was great, so it was nearly there. Just stick to a 70%er.
After dinner mints (makes a giant slab the size of your baking tray):
200g dark chocolate
1 egg white
200g icing sugar
1 tablespoon peppermint essence
A few drops green food colouring
Melt half the chocolate in a bain marie. While it melts line a baking tray (roughly 15cm x 25cm) with greaseproof paper and pop in the freezer. Once the chocolate has melted pour in a thin layer across the paper and pop back in the freezer.
Make a fondant by mixing the egg white and sugar into a paste. Add the peppermint and taste to see if it needs a little more. Stir in some food colouring to give it a very faint hue. Pour this mixture over the chocolate.
Melt the remaining chocolate and pour that over the top of the mint. Allow to set in the freezer for at least an hour, after which time you can store in the fridge. Allow people to snap off a piece as they like. Goes great with strong coffee.