apple pancakes
Pancakes for breakfast are the perfect Sunday treat. Usually the whole family gets involved, someone peels apples, someone cracks eggs, someone whisks up the batter and someone cooks. I can almost pass it off as healthy when there's fruit involved… OK, maybe not. The presence of apples here is bittersweet against the tang of Greek yoghurt and the sticky sweetness of maple syrup, all soaked up with a fluffy pancake.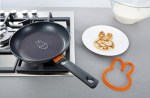 There's nothing wrong with the accepted crêpe-style pancake on Shrove Tuesday, but for a change you could do worse than these more American types. And while you're thumbing your nose at tradition check out this amusing Miffy pancake and mould. The mould plops out pretty rabbit heads! Apologies for the self-indulgence but my 3 year old would go absolutely bananas (sorry, apples) for this, given that she sleeps in a Miffy bed-spread clutching her Miffy rabbit nearly as big as her, after being put to bed with a Miffy story.
If you can't get hold of one of those, a round pancake would be just as good. Just don't let my daughter know they come in rabbit-shapes or she'll never eat anything else.
Apple pancakes:
1 apple per person, peeled and diced
1 tablespoon sugar
Knob of butter
Pinch of cinnamon
A mugful each of flour and milk
1 egg
Greek yoghurt and maple syrup to serve
Get the apples going by melting the butter and sugar together in a pan, then adding the cinnamon and apples. Toss the apples in the flavoured butter but be careful not to stir too much – you don't want apple sauce. Keep cooking gently until they are tender and then keep warm. You may wish to add a little more or less sugar depending on the variety of apple you've used.
Whisk the flour, milk and egg together with a pinch each of sugar and salt until smooth.
Melt a little butter in a pan and ladle in some pancake mixture – it should spread to about 10cm across. Continue to cook until browned on one side, then flip.
Serve the apples on top of the pancakes, dollop over some Greek yoghurt and drizzle with maple syrup.