baked penne with bacon and porcini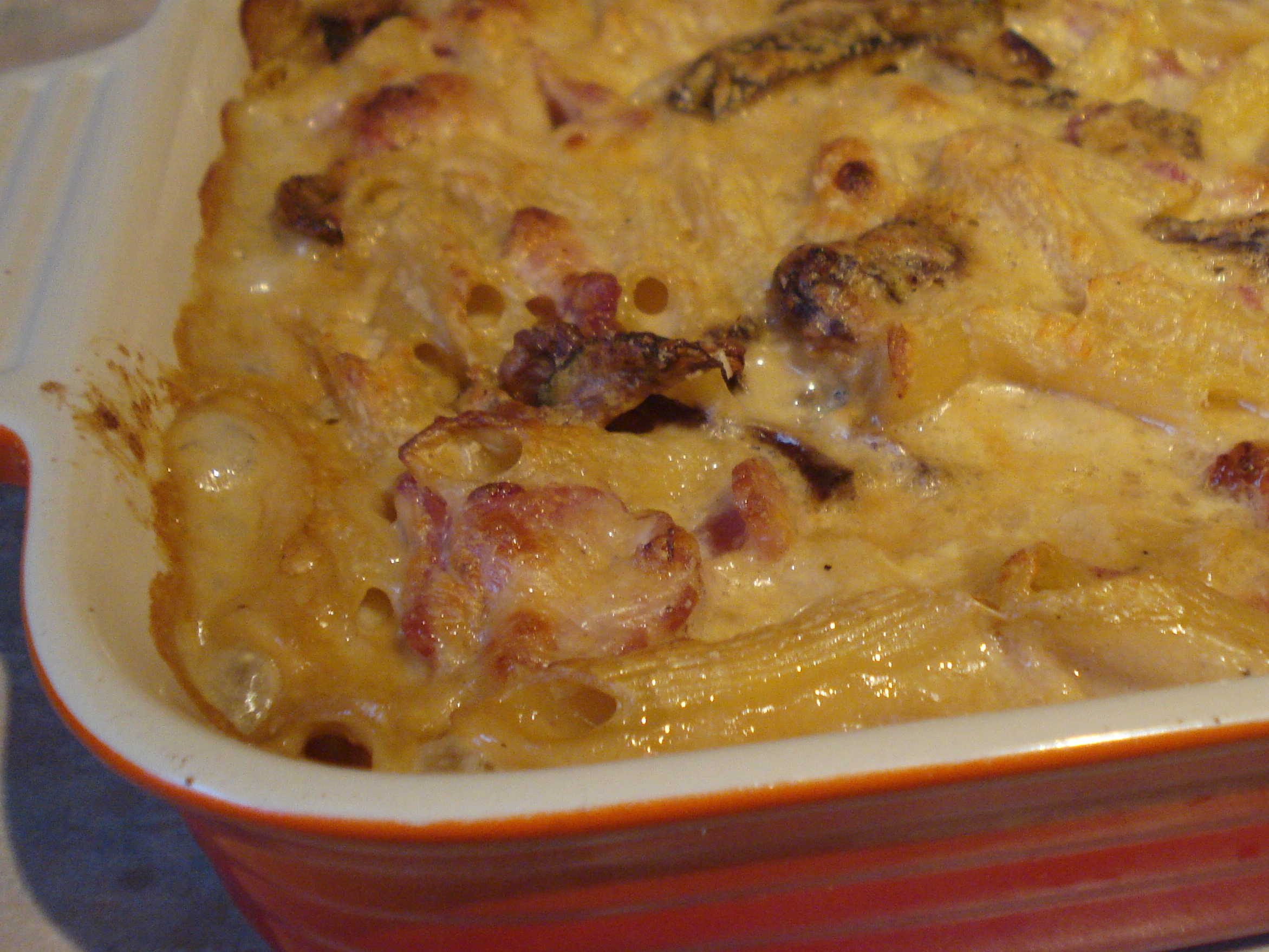 I'd heard excited whispers on Twitter about a new BBC programme from Simon Hopkinson called The Good Cook. His name was only distantly familiar to me; I wasn't directly aware of him.
So I sat down to watch it with little expectation. I became an instant convert. Simple, honest food that is achievable, excellent and done with love.
Just about everything featured is worth cooking, in a programme refreshingly devoid of format, gimmick or travelogue. Only the tiniest scraps of production remain: incessant overuse of funky chart hits, just because the BBC can; and occasional 30 second jaunts to far-flung places showing stock footage of people making cheese.
These are minor quibbles against the brilliance of Simon's own natural easy going charm and obvious skill. His effortless style makes everything look easy and worth trying. So I've started with this, a luscious and rich pasta bake with a few small changes down to what I had lurking around waiting to be used up. It's absolutely tremendous and really easy. It even encourages the all-in-one roux method which works like a dream to produce a silky and slurpable sauce. Please run to your storecupboards and try it now. You must have some of those dried mushrooms in there somewhere, right?
Simon's original recipe can be found here.
Baked penne with bacon and porcini (serves 2):
500ml milk
20g dried porcini mushrooms
40g butter
25g flour
140g penne
6 rashers streaky bacon, diced
A couple of tablespoons grated parmesan
Preheat the oven to 180°C. Pop the mushrooms and milk in a pan and bring to a simmer, then turn off the heat and leave to infuse for 10 minutes.
Meanwhile make the sauce. Melt the butter in a pan and stir in the flour. Keep it moving about for a minute to cook out the floury taste. Sieve off the milk then add it to the roux in one go whisking all the time. When smooth keep on a gentle heat for 10 minutes, whisking occasionally and allowing to thicken. Check for seasoning towards the end of the cooking time.
Get the pasta on to cook according to the packet instructions. When done, throw the pasta, mushrooms, bacon and a third of the parmesan into the sauce and toss really well to get everything coated. Turn out into a baking dish, add another third of parmesan and bake for 30 mins until bubbling. Top with the remaining parmesan to serve.