cheddar frittata with zingy balsamic rocket salad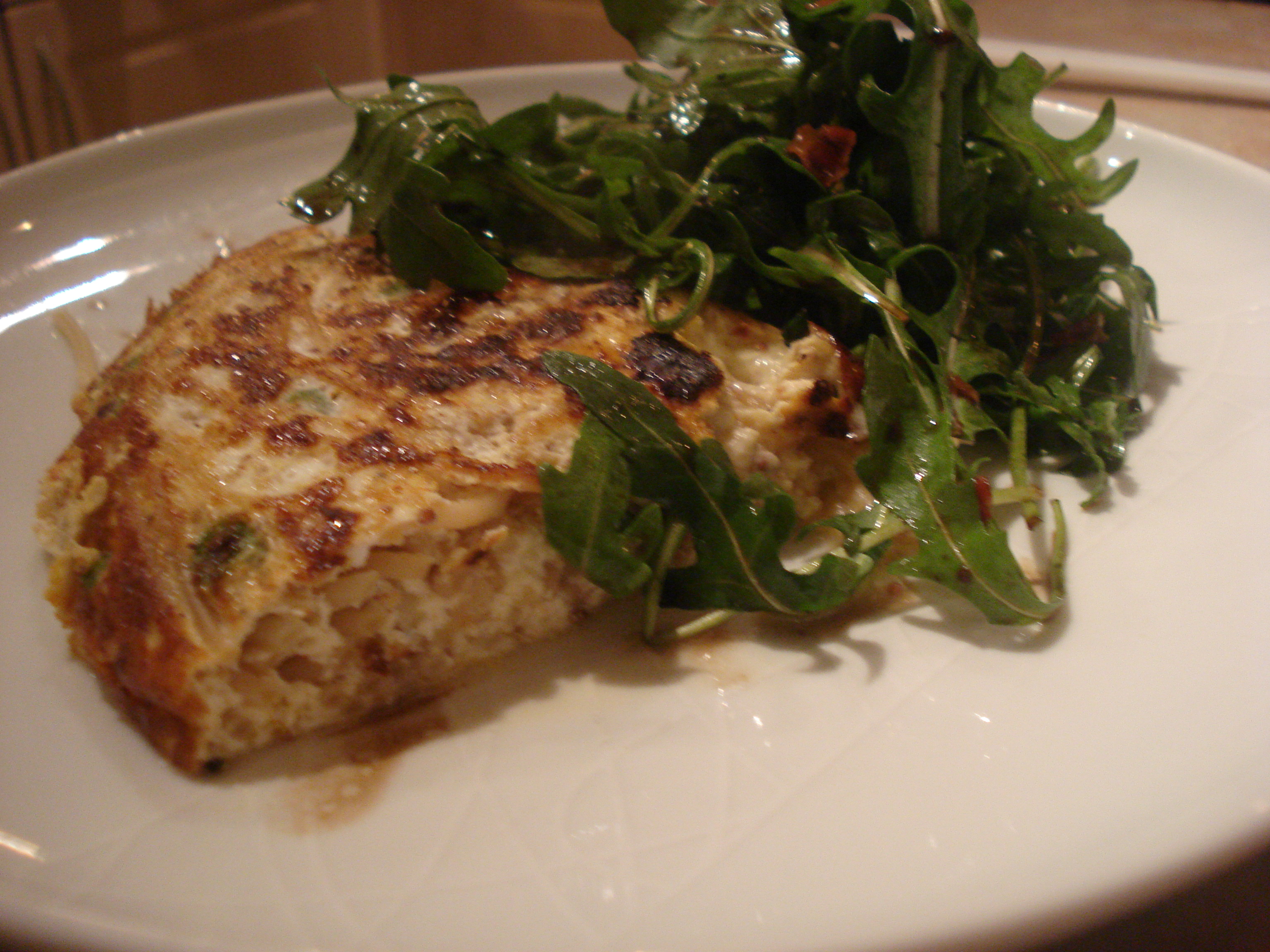 Just a quick, cheap and cheerful dinner. A simple and humble cheddar frittata with leftover spaghetti, plus a punchy salad on the side (gleefully stolen from Jamie's 30 Minute Meals
). The dressing is dynamite, really sweetly acidic with a lemony punch.
Cheddar frittata with zingy balsamic rocket salad (serves 2):
For the frittata:
4 eggs
100g cheddar
150g spaghetti
½ teaspoon smoked paprika
For the salad:
2 slices pancetta
1 clove garlic
1 tablespoon fennel seeds
2 tablespoons balsamic vinegar
½ a lemon
Cook the spaghetti according to the packet instructions. Drain and rinse with cold water to stop the cooking once it's done. Get the grill on hot and a frying pan over a medium heat.
Whisk the eggs briskly in a large bowl, with salt, pepper and the paprika. Stir in the cheese and add to a large frying pan. After a minute or so add the spaghetti.
Cook for 4 to 5 minutes until the egg has set around the sides, then transfer to under the grill until the top has browned and set in the middle.
While the omelette cooks get the pancetta into an empty frying pan and the squashed, unpeeled clove of garlic. Once the pancetta's cooked on one side flip over and add the fennel seeds. Push everything to one side of the pan and tip it slightly. All the fat should run to this side, into which you should add the balsamic vinegar and a twist of pepper. After a minute add the squeezed lemon then pour the lot on to the salad leaves.
Toss the salad well and serve with a wedge of frittata.