crunchy summer salad

Sainsbury's are wanting to inspire the nation to be more creative with their vegetables after seeing a massive upturn in sales of vegetables with Avocado (147%), asparagus spears (118%), broccoli (40%), courgettes (30%) and bunched beetroot (25%) leading the way. I do love a salad, but it's a bit easy just to get a plastic bag of leaves, slice a tomato and say we're done. There's so much more that can go in a salad though!
Inspired by their "vegetable butcher" Amber Locke I felt like giving it a go too. I am a recent convert to spiralizing veg and have been going all out to make curly-wurly courgettes. I've been trying out the Savisto tabletop model and Lakeland hand-held models lately – look for more detailed reviews in a future post. If you don't have a spiralizer, just slice the ingredients finely on the cutter side of a box grater or mandoline.
Combined with lightly pickled cucumber to make the base of a dressing and freshly grilled asparagus this salad celebrates plenty of vegetables and would be a vibrant accompaniment to a barbecue.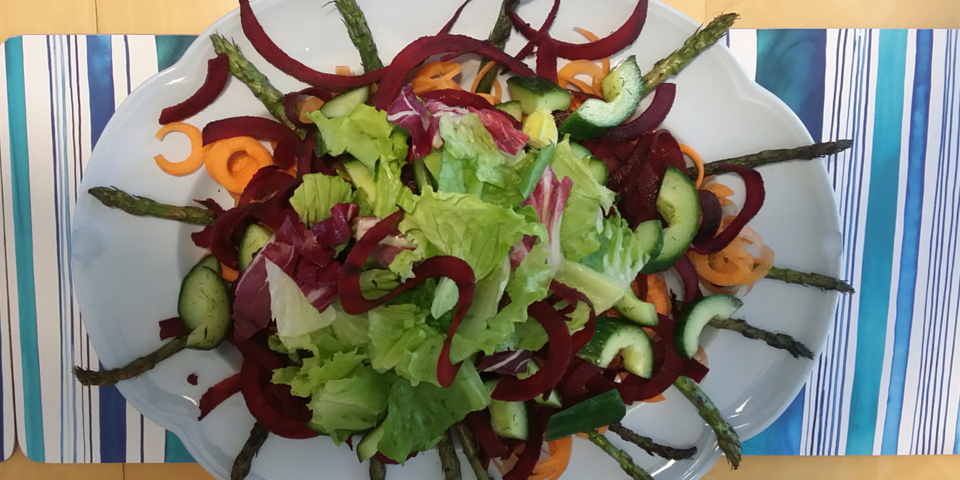 Sainsbury's contributed to the ingredients for this recipe.

crunchy summer salad
Ingredients
For the pickle:
20

ml

white wine vinegar

1

teaspoon

sugar

1/2

teaspoon

salt

1/2

teaspoon

dried dill
The veg:
2

beetroots

2

carrots

1/2

cucumber

1

romaine lettuce

1

raddichio

1

tablespoon

mixed seeds
Instructions
Mix the pickle ingredients together. Slice the cucumber lengthways and use a teaspoon to scoop out the seeds. Chop diagonally and leave in the marinade while you get everything else ready.

Grill or barbecue the asparagus for ten minutes, or until wrinkled and blackened.

Lay the asparagus on a serving plate. Spiralize or slice the beetroot and carrot and lay on top. Remove the cucumber from the marinade (reserving the liquid) and add this. Shred the lettuces and top the salad. Scatter mixed seeds over the top.

Whisk a tablespoon of extra virgin olive oil into the pickle mix, and drizzle over the salad.