deep fried crispy pork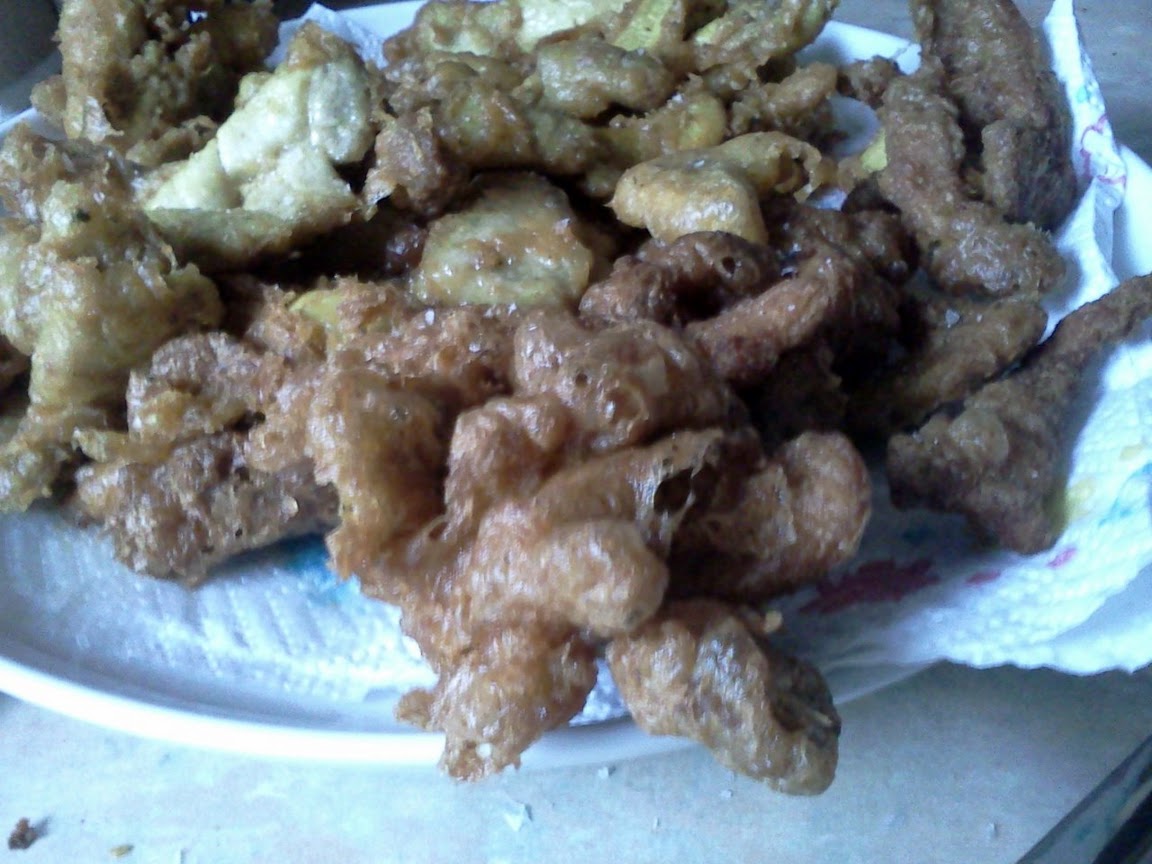 Being interested in all things food mean I read a whole bunch of other blogs. Today Google Reader says I subscribe to 81 food-related RSS feeds. They range from bylined journalist columns to people just starting to write up their first things that I like the look of. On any given day a  rolodex of recipes rolls past me from all over the globe.
Someone I've recently latched on to is Going With My Gut. She's been posting about a recent nose-to-tail pig butchery day and the latest post featured some crispy fried pork chops. Deep frying a really fatty piece of meat sounds insane. AND GREAT. So I did something similar, using lean pork and sliced thin like the Chinese takeaway classic deep-fried crispy beef.
It's a little sickly so don't serve too much of it. Very tasty though.
Deep fried crispy pork (serves 4):
2 tablespoons flour
1 teaspoon smoked paprika
½ teaspoon baking powder
1 egg, beaten
6 pork loin steaks, sliced into skinny pieces the size of your little finger
1 teaspoon dried marjoram
300ml chicken stock
1 litre vegetable oil
First make the batter. Mix the flour, paprika and baking powder together with a pinch of salt. Stir in the beaten egg and add enough water to slacken to the consistency of double cream. Pop in the fridge until ready to use.
Put a frying pan on a medium heat, and a pan with the vegetable oil on a very high heat. On a large chopping board sprinkle salt, pepper and marjoram. Roll the pork shreds in this mix so they are well coated. Add a splash of oil to the frying pan then fry the pork in batches. If you've cut them small enough you should only need to cook for a couple of minutes on each side until they are white all over.
While the veg oil is getting smoking hot, add about a teaspoon of flour to the frying pan and stir well. Deglaze with the stock and allow to bubble away while you deep-fry the pork.
Once the oil is smoking, dip the pork in the batter and straight into the pan. It will go golden brown in about 30 seconds, so fry in batches and drain on kitchen paper. Sprinkle with sea salt and serve with the reduced chicken stock sauce.