eggless pancakes with coffee syrup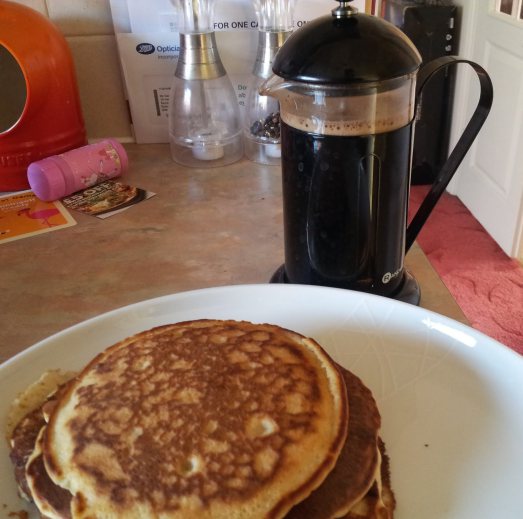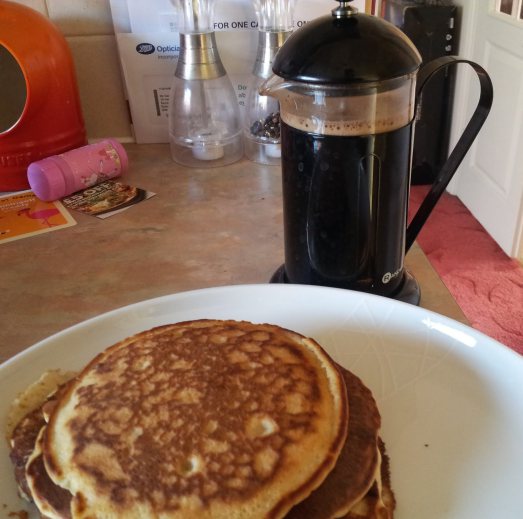 I'm a big fan of coffee. I'm pretty sure I was drinking coffee from when I was about 5 years old, which I'm not sure is particularly appropriate but has led to a lifelong love affair. Sunday mornings meant a pot of filter on, and everywhere I worked I've kickstarted a coffee club. When Puro Fairtrade sent me some samples of their Fairtrade coffee brands, I wasted no time in trying it out.
Puro are a brand that believe passionately in ethically produced coffee. There's an absolute wealth of material on their site, including videos of the farmers, working with South African farmers, schools and forestry. You can't deny the moral background to their operation. Go check out the videos.
The coffees themselves? The Noble was rich and dark, with a satisfying sweetness. I found the Fuerte a little bland, while it had a kick it was difficult to distinguish any real subtelty from it. For this recipe I've used the much more satisfying, chocolatey Organic for this syrup, and paired it with an chocolate chip pancake.
I had no eggs in the house for this American-style pancake recipe. Oddly, the texture was no different from when I'd used eggs, so I probably won't bother in future. The dark and sweet coffee syrup slathers nicely over the dense, fluffy pancakes. A perfect springtime treat, especially with some blueberries in there too for a little sharpness.
Want more pancake inspiration? Try this one from Voucherbox
Eggless pancakes with coffee syrup (makes about 6 – 10):
For the pancakes:
150g flour
1 teaspoon baking powder
10g sugar
Pinch salt
20g dark chocolate, chopped
1 teaspoon vanilla paste
1 tablespoon water
Whole milk
Large knob of butter
For the syrup:
300ml coffee
150g caster sugar
First make the syrup. Heat the coffee and sugar together in a saucepan. Boil fast until it has reduced by half. I pour mine into a cafetiere to cool and I think it's kinda cute to serve it from there too.
Get a frying pan over a medium heat. For the pancake batter, mix all the dry ingredients, then add the vanilla, water and enough milk to make a thick, gloopy batter. Melt the butter in your frying pan and pour this back into the mix (the remaining grease in the pan will be just enough to cook your pancakes). Ladle in the batter and cook until bubbling on the raw side. Flip and cook until browned on the other side. Keep warm on a hot plate until the rest are cooked.