garlic and bacon potato gratin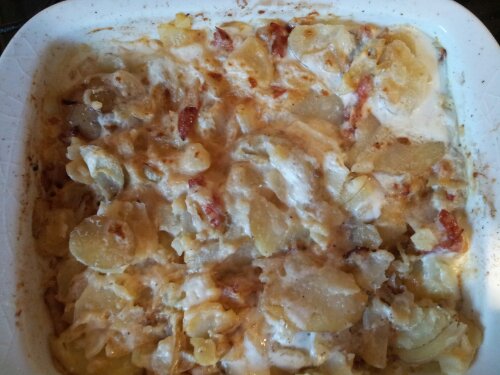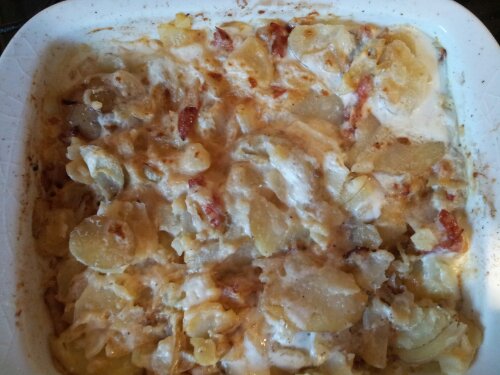 We get through buckets of mayonnaise in this house. I kinda like it – particularly with store-bought pizza for reasons I don't understand – but the rest of the family demolish it. If my son was asked the legendary question: "you're handed a sausage sandwich. Will it be red sauce, brown sauce, or no sauce at all?" he'd reply mayonnaise in a heartbeat.
So to receive some samples from Hellman's of their flavoured mayonnaises was set upon by the family quite quickly. First the packaging – there's much made on TV of their no-mess resealing cap. And sure enough it works a treat. As long as you don't mind sacrificing a third of the bottle. By the time you work your way down there the rest refuses to come out. I took a knife to it to free the captive condiment. But what about the taste?
There was a black pepper one which I found nice and prickly, and worked really well in a ham salad wrap. But the garlic one was disappointing – slightly tangy but not flavoured with garlic at all. So that's why it ended up in this gratin.
This type of recipe works great as a side dish, or can be had with a simple salad on the side.
Garlic and potato gratin (serves 2):
5 – 6 medium sized floury potatoes, cut into thick coins. Peeling optional
1 onion, sliced (I used frozen ready-sliced onions)
2 rashers smoked streaky bacon, chopped
5 tablespoons garlic mayonnaise
Milk
A little grated parmesan
Preheat the grill to high. Get a large pan of salted water on to boil and add the potatoes. Simmer for 10 minutes or until just tender.
While the potatoes cook, fry the onions and bacon in a pan with a little oil until the bacon has coloured and onions softening.
Drain the potatoes and add to the onion and bacon pan, seasoning as you go. In a shallow dish mix the mayonnaise with a little milk until you get a creamy dressing, and then stir the onion, bacon and potatoes through it until well coated. Grate a little parmesan over the top and put under the grill until golden.