hungarian pork chops with cabbage and swede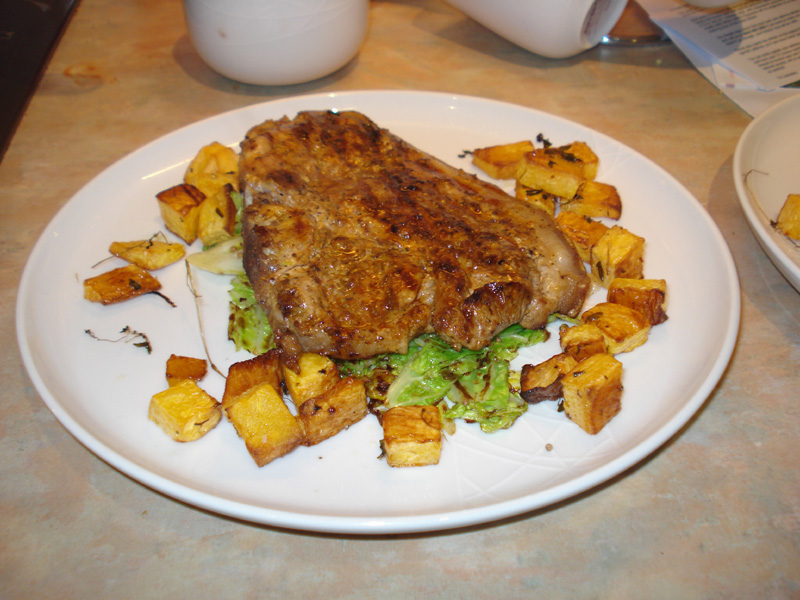 Yet another Jamie winner, and yet another triumph from my friendly neighbourhood butcher. There's three distinct parts here: pork chop, spicy cabbage, and roast swede.
Swede first: peeled and diced, tossed with salt, pepper, oil and thyme, left to roast for 45 mins.
Then the pork. I made a rub first by grinding fennel seeds, paprika, salt and pepper together in my two-ton pestle and mortar (must pic that some day), and then pressing all over my beautiful pink pork chops. Then on to a nice hot griddle, ten minutes all told, turning every couple of minutes.
When the pork was done and resting (crucial for those flavours and juices to return throughout the meat), it was time for the cabbage. I heated some oil in a hot pan, then added mustard seeds, cayenne pepper and sliced garlic until the seeds were popping out of the pan. Then shredded cabbage was quickly added and tossed in the pan until it caught slightly, blackening the edges.
It was lovely – juicy flesh, with aniseedy flavours hitting you immediately then giving way to the smoky-sweet paprika. The cabbage and swede were great counters to both of these. Enjoyed this a lot.