lamb koftas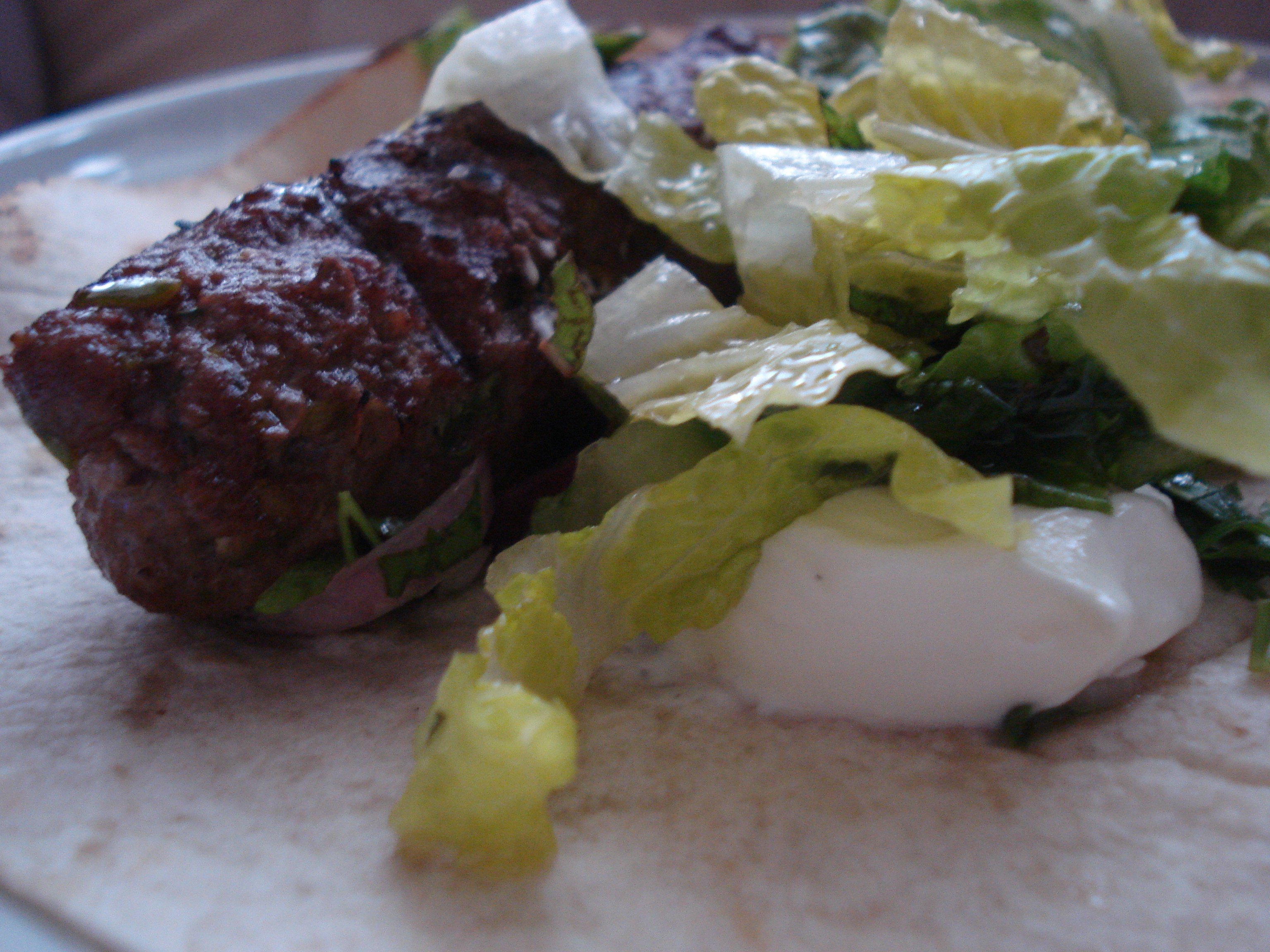 With the advent of shallots in my garden, I wanted something to really show them off. And with some lamb mince in the freezer, this recipe from Jamie at Home
seemed perfect. So Summery too. I agreed with Alex over at JustCookIt that lamb and bread are destined to be together, especially if both are barbecued. A kebab with a crisp outside, a soft middle and plenty of spicy flavours is absolutely perfect. The onions? Crunchy and sweet, the perfect compliment.
Jamie's original recipe can be found here.
Lamb koftas:
500g lamb mince
2 tablespoons fresh thyme leaves
1 teaspoon ground chilli
1 tablespoon ground cumin
1 lemon
A good handful of shelled pistachio nuts bashed up a bit
2 large cos, shredded
Small bunch fresh mint, chopped
Handful of chopped shallots
Bunch of fresh parsley
Splash of white wine vinegar
4 tortillas
4 tablespoons creme fraiche
Mix the lamb with thyme, chilli, cumin, grated lemon zest and pistachios, seasoning well. Grab some skewers and squish handfuls of the meat around a skewer, really clamping to form sausage shapes. Chill until needed.
Cover the onion and parsley with vinegar and a pinch of salt and leave while you get on with everything else.
Brush the kebabs with a little oil and grill (or barbecue, preferably) on all sides until browned. Leave to rest a couple of minutes while you get on with the salad.
Combine the cos and mint and dress with extra virgin olive oil and lemon juice, adding salt and pepper as necessary.
Chuck the tortillas on the BBQ for about a minute, then turn over and grill until puffed up. Slap the tortilla on the plate, pile on some salad and top with the lamb. Scrunch the onions in your hand to remove the excess juice and throw over the kebabs. Devour in the sunshine.