lamb tikka with artichoke alla romana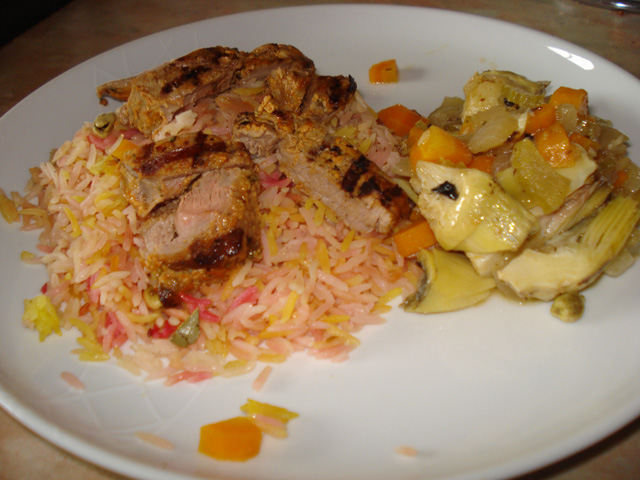 Indian meat and carbs with an Italian side dish may not appear to go; but there's room for them to meet in the middle somewhere. The key is that the meat's not too spicy and the vegetables are well-flavoured.
I had some leftover tikka paste and decided to use it on some juicy lamb leg steaks. I marinated them in a blend of paste and creme fraiche overnight. Heston Blumenthal performed some study into yoghurt-based marinades when researching In Search Of Perfection's Chicken Tikka Masala. He proved that using yoghurt in the marinade gave much deeper flavour penetration than just the marinade on its own. There's some disagreement why; all that matters is it works!
For the artichoke, I was inspired by the gregarious Valentine Warner and his current series of What To Eat Now. I've pretty much followed his recipe to the letter, save for using pre-grilled artichokes and adding them at the last minute rather than cooking from the beginning, and adding a dash of white wine vinegar to amp up the sharp note. These simmered away in a pot while I got on with griddling lamb and cooking rice. I seared the lamb on once side, then turned it over and left to finish in the oven.
The artichoke was very nice indeed – the firm meaty texture of artichoke giving way to sweet and perfumed vegetables, with a little vinegary kick at the end. The lamb was spicy and juicy, with the rice providing a comforting backdrop to it all. Very tasty – I will probably bring the artichoke out another time as a hearty side-dish.