mint choc chip ice cream

Ice cream: everyone has their favourite. Vanilla, chocolate, strawberry, pistachio, lemon… when you get me in front of an ice cream vendor there's only one choice for me: mint choc chip ice cream. The freshness and the bitter dark chocolate is a sensational combination.
Did you know July is national ice cream month? Given how hot it's been it's not like we've needed the excuse! But here's my version of mint choc chip ice cream, but be warned it's not toothpaste-zingy, it's sweet and herby – a very grown-up flavour.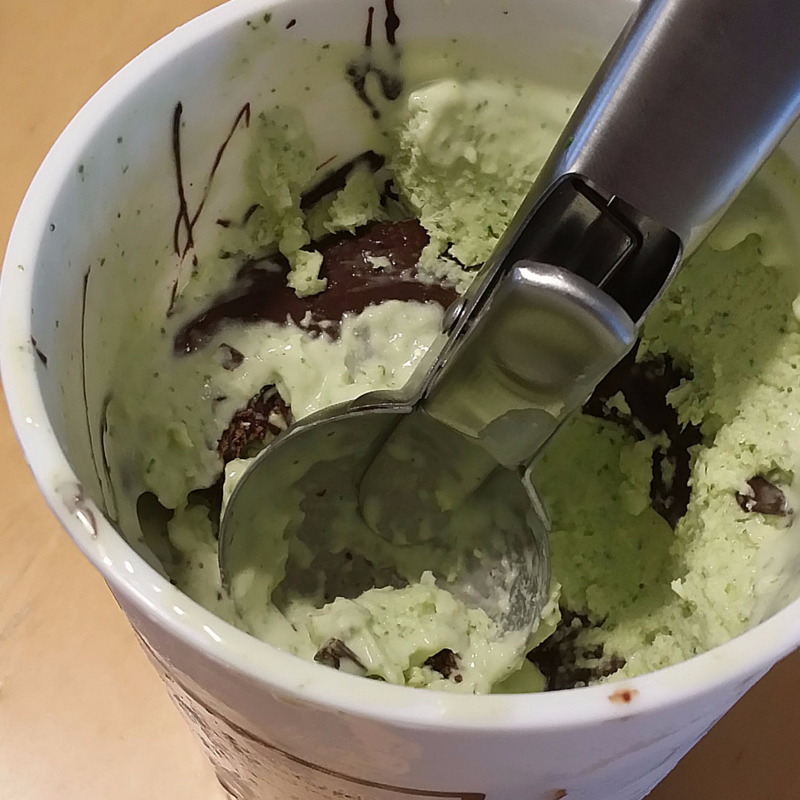 This is made using the Sage by Heston Smart Scoop Ice Cream Maker. I've been using this for months and it's one of the best gadgets I've ever owned. Ever!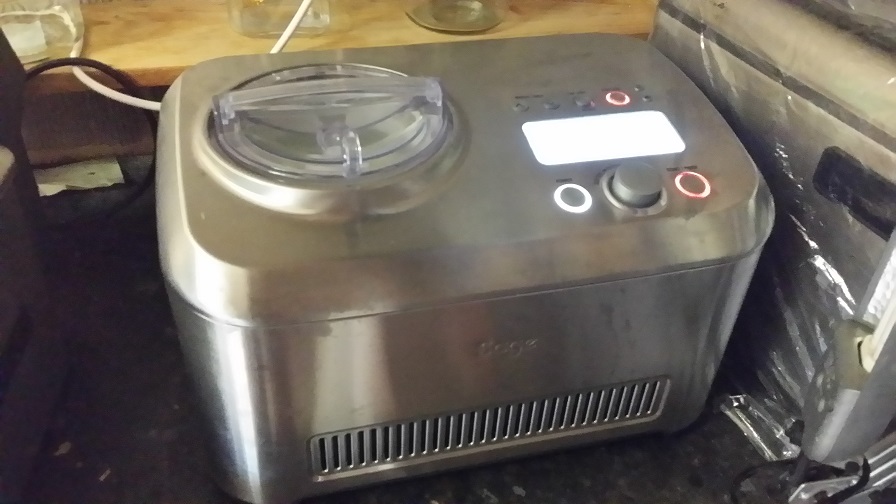 This one does it all. It doesn't have a separate bowl that you pre-freeze, and can prepare a range of desserts from gelato to sorbet to ice cream. You can set it off to get cold before you add your custard base so that you start churning from a chilly -30°. This means your ice cream sets faster and therefore smoother. Setting to a firm ice cream takes around 60 minutes if the machine is already cold.
Here's a video of the machine around the end of it's cycle:
Sadly I didn't capture the best bit: when the machine is finished it twinkles a little tune just like your ice cream van plays. So cute!
It's a beast of a machine and makes a noise when it's working, and it's not cheap. But it really is a top-class gadget and if ice cream is as popular in your house as it is in mine, then it's a worthy investment.
If you don't want to make it in an ice cream machine, you can pour the custard into a container and mix with a fork every hour or so.
Thanks to Sage by Heston for the machine, and they also helped buy some ingredients.
Buy the Sage by Heston Smart Scoop from Amazon
Want more ice cream goodness? Check out Kavey's BSFIC!

mint choc chip ice cream
Ingredients
60

g

mint leaves

picked

300

ml

double cream

600

ml

whole milk

6

egg yolks

150

g

caster sugar

100

g

dark chocolate

melted
Instructions
Bring the mint leaves, cream and milk to a simmer and once hot turn off the heat. In a separate bowl whisk the egg yolks and sugar together until pale and fluffy. Pour the minty cream over the egg slowly, whisking all the time.

Strain off the mint leaves into a blender and whizz until pureed. Add back to the cream and put back over a gentle heat. Stir constantly with a wooden spoon until it coats the back of the spoon.

Transfer to an ice cream machine and churn until done. In a container, add a few tablespoons of melted chocolate, then top with ice cream. Repeat the layering, lasagne-style until all the mix is used up. Freeze for a further hour so the chocolate is set.