hairy bikers' key lime pie
They get an awful lot of stick, but apart from the odd over-produced segment the Hairy Bikers collate an awful lot of good recipes. And always make it look dead easy. Their recent series Mums Know Best
, an attempt to ensure family recipes stay in the loop, had a great selection of dishes framed with a gaudily awful village fete theme. Once recipe really made me sit up though – a Key Lime Pie but with the crucial twist of an Oreo biscuit base.
Oreos aren't that famous over here although they're getting there. I went to America in 1987 and was dazzled by this not-too-sweet-cousin-of-Bourbon, and was jumping up and down with glee when the pound shop (of all places) got a load in 1998. I nearly bought the whole store supply. I'm still a big fan so using them as a base instead of borin' old digestives meant I had to try it out. It breaks down to an Oreo base, a limey egg custard filling and a dense baked meringue topping.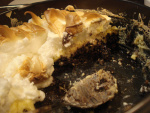 I'd read on this blog that the filling could be quite tart, so I took heed and tasted before baking and added a dash of sugar as required. I think even without it wouldn't be too sour so watch for the strength of the limes you buy. Out of the oven it was delight though: crisp, fluffy meringue; tart, citrussy filling and a moist, rich dark biscuit base. It was a real sweet-tooth's joy and I'll certainly bring it out again.
The Hairy Bikers' original recipe can be found here, which curiously omits it's USP – the Oreo! Product placement rules perhaps?
Key Lime Pie:
154g Oreo biscuits, crushed
80g butter, melted
4 medium eggs, separated
2 limes
1 tin condensed milk
80g caster sugar
½ teaspoon vanilla extract
½ teaspoon cream of tartar
Pre-heat the oven to 180°C.
Mix the biscuits and butter together thoroughly and press into a cake tin. Leave in the fridge to harden while you do everything else.
Whisk the egg yolks until light and fluffy, then add the lime zest, the juice and the condensed milk. Whisk a little more to loosen and combine, then pour this on top of the biscuit.
Whisk the egg whites until soft peaks form, then gradually add the sugar, vanilla and cream of tartar. Continue whisking until it reaches firm peaks.
Spoon the egg white on top of the pie and use a spoon or fork to raise ribbons on the surface. Chuck in the oven and bake for 20 minutes or until the top is golden brown.
Remove from the oven, allow to cool and refrigerate until needed – the flavours are much better cold.