minted lamb naan burger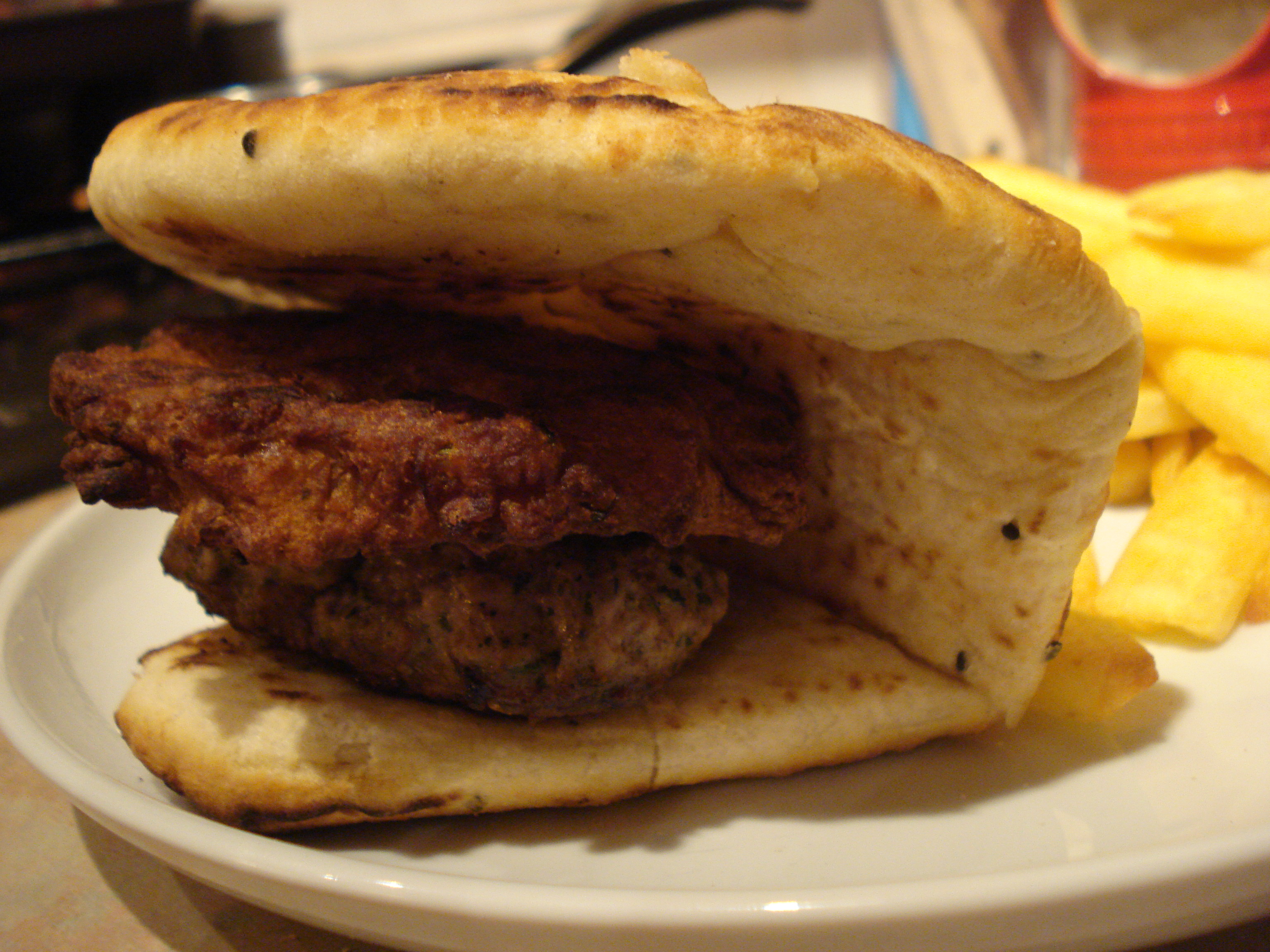 This is probably the chavviest thing I have ever cooked. But by God it made me smile. It's a minted lamb patty and onion bhaji, wrapped in a naan and dolloped with curry sauce.
I can't claim credit for inventing it – but after receiving a voucher for a local Hungry Horse and a spare afternoon, I decided to pop in. Described on the menu as the "Bollywood Burger" I couldn't resist such an audacious setup. I was amazed how interesting it tasted, and well worth trying at home.
Minted lamb naan burger (makes 4 burgers):
300g lamb mince
Big bunch of mint, finely shredded
1 onion, sliced into half moons
1 tablespoon white wine vinegar
4 shop-bought flat onion bhajis (or make 'em, if you're so inclined)
4 naan
Pre-heat the oven to 150°C.
Grab a quarter of the mint and combine in a bowl with the onion and a pinch each of salt and sugar. Tip over the vinegar and leave to sit while you do everything else.
Mix the lamb mince with the remaining mint and season well. Add a splash of balsamic vinegar if you have it. Combine and form into patties.
Pop the bhajis in the oven to crisp up and chuck the naan in too to warm through.
Get a griddle pan on hot and fry the patties on each side until cooked to your liking. I prefer a little under, about 6 minutes each side.
Scrunch the onion salad with your hands to remove the excess juice and pop on to your plates.
Slip the bhajis and a patty inside a folded naan. Serve with curry sauce and mango chutney.