penne with roast cauliflower, burnt onion and salami

I was going away at the weekend, so there was no sense in getting a weekly shop in. So I had to improvise.
So what have I got in the fridge?
… half an onion … a few slices of salami … half a cauliflower … half a tub of mascarpone …
It wasn't looking promising but I was in an experimental mood. A bit of searing, a bit of simmering… and whaddya know? A half-decent dinner!
Never let a near-empty fridge put you off. It goes to show how forgiving a pasta dish can be if you have a few strong flavours to back you up.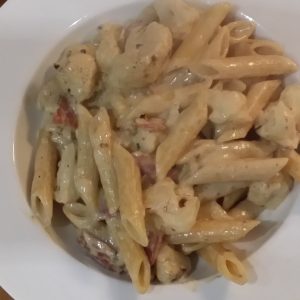 penne with roast cauliflower, burnt onion and salami
Ingredients
1/2

onion

1/2

head

cauliflower

1

teaspoon

fennel seeds

5

slices

salami

roughly chopped

1

clove

garlic

crushed

200

g

mascarpone

200

g

penne

parmesan

grated to taste
Instructions
Get a frying pan on very hot. Get a pan of salted water on to boil.

In a baking tray, break up the cauliflower to even-sized florets. With a blowtorch caramelize the cauliflower on all sides. (If you don't have a blowtorch, put in a hot oven for 30 minutes before continuing.

Get your pasta and the caramelized cauliflower together on to boil, but stop it one minute short of done - you'll finish cooking it in the sauce. Make sure you also save a mugful of the cooking water when it's nearly done, the starchiness will help make a binding sauce.

Break the onion into leaves into the pan. Don't stir them around, but leave them to sit until they start to burn one side. When this happens, add in the fennel seeds and toss gently. After another minute add a splash of olive oil, salami and garlic.

After another minute of stir frying add a splash of the cooking water and the mascarpone. Stir thoroughly to break down the cheese, then add the pasta and cauliflower. Add a little more cooking water if it needs slaking - you want a consistency approaching single cream. Season to taste and serve, finishing with parmesan.