pesto pizza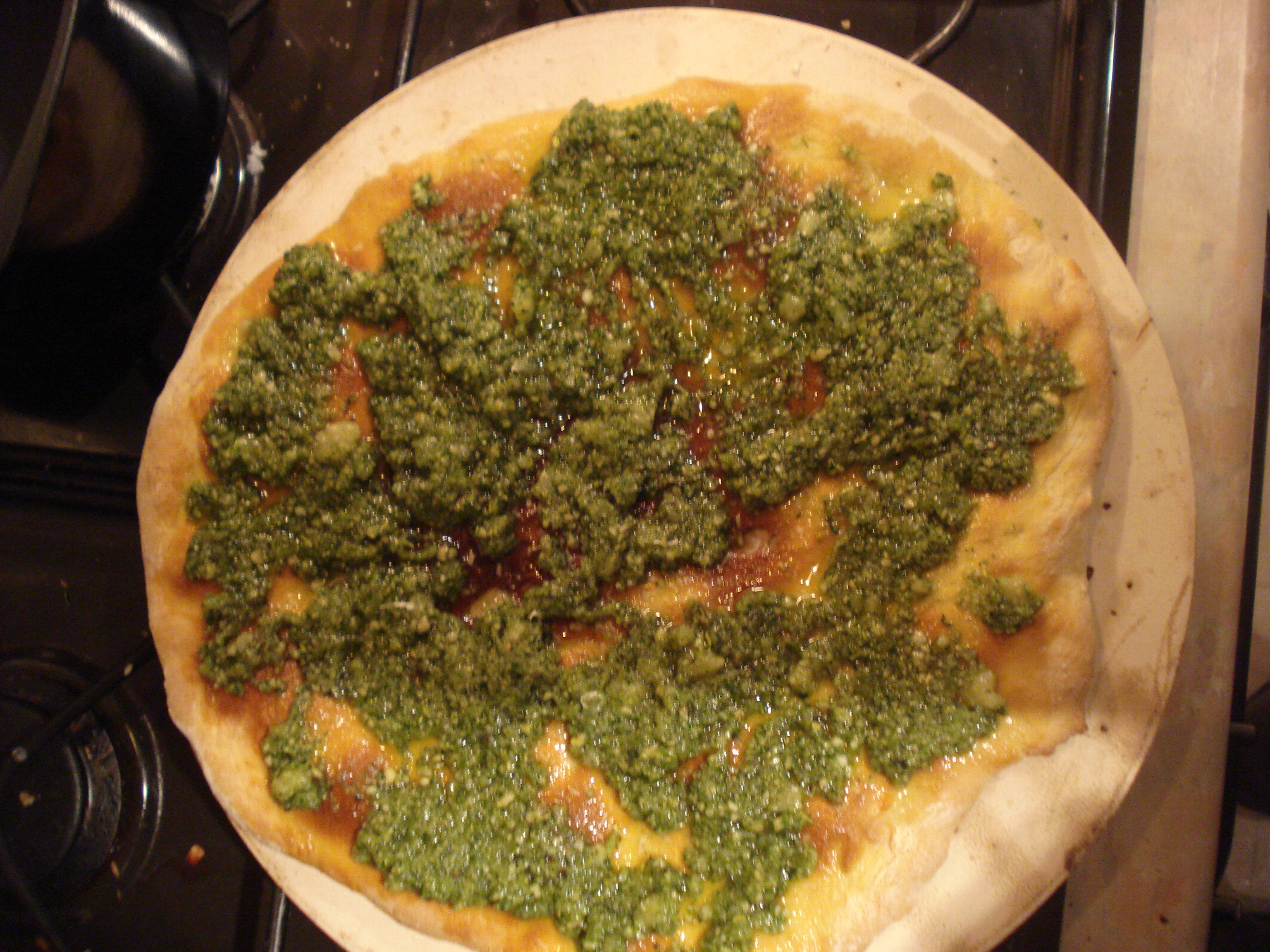 I was set a challenge by Domino's to come up with a home-made alternative to the newest addition to their online pizza menu – the Double Decadence Basil Burst. Their creation is a crazy double-decker affair of pesto-style sauce sandwich between two bases, then tomato sauce on top with the usual toppings. Layers and layers of complexity. Bonkers.
My response is to go the other way and pull it right back as simple as possible: a lovely chewy, crusty pizza base and a punchy pesto straight from the food processor. By mixing polenta in with the flour you get a pleasing honeyed colour to the dough and a sweet flavour too. The pesto is made in seconds and of course can be pushed in any direction you fancy on a given night.
It's hearty and tasty, and pretty cheap too. Try it out!
Pesto pizza:
For the base (enough for 2 x 30cm pizzas – dough freezes well after first proving):
500g strong bread flour
100g fine polenta
1 teaspoon sugar
1 teaspoon salt
7g dry yeast
4 tablespoons olive oil
300ml lukewarm water
For the pesto:
Bunch of basil, leaves and stalks
75g pine nuts
50g parmesan
Zest of ½ a lemon
Extra virgin olive oil
In a jug mix the yeast, oil, water and sugar together and leave for a few minutes while you get on with the other dry ingredients.
For the pizza base, bring the flour, polenta and salt together in a bowl. I use a food mixer which makes the next stage dead easy.
Pour the wet mix into the dry and let a dough hook do its work for about 5-6 minutes. If you're doing it by hand push and knead it together until smooth and elastic. Cover the dough with a damp teatowel and leave somewhere warm for an hour – it should double in size.
When the dough has risen, pre-heat the oven as high as it will go. If you have a pizza stone, get it in now. Otherwise a cheap but conductive metal tray will work.
Push the dough into a thin, round shape on a floured surface. Go as thin as you can. When it's ready take it to the oven – you may want to drape this over a rolling pin to help transfer it. The pizza will bake for anywhere between 8 – 15 minutes, depending on the thickness of your base and the temperature of your oven. (Quicker is better).
While the dough cooks, make the pesto. I do mine in a food processor, but a pestle and mortar works great. Chuck the basil in first and whizz up, then throw in the pine nuts. Add the cheese and keep on blending. When you have a lovely rubbly paste, scoop into a bowl and add enough olive oil to make it a smooth slush. Stir in the lemon zest and check for seasoning – add salt and pepper til it takes awesome.
When your pizza base is ready, spread the pesto over and leave for 1 minute to let the sauce warm slightly and soak into the dough. Grate over a touch more fresh parmesan and serve.