pollock with jollof-style masala rice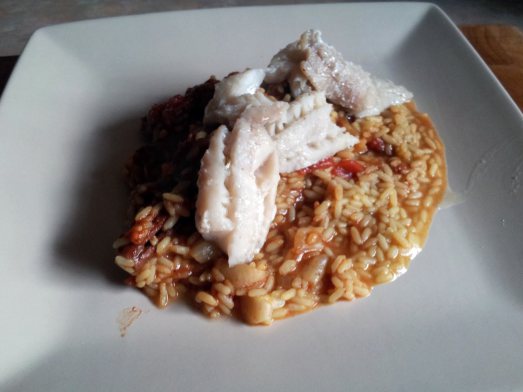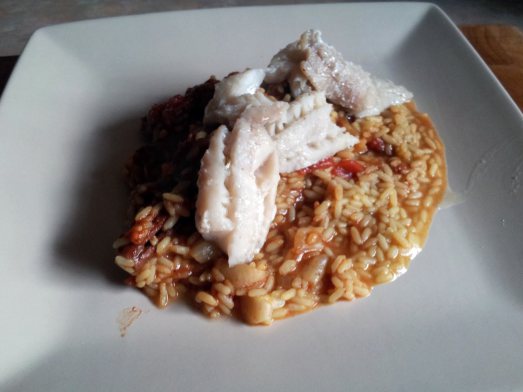 I've been fortunate enough to work with quite a few people of Nigerian descent; without fail every one of them at some point has brought in jollof rice from home for lunch. This is a slight play on it. Usually the rice is simmered in tomatoes but this can be time consuming so I kept the parts separate until the last minute. I blended it with a gift from a colleague, a coriander-heavy blend of garam masala that he likes. The result is a spicy-sweet rich dish, topped with some aniseedy pollock. Satisfying, homely stuff and it's easy to see why jollof is a Nigerian family staple.
Pollock with jollof-style masala rice (serves 1 but would be great in bulk):
1 pollock fillet
1 teaspoon fennel seeds
1 handful chopped onion (I like to use frozen for convenience)
1 cinnamon stick (I like Cinnamon Hill)
2 cloves
1 star anise
1 handful basmati rice
2 tablespoons chopped tomatoes
1 tablespoon garam masala
Lemon slices, to garnish
Preheat the oven to 170°C. Get a saucepan and a frying pan over medium heats.
Lay the fish on a piece of tin foil, drizzle over a little oil, salt pepper and the fennel seeds. Wrap up and bake for 15 – 18 mins until cooked through.
Heat a little oil in the saucepan and add the onion, cinnamon, cloves and star anise. After they've had a minute add the onion and stir fry until softened.
Meanwhile add the tomatoes and garam masala to the frying pan and bring to a simmer,
Back at the onion, crank up the heat and add the rice with a pinch of salt. Toss well to coat in the aromatic oil, and then cover with boiling water to twice the level of the rice. Simmer for 10 minutes or until the rice is done, then turn off the heat and cover while you finish everything else.
Check the tomatoes – they may need a little more salt or sugar to balance everything out. When ready, stir into the rice, top with the fish and drizzle with lemon.