porchetta salad with parmesan cream and spinach

Inspired by a fantastic starter I had at Union Street Cafe, this dish is a great light meal. The porchetta itself makes a fantastic roast joint. The porchetta as a roast serves 4 as a main dish, but save a couple of slices and serve cold for this recipe which would make a perfect starter portion.
Here's the Gordon Ramsay's Union Street Cafe version: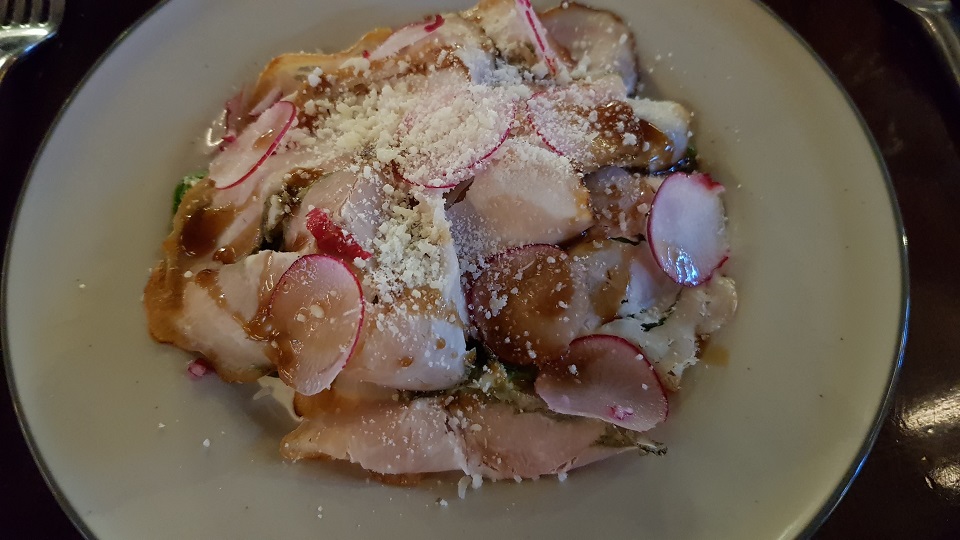 A light and tasty starter plate of food made with wafer-thin slices of porchetta. The radish was gossamer-like, and the gentleness of the parmesan made it a refreshing dish. It was part of a celebratory meal I had at the Gordon Ramsay restaurant in the Southwark area of London. It has a breezy, laid-back atmosphere with lots of mid-week specials (if you want high-end, try Petrus) and has the feel of a trattoria. We had a great meal, sampling the gratinated eggs (would be perfect for brunch), a fresh, summery sea bass with new potatoes, roast chicken with pea puree and lots more. The focus is on fresh seasonality, with the menu changing quickly as stock becomes available.
I'd also recommend asking to view the kitchen – I've never seen such jolly chefs happy to see you and carry on with service!
Anyway, back to the porchetta dish. Porchetta is an indulgent stuffed pork loin, often flavoured with garlic and lemon turned into a stuffing and roasted like a Sunday joint. It's well worth trying. But I wanted to take this and try my starter with thick slices of roasted pork. It's just as tasty but more satisfying, taking it in a different direction
Want something more warming? Try suckling pig with chorizo potatoes.

porchetta with parmesan cream and spinach
Ingredients
For the porchetta:
2.5

kg

pork loin joint

100

g

stale bread

Grated zest of 1 lemon

6

black olives

2

sprigs

rosemary

olive oil
For the garnish:
100

ml

single cream

10

g

parmesan

50

g

spinach

4

radishes

20

ml

white wine vinegar
Instructions
Preheat the oven to 200C.

Begin by butterflying the pork loin. With the joint fat side up, using your sharpest knife slice horizontally along one side, so it can be opened like a book. Season the pork liberally with salt and pepper then make the stuffing.

In a food processor combine the stuffing ingredients. Add enough oil to form a paste. Spread this paste along the middle of the open pork. Roll the pork up and tie around the joint with string. Place in a sturdy roasting tray, drizzle with oil and put in the oven.

After 15 minutes turn the oven down to 150C. Continue cooking until the pork is at least 55C when tested with a probe thermometer. If eating now, allow to cool for at least 15 minutes before serving. Otherwise, allow to cool and refrigerate until needed.

To pickle the radishes, sprinkle salt and sugar into white wine vinegar until it tastes quite sweet. Add the radishes thinly sliced and leave to macerate while you do everything else.

Now make the parmesan cream. For best results whizz up the parmesan in a food processor to make small rubbly pieces of cheese - they melt unevenly and make a pleasing texture. Gently warm the cream with half the cheese but don't boil, you just want the cream to melt the parmesan.

Lay the spinach in warm serving bowls. Drizzle over some of the parmesan cream so that it wilts. Add a thick slice of porchetta, garnish with radish slices and a little more cream. Scatter over the remaining parmesan and drizzle with a touch of balsamic vinegar if you like.
Notes
Always test roasting joints with a probe thermometer. They're dead cheap and the safest, surest way to prevent over or undercooking. Buy one from Amazon.