pork & mushrooms with onion yorkshires and creamed onion gravy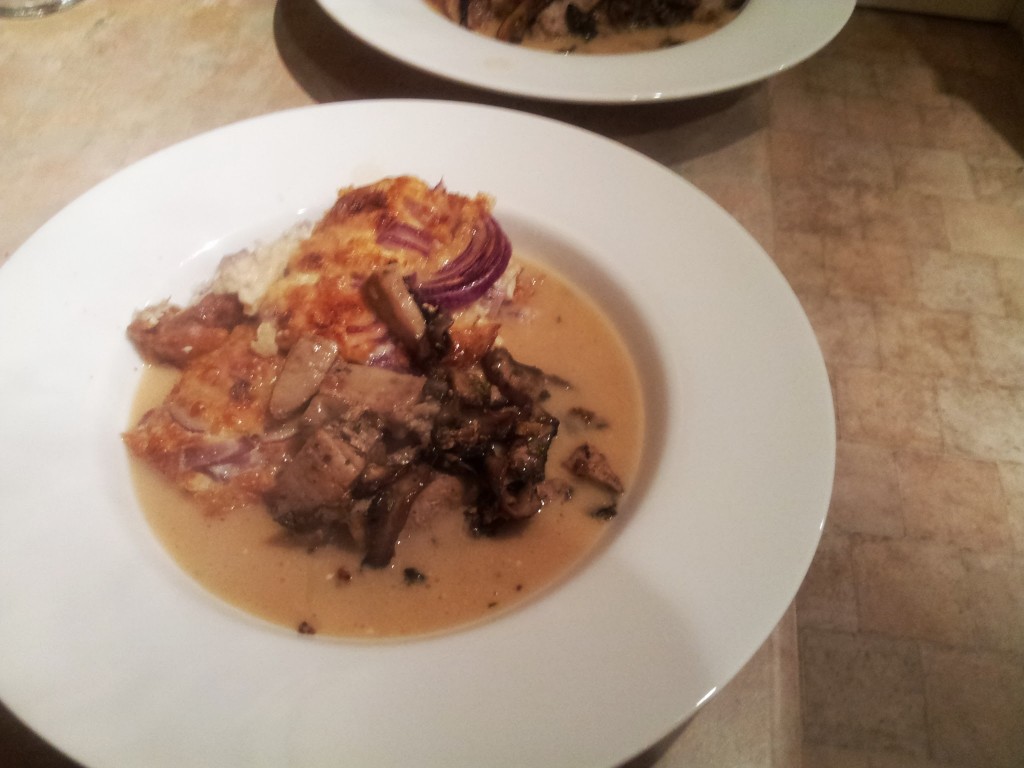 Snuggle down, because it's cold and wet out there. Time for a sausage 'n' starch dinner to both fill up and warm up.
This started, as many of my recipes do, from a single ingredient and spiralled out from there. Knorr sent onion gravy pots to try. You whisk a blob of jelly into simmering water and it creates a savoury sauce. The flavour is nice although it has a faint flour back note to it. Some years ago in New York I tried a creamed gravy and it was the business, so creme fraiche is a nod to that amazing condiment.
I paired it with pork and mushrooms to make a satisfying, meaty dinner. Onion gravy was always destined to go with Yorkshire pudding, so an onion-flavoured Yorkshire seemed to be the perfect partner.
If you're looking for something to make you snuggle up of a brisk evening, this should tick the boxes. It'd be great with sausages too.
pork & mushrooms with onion yorkshires and creamed onion gravy
Ingredients
Vegetable oil

2

eggs

2

tablespoons

heaped flour

Some milk

1

red onion

sliced

2

pork loin steaks

sliced

250

grams

chestnut mushrooms

sliced

1

leaves

sprig thyme

picked

1

Knorr onion gravy pot

1

tablespoon

creme fraiche
Instructions
Preheat the oven to 180C. Add a thin layer of oil to a casserole dish and pop in the oven to heat up.

While the oil heats, whisk the eggs and flour together then add enough milk to make a gloopy batter. Season with a little salt and pepper.

When the oil is smoking hot, add the onion slices and then the batter on top, then return to the oven for 20 - 25 mins until the pudding is puffed and browned.

While the Yorkshire bakes, fry the pork, mushrooms and thyme together over a medium heat until the pork is cooked through and the mushrooms tender.

As the pork finishes, make up the onion gravy as per the packet instructions and then whisk in the creme fraiche. Serve a slice of the Yorkshire pudding with the pork and mushroom mixture, with a helping of the creamed onion gravy.