review: the cricketers, clavering

What do you do for your eleventh wedding anniversary? It's kind-of in the middle there isn't it? Not a glitzy round number like ten. And it's traditional gift is steel. Nothing says romance like cold, hard steel does it?
Luckily a friend gave me a great idea: staying at The Cricketers pub in Clavering.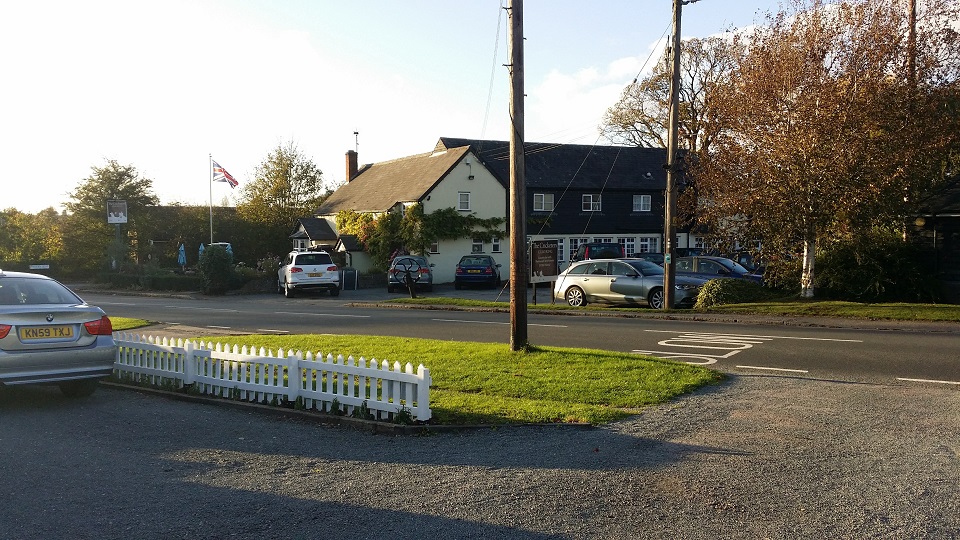 What makes it special is this is the pub where Jamie Oliver grew up and helped in the kitchens – it's still owned by his parents. They've had the pub since 1976 when Jamie was a year old and it was his education. As someone into their food and a love of Essex, this seemed like an obvious choice.
They do a deal where you get a three course dinner, a night's stay in their accommodation and breakfast for £145 which seemed good to me.
The accommodation is situated adjacent to the pub itself. There's a number of buildings surrounding it where guests can stay. We were in no. 19, directly over the road from the pub. The room was very pleasant, decked out in purple and green with a large, comfy bed in a generous room.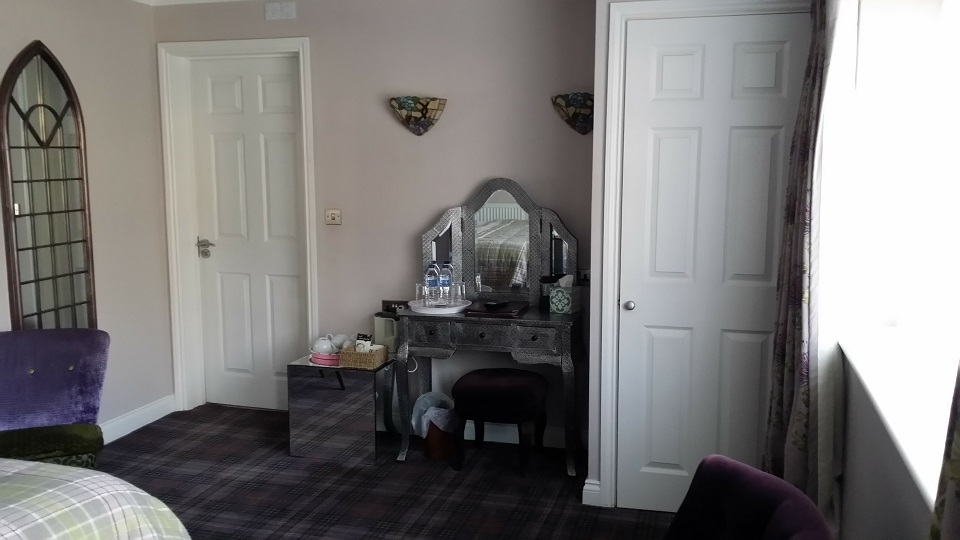 The en suite bathroom looked recently fitted, in a beige marble. Little extras like a portable radio and bottled water were nice touches. Even though it's on a 'main' road (as main as it gets in this sleepy corner of Essex) we weren't disturbed by traffic.
After checking out our room we were getting hungry so we went back to the pub for something to eat. We were served complimentary bread and butter straight away. I enjoyed the butter so much, I made it myself when I got home. See the recipe for home made rosemary butter here.
You could choose anything you liked off the menu as part of the stay. As I crossed the road I had the strangest longing for cauliflower and wouldn't you know it, crispy roast cauliflower was on the menu.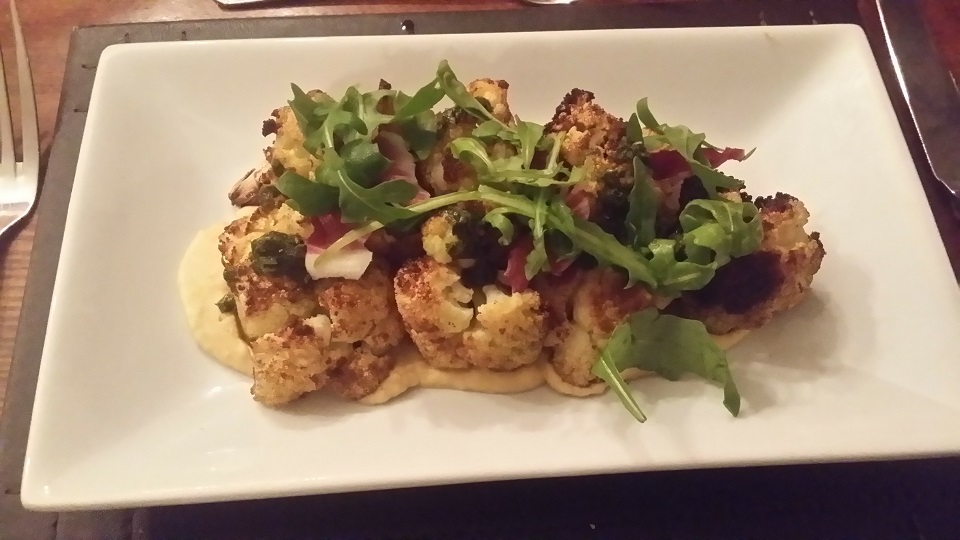 This is one of my favourite ways to eat cauliflower. The cauli was crisp on the edges, scorched from the oven. Served with houmous and chimmichurri it was a perfect starter.
The main was a pan-fried cod fillet on mushroom risotto.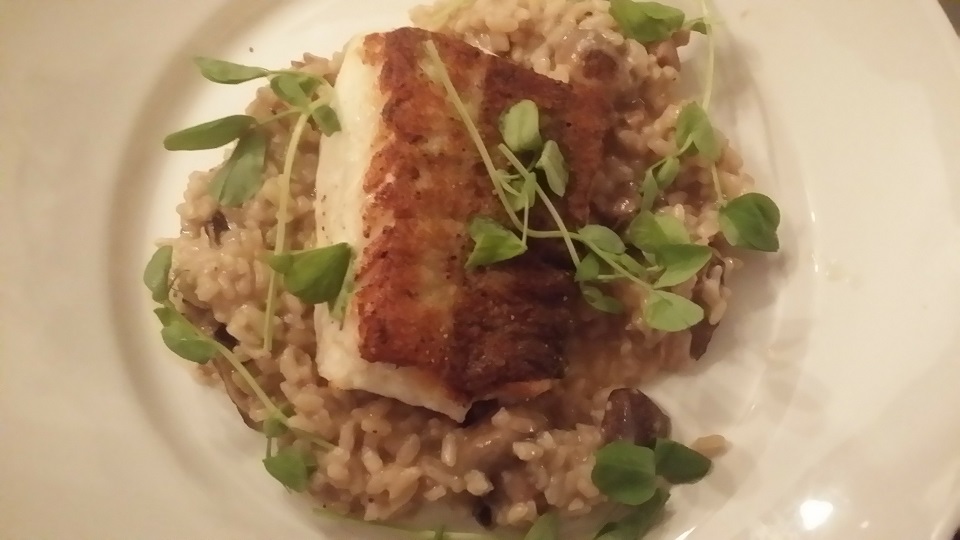 The photo comes out a little beige but it was a comforting plate with excellently cooked fish.
I finished with a chocolate and cherry brownie.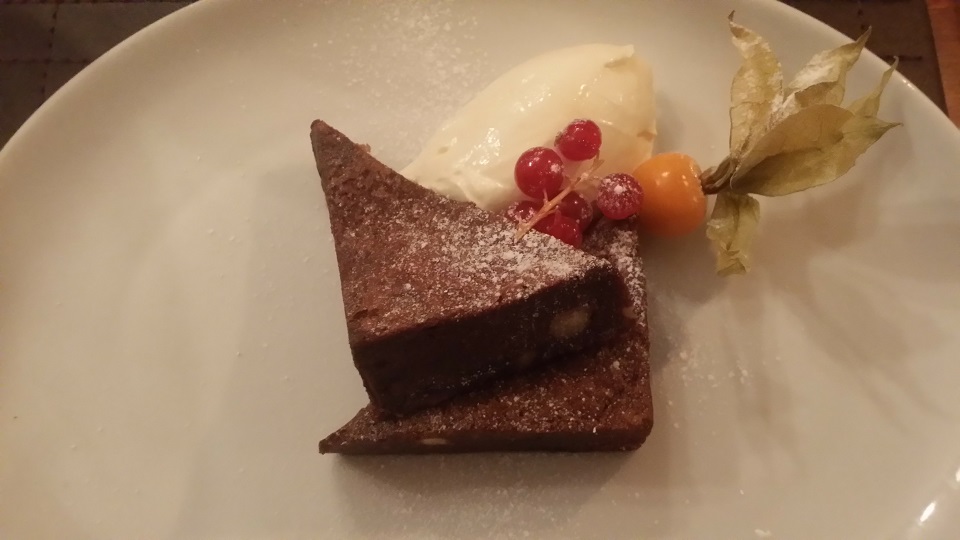 The creme fraiche on the side was the most tart I'd ever had, but was really welcome against the dense, fudgy chocolate!
Service was friendly though it could be hard to get some attention when you're at the back of the dining room. And while I understood the deal we'd booked on, it would be reassuring if the staff pre-empted you to explain that anything on the menu was included, with drinks paid separately.
Breakfast in the morning was full English, and eaten way before I could snap it! Trust me when I say it featured all your usual suspects of bacon, mushroom, herby sausage, tomato, eggs as you like them served with toast, hot drinks and juice. All of it was very tasty.
It was an excellent night's stay and a really good value meal. Nothing was mind-blowing but it was all really comforting and very enjoyable. The accommodation was well-maintained and felt like a secret escape. All in all well worth a trip.
Oh and happy anniversary Mrs. Spud. Love you!