review: marley spoon meal delivery service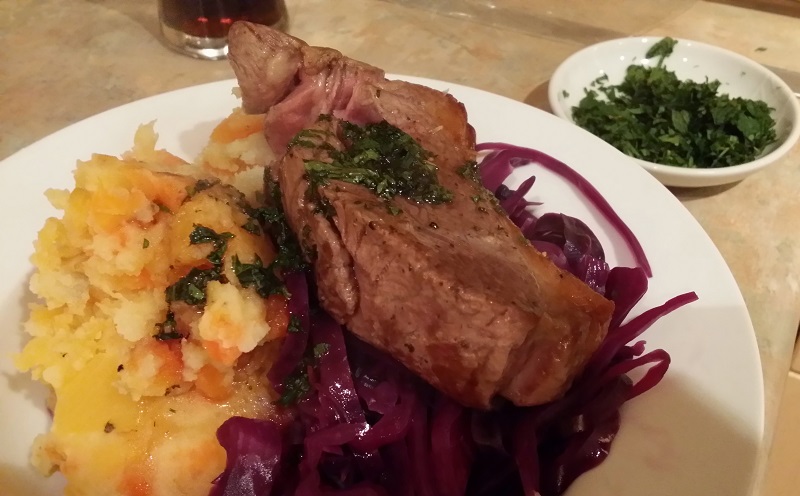 Do you want the pleasure of home cooked food, but find yourself lacking inspiration or short on shopping time? Then Marley Spoon might have the service for you.
Marley Spoon invited me to try out their meal delivery service to see how it worked.
The proposition is this: pick the meals you like the sound of from Marley Spoon's website, then on either Wednesday or Friday they will deliver the ingredients to you. With the small assumption that you have basics like oil, salt, sugar and pepper you'll then have everything you need in perfect portions to cook the dish. You'll also have a large recipe card to help you along.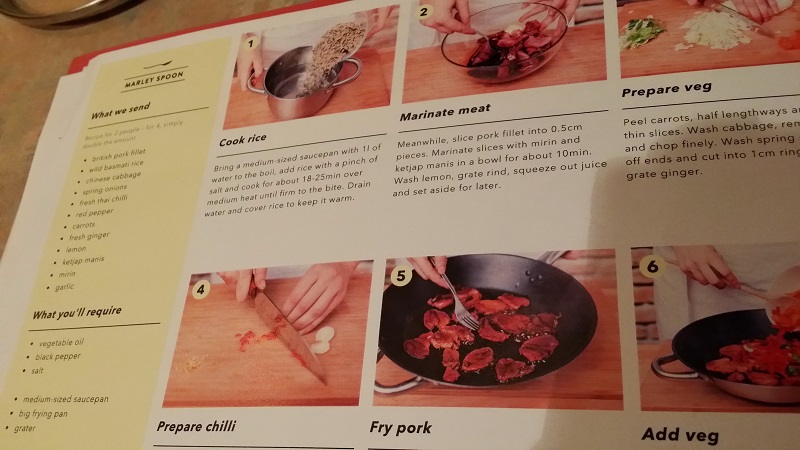 The meals are well chosen, with a decent variety every week, including fish, vegetarian and vegan options. If you're omnivorous the dinner inspirations are from all corners of the globe and feel well balanced. There's plenty of gorgeous photography to help you choose the dish that you fancy for dinner that week.
I chose a couple of things to try: nasi goreng (a household favourite) and lamb steaks with red cabbage and neeps.
Aside: check out some more of my lamb dishes!
The checkout process is smooth and painless, and delivery was spot on – an hour beforehand the driver rung me to advise he was running 15 minutes late so I was kept informed. Everything was packaged well and insulated sensibly. It was also smartly labelled so I could put things away ready for the next dinner, along with a cute little hand-signed card by the picker inside. Nice touch.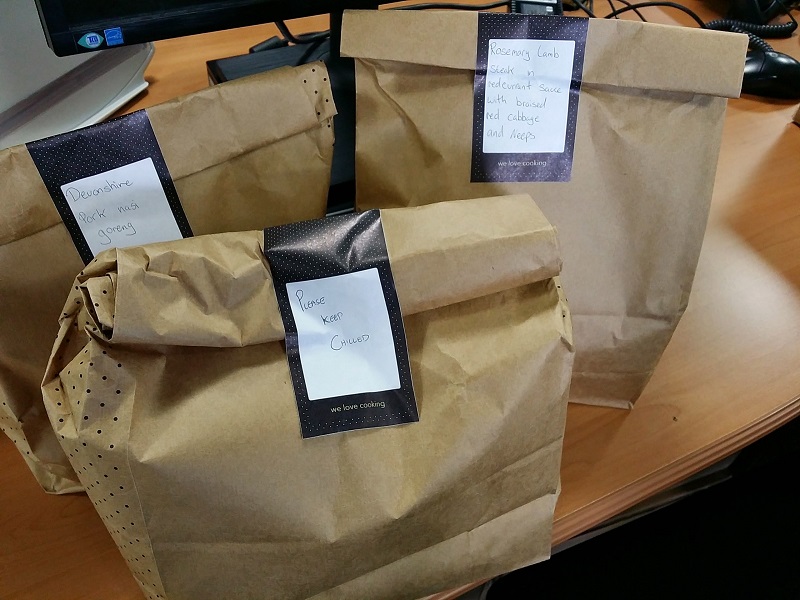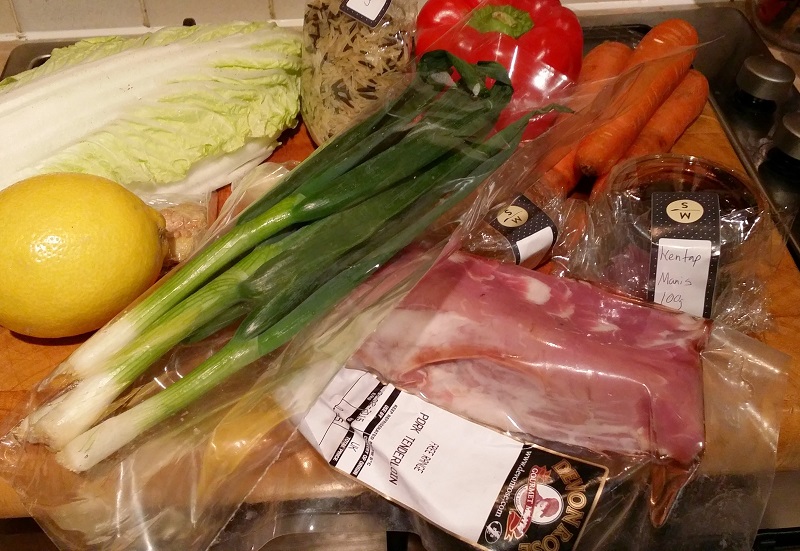 Come cooking time I followed the simple instructions, and as promised both meals were ready in 40 minutes. The nasi goreng was really enjoyable, tasting fresh and exciting. The pork loin was of a very good quality, from Devon Rose farms. It was nestled in wild rice and plenty of veg.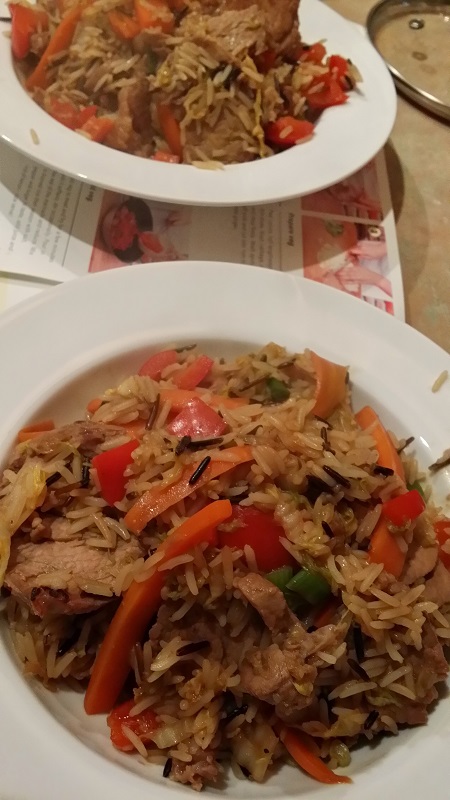 The lamb dish was a comforting meat-and-two-veg style dish and delivered excellent flavour. The gravy in particular was plate-lickingly good thanks to an really good redcurrant jelly. Again the lamb was great quality.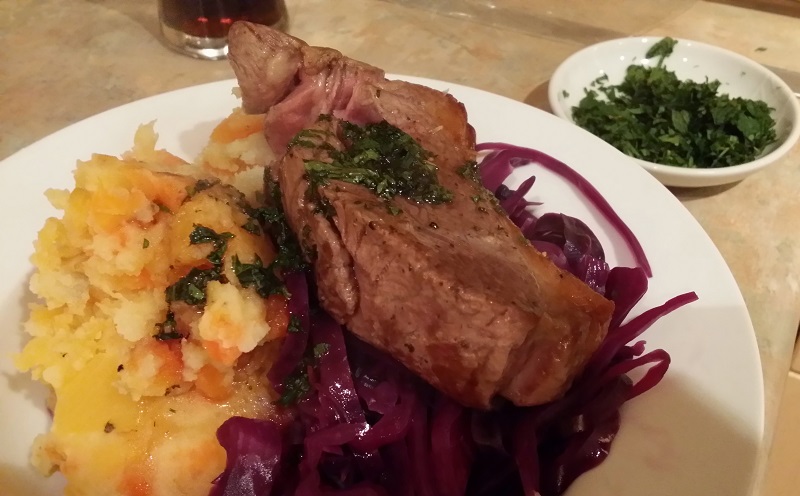 So far so good. But there are some elements that prevent it being a solid recommendation.
Some of the vegetables I received were not of great quality. The chinese leaf had a soft, dog-eared feel to it, and the carrots were poor. Browned and able to be bent at more than 45 degrees, I don't think these were fresh from the farm that day. Take a look at the carrots in this pic: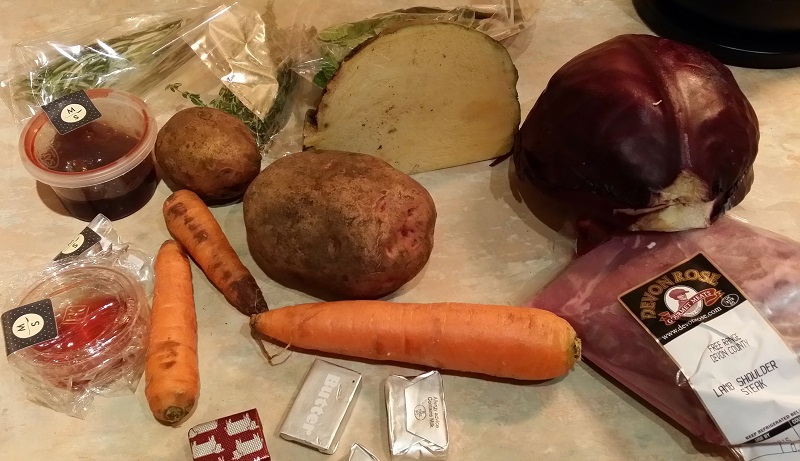 Sad specimens. I could forgive small things like this could if the price reflected that. But there's the biggest but.
A portion of a meal costs £9. And you have to order 4 portions of something to qualify for a delivery. So that's £38 to receive these ingredients. And that's before you've started cleaning, chopping, cooking and washing up after. And I really struggle with that price point.
If we take that as £18 for two people, I can find a bunch of high end ready meals for that money (such as Bigham's), which will involve a lot less peeling and chopping my end. Or get a decent takeaway for that money. Which begs the question, when does this become good value? You're paying for your time-saving in choosing the recipe, shopping for the ingredients and bringing them to you. If you're a busy professional couple who still want to cook for themselves than rely on 'ready made' options, there are much cheaper ways to do it and I suspect you will have a battery of decent go-to recipes. And they still took me 40 minutes as directed, and I'd like to think I'm an experienced, multitasking home cook.
It's a frustrating prospect. I want to support Marley Spoon a lot as they advocate home cooking and being a little adventurous. But I can't see how that price represents good value. If they could at least do some prep: the cleaning and dicing of veg, providing marinades pre-mixed.
The website is great for dinner inspiration, and I'll definitely be checking in for meal ideas. If they can get that price down I'd definitely use it again as the recipes are perfect.
Check out Marley Spoon for yourself here.
Marley Spoon provided the meals for free.