spaghetti bolognese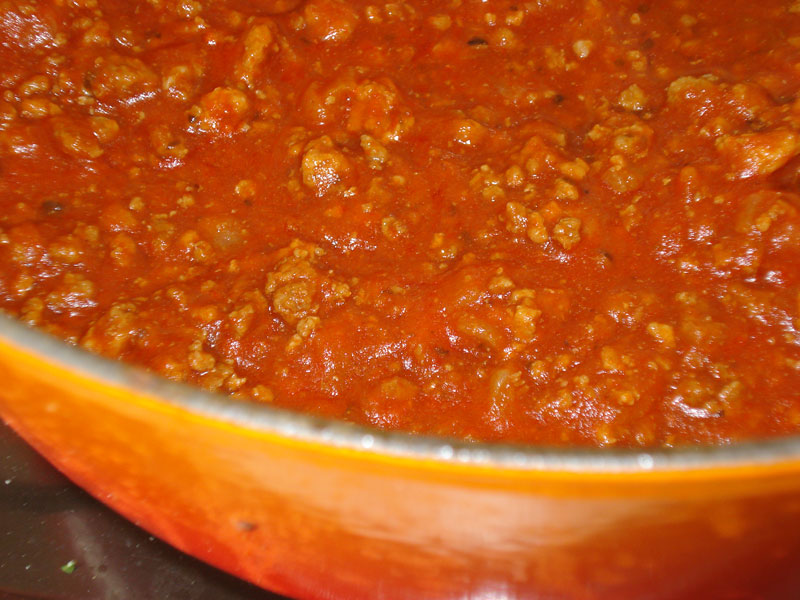 I've two versions of a spaghetti bolognese; a workaday version or this, my I've-got-a-whole-day-to-spare version. It's heartily lifted from Antonio Carluccio who claims it's the way they do it in Bologna.
It's simple to the point of absurd and a very short ingredient list. I start by browning mince; an equal combo of pork and beef. The pork lends wonderful fat to the dish, and the beef gutsy red meat. Once it's browned I remove it and fry a chopped onion until translucent. Then the mince goes back in the pan and I add half a bottle of white wine and let it bubble away for a minute or two, then in with tomato puree and a jar of passata.
Ingredient-wise, that's it. I'll then raise it to a simmer and leave it on the lowest possible heat for as long as I can – perhaps 3, 4 or 5 hours. I need to taste it at some point – you can never tell how your tomatoes are, so I may add sugar – and season as required. The flavours will be intense, rich, tomatoey and the mince will have a loose, tender mouthfeel.
I then boil spaghetti til tender, then put some of the mince mix in a hot frying pan. The pasta is then added to this with a splash of cooking water. This helps the sauce cling to the spaghetti. Serve in massive piles with freshly-grated parmesan. Even better, pass round the microplane and the block of cheese and DIY.