very berry jam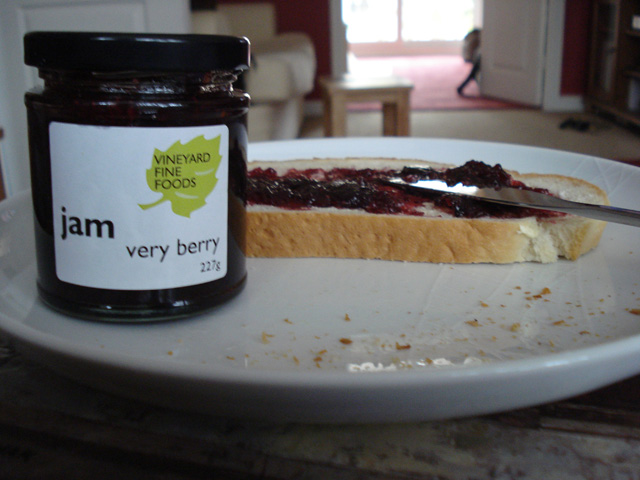 I was sent a parcel of loveliness from the wonderful chaps over at Vineyard Fine Foods. They're specialists in jams, pickles and chutneys operating out of Clacton, so how can I not support a local business? That said, this blog is written with full impartiality – if the product wasn't any good, I would say so.
I decide to slap some "very berry" jam – a blend of strawberry, blueberry and raspberry – on some bread, about as honest a test as I can concoct for jam. The first thing I really like is looking through the list of ingredients and being able to read every ingredient there. Silly but true. Beyond the fruit, there's sugar, pectin, and that's it. The texture is quite jelly-like, it's been set quite firm with a dense grain. There's also little seedy bits, I love seeing those in a jam. The taste itself is very pleasant, a perfumed berry hit but importantly not oversweet. As I chomped I could imagine it going very well on a scone, so I'll be whipping up a batch of these soon.
It's a very tasty product, and compares very well to Bonne Maman or Hartley's – with the added feelgood factor of supporting a local business. I'd recommend it highly.
You can follow Vineyard Fine Foods on Twitter at @chutneymaker.