walnut & banana loaf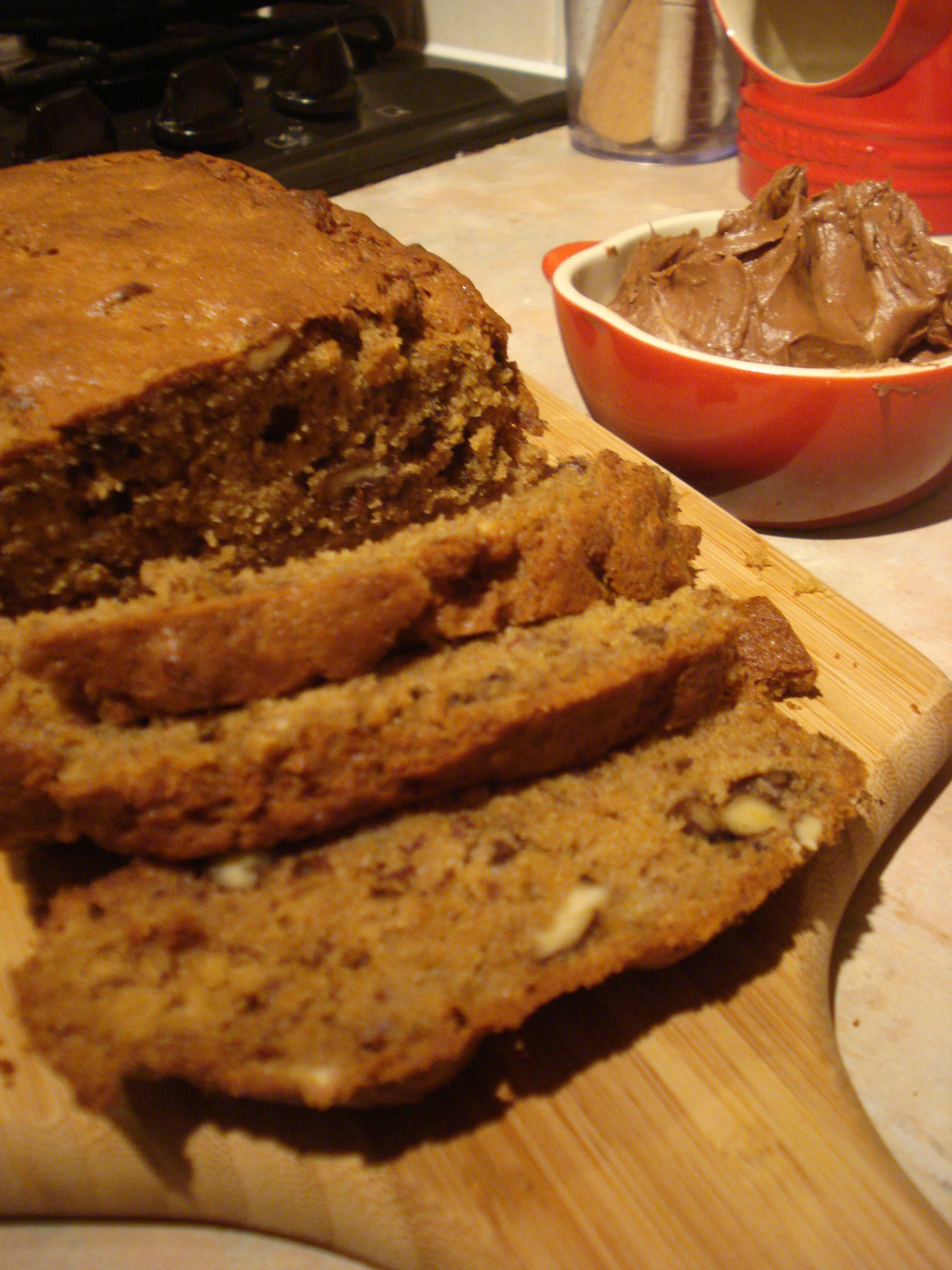 I've never been a fan of banana. At all. But this year my daughter has developed a voracious appetite for them, which is great that she's eating foods that I don't, but on the other side means you occasionally get a few bananas knocking about at the end of their ripey life.
So Mrs Spud made some banana muffins and thy were great. So much so, I'm almost a complete convert to bananas in a dessert now. Still not sold on the fruit in it's raw state, but baked I am fine with.
Hence a year ago I would never have attempted this, a walnut and banana loaf recipe from Jamie's Great Britain
. Someone in the office said I had to try it, so I did. It's a fabulous teatime treat, all dark and fudgy, combined with this decadent chocolate orange butter.
Walnut and banana loaf with chocolate orange butter (serves 16 (apparently)):
100g walnut pieces, toasted
125g dark brown sugar
125g soft butter
2 eggs
100g plain flour
1 teaspoon cinnamon
1 teaspoon bicarbonate of soda
1 teaspoon baking powder
5 ripe bananas, peeled and mashed
For the butter:
100g dark chocolate
100g butter
75g icing sugar
Zest of 2 oranges
Preheat the oven to 170°C. Bung the walnuts in the oven for 5 minutes and tip them out to cool.
Cream the butter and sugar together until pale. Beat in the eggs one at a time, then sift in the dry ingredients. Mix to combine into a smooth batter then stir in the walnuts and bananas. Pour into a greased loaf tin and bake for an hour or until a skewer leaves it clean.
While that cooks, prepare the butter by creaming the butter and sugar together. Melt the chocolate gently in the microwave for a minute at a time until smooth. Grate in the orange zest then stir into the butter. Serve the cake in slabs, smeared with chocolate butter.