white chocolate mousse, pistachio tuile and raspberry sorbet

Here's a fancy dessert for a posh occasion. But first, a quick aside as to why I made it.
You've heard of writer's block I guess? Where an author suddenly becomes derelict of ideas, bereft of inspiration. They stare at the page, willing the words to appear.
Well I kind-of had that for cooking, whatever that's called. (Chopping block?!) Nothing new came out of the kitchen, and I recycled the same recipes over and over again. I just wasn't being inspired. For a long time.
I fell into a rut. I realised I hadn't blogged anything creative, or original, for ages. I thought I was done. Why do I bother? I thought. Is this it? Am I done?
I was this close to stopping blogging. Not having a hissy fit and shutting everything down. Just not adding anything new.
I started looking back over old recipes, reading old cookbooks. I went back to my Jamies, my Hestons. I snapped out of it. I realised that to get more out, I had to put more in. So I resolved to at least once a week cook something involved, new and challenging.
Hence this dessert. Three separate things, cooked very differently but hopefully perfectly harmonious. It's three things I love: strawberries, white chocolate and pistachios. I couldn't have been happier with it.
So back into the kitchen I go, with renewed passion and focus. You never know, I might do a potato recipe…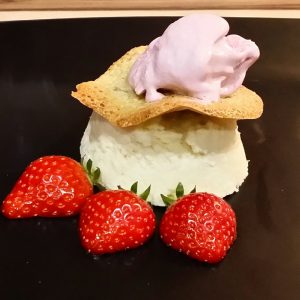 white chocolate mousse, pistachio tuile and raspberry sorbet
Ingredients
For the raspberry sorbet
190

ml

water

80

g

sugar

200

g

jam

1/2

lemon

1

medium egg white
For the white chocolate mousse
150

g

white chocolate

100

ml

double cream

3

g

gelatine

12

g

icing sugar

200

ml

double cream

whipped
For the pistachio tuile
15

g

pistachios

10

g

ground almonds

1

medium egg white

40

g

caster sugar

5

g

plain flour

strawberries

to serve
Instructions
For the sorbet
Simmer the water and sugar together until the sugar has dissolved. Stir in the jam and the zest of the lemon. Add a squeeze of the juice and allow to cool. Stir in the egg white and churn in an ice-cream machine. Freeze until needed.
For the mousse
Break the chocolate into a heatproof bowl. Bring the cream to the boil and then pour over the chocolate, stirring to melt and combine. Stir in the gelatine, icing sugar, fold in the whipped cream and then pour into moulds. Chill for at least 2 hours or until set.
For the tuile
Preheat the oven to 150°C, gas mark 2. Blitz the pistachios in a food processor until fine. Place in a bowl with all the other ingredients and mix thoroughly.

Lay non-stick baking paper on a baking sheet and pour the mixture on to it, spreading it as thinly as you can. - it should be about 2mm thick. Bake for 10-15 minutes until golden (you don't want it to darken too much or it will lose the pale-green pistachio colour). Leave to set before serving.

To assemble, turn the mousse out from the mould. Lay a tuile on top and serve a quenelle of sorbet. Garnish with strawberries.