yaki soba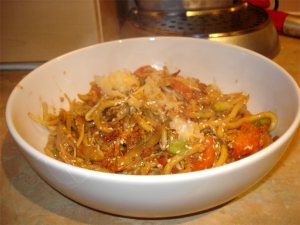 Now here's one of my absolute favourites. I'd played with stir fries for years, and only kind-of enjoyed the results. It never felt particularly special though, just muddy and bland. "Use the holy trinity" Ken Hom would intone. "Rice wine vinegar," he'd bark. And that was that. Identikit meat + noodle + veg + jar of Amoy sauce stir-fry, and another dull meal. I knew there was something eluding me.
One lunchtime, urged by my good friend José, I finally tried Wagamama, the Japanese-inspired 'fast-food' chain. I pored over an expansive glossy menu printed in elegant Nihon vocab. I'd dimly recalled Yaki Soba being good – can't remember where from – so ordered it and loved it. Every morsel. And then one opened quite near to me that same month.
I loved it so much, I sought out its' Wagamama Cookbook

, which is more or less the version I present here. I've tweaked it to my taste, but the rules for this and its' accompanying stir fry recipes were at once, blindingly simple and obvious:
1. Get the pan as hot as can be – it's the searing quality that keeps the freshness.
2. Cut all ingredients to roughly the same size – they'll cook in the same time.
3. Keep everything moving all the time – don't let the ingredients settle long enough to burn.
Armed with this ruleset it makes stir fries foolproof. On to yaki soba!
One of my deviations from the norm is to use chicken legs roasted with a little oil and seasoning in a hot oven for about 45 mins. This gives a richer, more interesting flavour than dull ol' breast. Once out of the oven I shred it with forks, ready to be mixed with yakitori dipping sauce.
Speaking of which, this is time to get on with the sauce: 250 ml light soy sauce, 3 tablespoons of dark soy sauce, boil up gently with a teaspoon of sugar and pinch of salt, til it gets all bubbly and thick. Once that's the case, pour this over beansprouts and spring onions (the recipe also calls for prawns here, which are a nice option). You also need noodles in this mix, and being a lazy so and so I like to use the pre-cooked ones which are good to go. If I can get them then I'll use soba (wholewheat) noodles, hence the name, else I'll use udon or whatever I can lay my hands on. Toss this all together and leave to sit a while. Once my chicken's cooked that's going in there too. During this marinating time I like to slice an onion into half-moons and a red and/or green pepper. Now it's cooking time.
The onions go into a devlishly-hot pan with a little oil, and after a minute or two to take the harsh edge off the onions, the peppers go in for the same treatment. Don't forget to keep it on the move. Once they start to tenderise then the yakitori-soaked mixture is chucked in. Once you feel the noodles and beansprouts start to give a little, you're practically there. Now add two beaten eggs, which will collect up all the loose juice and meld with it to form a silky, delicious coating. Keep it on the move as always, it's not supposed to be egg-fried rice.
Dole out into bowls, top with sesame seeds, pickled ginger and fried onion bits and devour with joy in your heart. It's just brilliant!
Yaki soba (serves 2):
2 chicken legs
2 teaspoons sesame oil
2 sachets ready-cooked soba, medium or udon noodles
1 onion, sliced into half moons
1 red pepper, diced
5 spring onions, sliced
Handful of beansprouts
2 eggs, beaten
Handful of coriander, chopped
For the yakitori sauce:
250 ml light soy sauce
3 tablespoons dark soy sauce
1 teaspoon sugar
Pinch of salt
To serve:
1 teaspoon pickled ginger, shredded
2 teaspoons fried onions
Preheat the oven to 180C.
Put the chicken legs on a baking tray, drizzle over the sesame oil and season.
Bake the chicken legs for 35 mins or until golden. When cooled shred the meat from the bones (two forks work well here).
While the chicken legs are in the oven, make the yakitori sauce by placing all the ingredients in a pan and boiling gently for about ten minutes, or until it can coat the back of a spoon.
Combine the sauce with the noodles, beansprouts, chicken and spring onion in a bowl and keep near the pan.
In a tablespoon of vegetable oil, fry the peppers and onions in a hot a pan as you can for 3 – 4 mins until slightly tender. Remember to keep them on the move to avoid burning.
Add the sauce / meat / vegetables and continue to stir fry until the noodles have lost their rubberiness.
Add the eggs and coriander and cook for another 45 secs until the egg has dissolved, then pour into bowls and top with ginger and onions.