coley kedgeree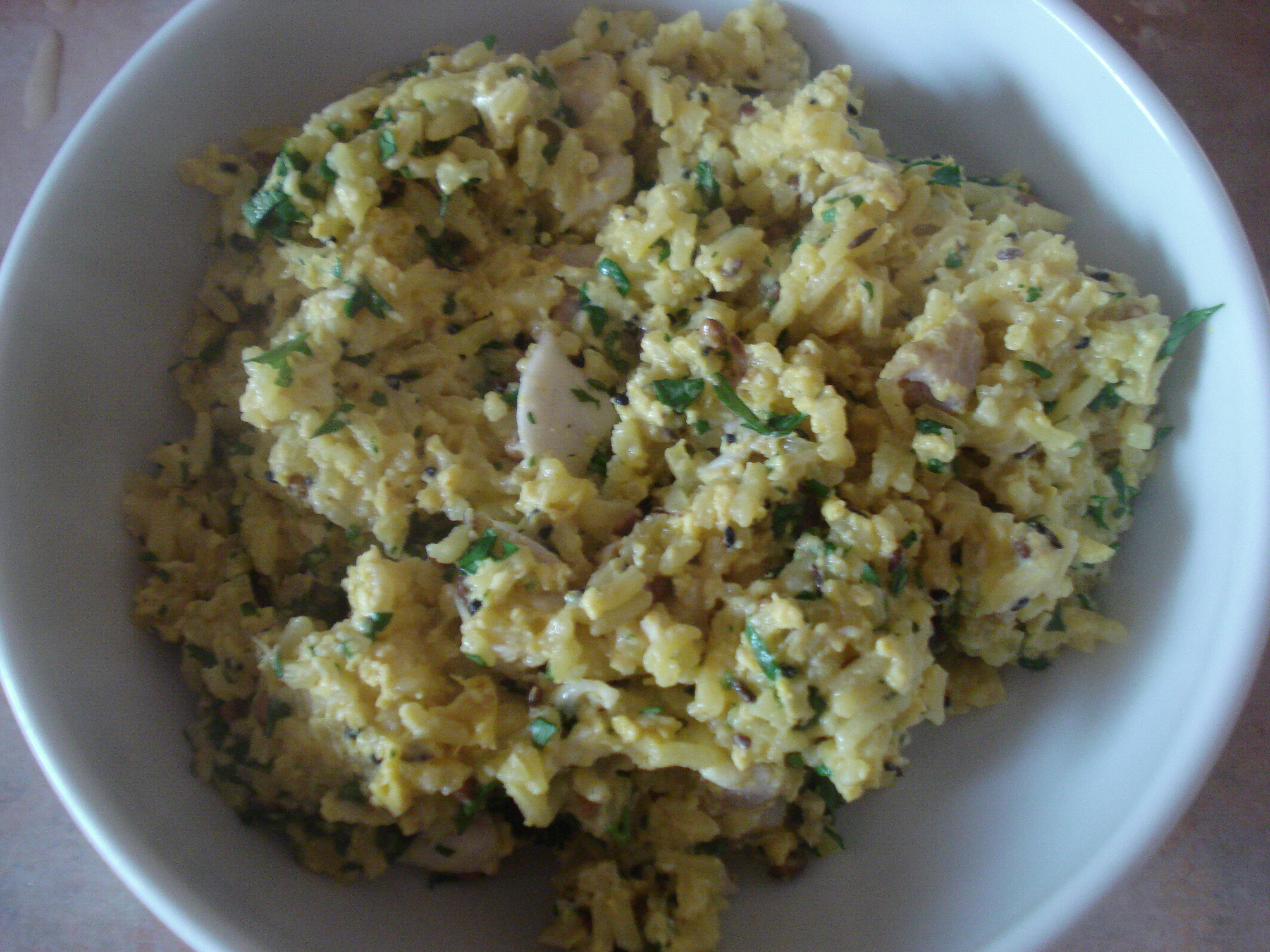 I'm a big fan of Great British Menu and love to watch real working chefs and pros sweating and creating to challenge each other. Who are more competitive than top-flight chefs? Real gems come out of it and I'm sure bookings are a dead cert to increase for everyone involved.
This week Michael Smith made an inviting (if not entirely appropriate for this year's sharing banquet theme) salmon kedgeree which inspired me to have one myself. I winged it, adding what felt right and what I was in the mood for. It usually features boiled eggs but they don't really do it for me so I've gone for scrambled here. Fresh, spicy and filling – what more could you want?
Coley kedgeree (serves 1):
1 frozen coley steak
1 tablespoon madras powder
2 handfuls Basmati rice
1 teaspoon turmeric
½ teaspoon cumin seeds
½ teaspoon coriander seeds
½ teaspoon nigella seeds
1 egg
Splash of cream
Large handful chopped fresh coriander
Preheat the oven to 180°C.
Mix the madras with a pinch of salt on a square of foil. Rub the fish into the powder all over and then wrap the parcel up and bake for 20 minutes, or until flaky.
Get a large pan of water on to boil and add the rice and turmeric. Boil for 12 minutes or so until tender, then drain and keep warm while you get on with everything else.
Beat the egg with a pinch of salt and the cream. In a frying pan toast the seeds over a medium heat. When they start to smoke add the drained rice and egg. Keep everything moving around to break the egg up.
The fish should be done now so get it out of the oven and flake into the rice. When the egg is set to your liking take off the heat, stir through the coriander and serve.