koshari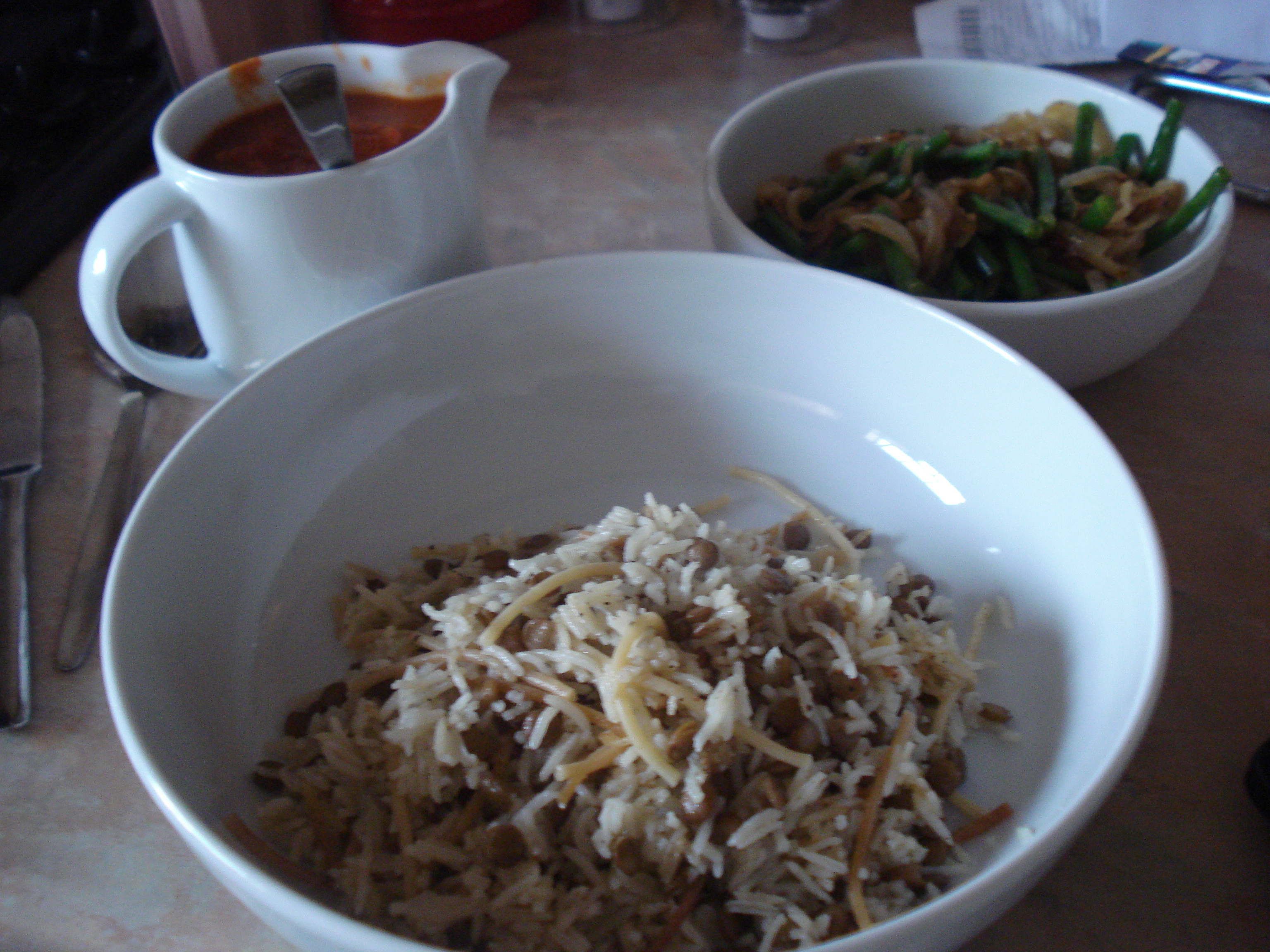 I'm quite a fan of pilaff-style dishes and this Ottolenghi feast is no exception. Tasty as always, though I'm not entirely convinced all three carbs are essential: lentils, noodles and rice? I'd drop either of the first two and probably not notice. To round it out I also wanted some veg so I bunged a few green beans in and they provided a satisfying fresh crunch.
Koshari:
300g green lentils (I used tinned to avoid the dull and lengthy cooking process)
200g basmati rice
40g unsalted butter
50g spaghetti, broken into 4 cm pieces
400ml vegetable stock
½ teaspoon grated nutmeg
1 ½ teaspoon ground cinnamon
4 tablespoons olive oil
2 white onions, halved and thinly sliced
Handful of green beans, cut into 4cm pieces
For the tomato sauce:
4 tablespoons olive oil
2 garlic cloves, crushed
2 red chillies, seeded and finely diced
Tin of tomatoes
370 ml water
4 tablespoons cider vinegar
3 teaspoons salt
2 teaspoons ground cumin
Handful of coriander leaves
For the sauce, heat the olive oil in a saucepan, add the garlic and fry for 2 minutes. Add the rest of the sauce ingredients apart from the coriander. Bring to the boil, then simmer for about 20 minutes til slightly thickened. Remove from heat, stir in coriander. Season to taste with salt, pepper, more coriander if you like. Keep it hot or leave it to cool – either will work with the hot kosheri.
To make the kosheri, melt the butter in a large saucepan. Add the raw noodles, stir and continue frying and stirring til the pasta turns golden brown. Add the rice and mix well. Now add the stock, nutmeg, cinnamon, lentils, and season. Bring to the boil, cover and then reduce the heat to a minimum and simmer for 12 minutes. Turn off the heat and leave the lid for a further 15 minutes.
Heat the olive oil in a large frying pan, add the onions and saute over medium heat for about 15 minutes til dark brown. Boil or steam the green beans until knife tender and add to the onions. Stir around so they absorb the oniony oil.
To serve, lightly break up the rice with a fork and then add the lentils and most of the onions, reserving a few for garnish. Taste for seasoning and adjust accordingly. Pile the rice high on a serving platter and top with the remaining onions. Serve with the tomato sauce.