an interesting gnocchi recipe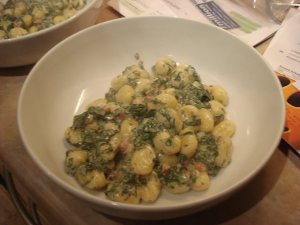 The title's ironic, OK? I posted on Facebook that I was "looking for an interesting gnocchi recipe", and that a couple of days later I had "found an interesting gnocchi recipe". Three separate people asked me about – it's easy to forget the reach that Facebook has.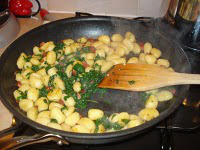 Anywho, it's dead easy. First I fry some spinach with a little sliced garlic until all straggly, then season and add nutmeg before removing to one side to cool. Once it's cooled I squeeze the juice out and chop finely. Meanwhile I've some gnocchi on the boil (note: I made gnocchi myself once – it so wasn't worth the effort, nor the washing up). Then I fry some pancetta in the same pan, and once crispy I throw the boiled gnocchi in the pan to absorb some hammy flavours. Then the spinach is back in to warm through, finally some creme fraiche, salt and pepper, a touch of parmesan (I added too much the first time) and it's done. Creamy and extremely filling.
an interesting gnocchi recipe
Ingredients
500

g

spinach

2

cloves

garlic

sliced

1/2

nutmeg

grated

200

g

pancetta

diced

500

g

gnocchi

150

ml

creme fraiche
Instructions
Fry the spinach an garlic in a hot pan with a little oil until the the spinach is well-wilted. Remove to a chopping board, add the nutmeg and squeeze the excess juice out with your hands or through a sieve. Run through the spinach with a knife several times to make it bitesize.

In the same pan, fry the pancetta. Whilst it fries get the gnocchi on to boil. When the gnocchi is ready add it to the pancetta pan and toss well so it gets coated in the pancetta oil. Add the creme fraiche and spinach mix back into the pan, season with salt and pepper and add parmesan to taste. Serve immediately.