apple crumble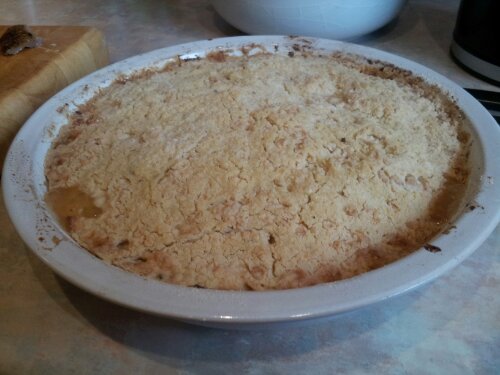 This posts commemorates two firsts. Incredibly, the first time I have ever made a crumble. I can't quite figure out why; crumble was a regular fixture following my Mum's Sunday roast, and still get treated to one every now and then. I think it was rewatching all of Friday Night Dinner, where "crimble crumble" is the weekly dessert.
Second, and even more incredibly, it marks the first time I read Jamie Oliver's The Naked Chef
. Yes, his first book. I've read loads of his, and watched the series at the time. Yet mystically, I've never read it. I grabbed a copy from the library, and it's so interesting to use it as a time machine to see how his style has evolved. Back then you can see glimpses of his verve and fun, but he is still restrained by the River Cafe style (which is great, but almost too simple for Jamie). The names of dishes are also intricate and a little prosaic. Still great eating though.
I got very nostalgic eating this. And it wasn't until after I realised I should've used some brown sugar to get treacley goodness on the top. Next time…
Apple crumble (serves 6):
1.5kg apples
Pinch of cinnamon
225g plain flour
115g butter
90g sugar
Pinch of vanilla salt
Preheat the oven to 200°C. Peel and core the apples, finely slice (I used a food processor) and tip into a baking dish. Dust with the cinnamon.
Whizz the other ingredients in a food processor until it resembles crumbs, then tip over the fruit. Bake for 25 minutes or until the top is golden and bubbling. Serve with custard, cream, ice-cream and other sweet dairy things you can find.