bagels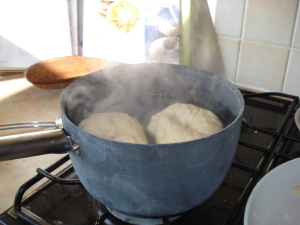 I bought a bread book the other day. I've made little else ever since.
I had to try making bagels, such a satisfying and fun food, and so versatile. The bread recipe is fairly standard, flour, yeast, water, yadda yadda, leave to prove etc. But the difference is just before baking to poach the batter in boiling water.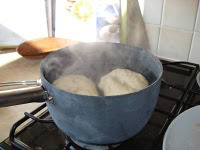 It made for fascinating cooking though the end result wasn't quite like the bagel I expected. Next time, I'd boil them a little longer, allowing the moisture to seep right in before baking out via steam. Whatever happened, they were gorgeous with full-fat Philly.