banh mi muffuleta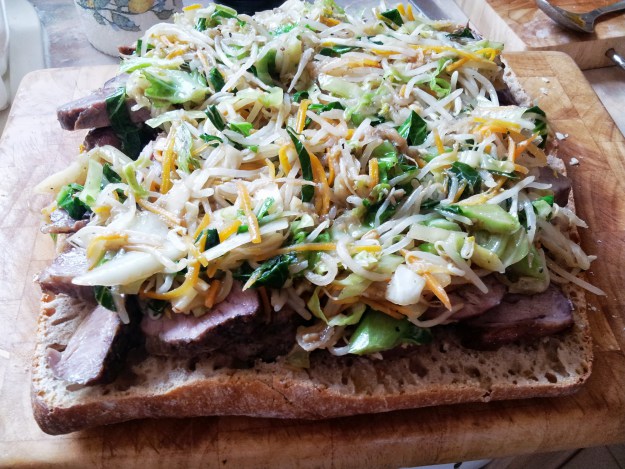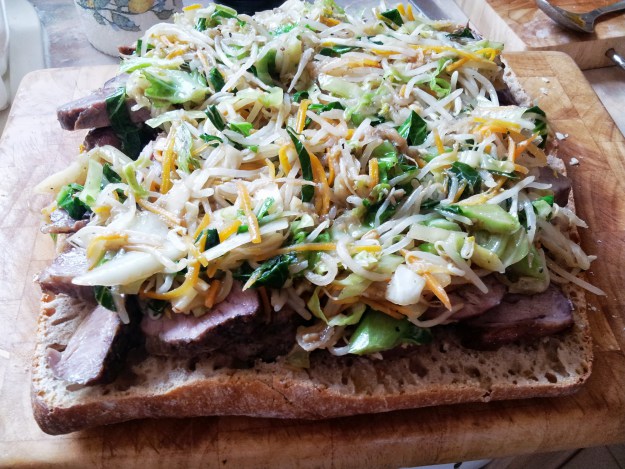 Give me an excuse to do a posh sandwich, and I'm there. Inspired by a recipe in a recent issue of the Jamie magazine, this recipe crosses the Vietnamese baguette with the New Orleans superbap. Truth be told it's only a little of both, but gives you an idea where it's heading.
One of my colleagues came round for lunch and I had to make this for him. He loves Asian inspired flavours so it was right up his street. This also marked the first time I cooked with and tasted pork cheeks. Much more offaly than I was expecting, though the texture was sticky and tender. I liked them, but I'd rather have pork belly. I felt it pushed this sandwich in an odd direction; I'd like to try it again with a more conventional pork cut such as shoulder or leg.
Read my colleague's Richard blog at Everydayleader. Thanks to Farmison for the pork cheeks.
Banh mi muffuleta (serves about 6 – 8):
1kg pork cheeks
1 onion, sliced
8 cloves garlic
500ml chicken stock
4 tablespoons soy sauce
4 tablespoons fish sauce
1 bag stir fry veg
Spiced rice vinegar (any sweet vinegar would work well)
1 large square loaf (I used a sour dough pave)
Preheat the oven to 220°C. Layer the onions and garlic in a baking dish. Season the pork all over and put this on top of the onions. Put the pork in the oven for 15 minutes to get the meat warmed up. Remove from the oven, turn down to 160°C and add the chicken stock. Cover with foil and roast for 1½ – 2 hours, until tender and juicy.
Remove the pork from the oven to rest and strain off the liquor, reserving for later. Leave the oven on and gently warm the bread for 10 minutes.
Meanwhile heat a large wok as hot as it will go, add a splash of oil and stir fry the veg for 3 – 4 minutes until starting to to go tender. Add the onions, garlic and cooking stock into the pan, adding sweet vinegar to taste. Simmer for 2 more minutes before straining off the juices.
Slice the pork cheeks and season with a pinch each of salt and sugar. Cut the bread horizontally and drizzle with oil. Layer the pork on the bread, then the veg on top. Drizzle over a little of the reserved cooking juices to taste, plonk the other half of the bread on top, press down and serve in thick wedges.