bbt tortilla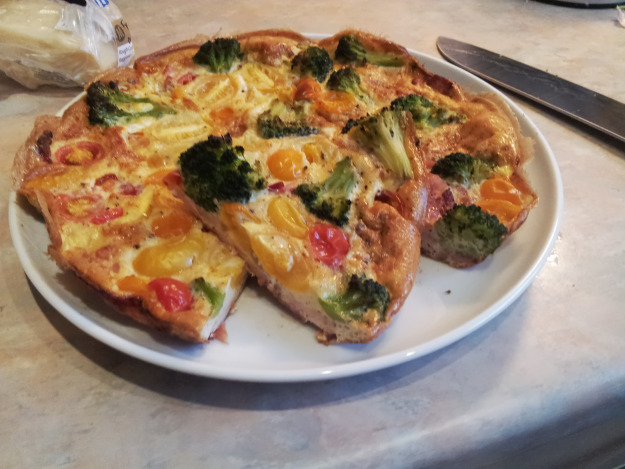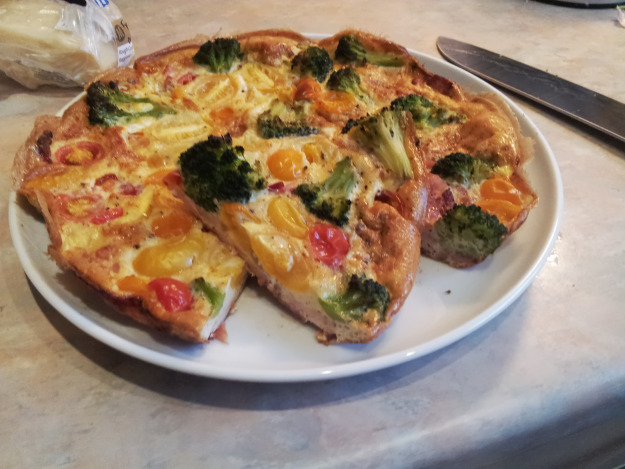 What a great year it's been for tomatoes. The plants in my garden have been raving with fruit, and they've been bursting with sweetness. A really bumper crop. Most of them have ended up in pasta sauce and pizza topping but these ones were deserving of a little more.
And so I happened across a recipe for a "BLT tortilla" in the SORTED cookbook
but didn't fancy rocket in mine, so some frozen broccoli jumped in instead. Coupled with refreshing, sweet tomatoes what you get is a portable and tasty lunch that'd be great in a picnic or easily upgraded to main meal status with a decent salad.
BBT tortilla (serves 4 – 6):
6 rashers smoked bacon, diced
About 12 frozen broccoli florets
8 eggs
A couple of handful of cherry tomatoes, halved
A handful of grated parmesan
Get a frying pan over a high heat and preheat the oven to 180°C. Add a dash of oil to the pan and fry the bacon briskly until coloured, and then add the broccoli. Stir fry until the broccoli has started to soften.
Mix the eggs in a bowl with the parmesan, a pinch of salt and a few grinds of black pepper. Pour this and the tomatoes into the pan, and take this opportunity to space the veg around the pan evenly. When that's done transfer to the oven and bake for 15 – 20 minutes until the wobble has just gone. Leave to cool in the pan for 10 minutes before turning out and serving.