beef and mushroom pearl barley risotto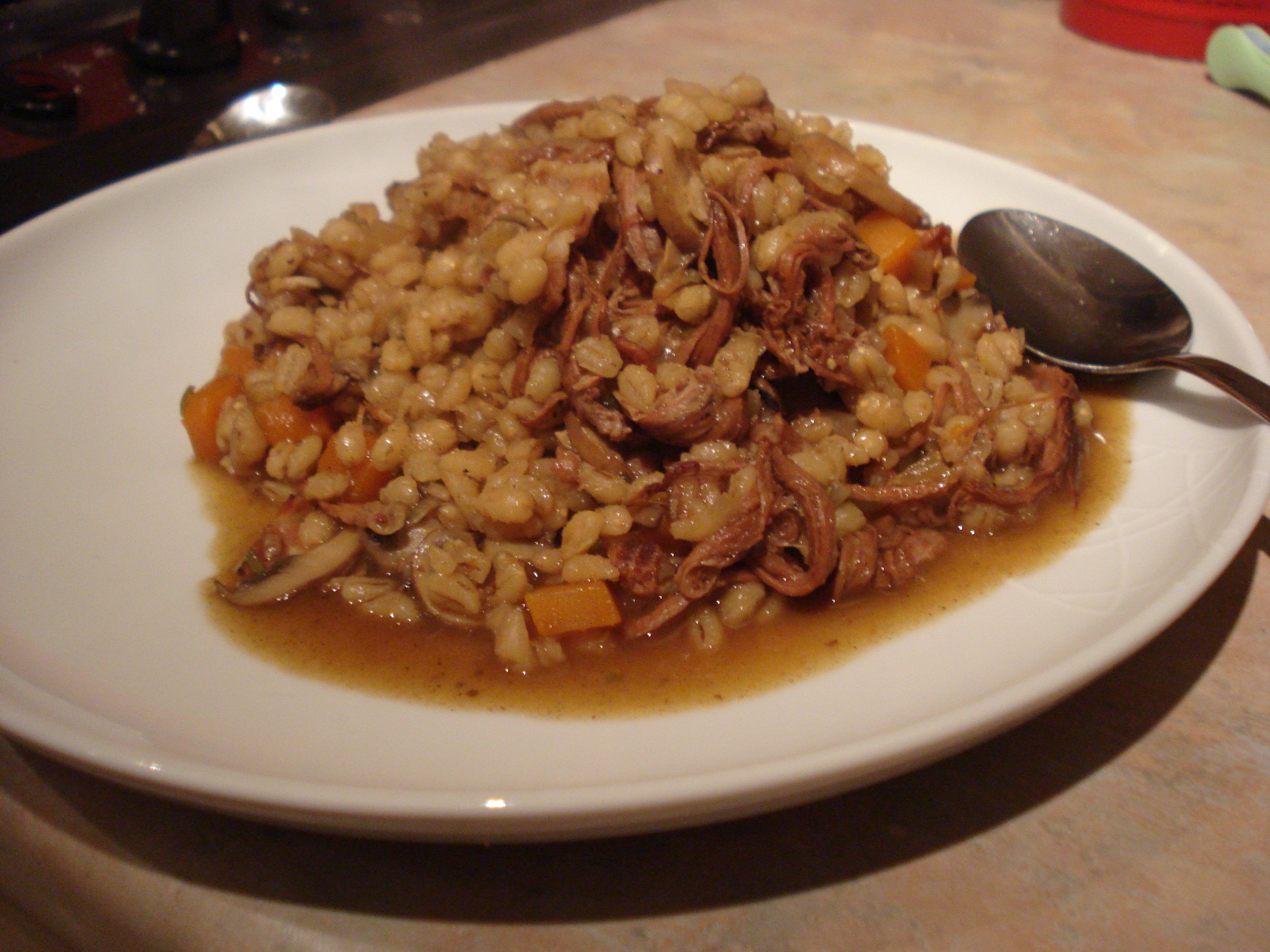 I'd made some cholent (a stew of brisket, pearl barley, beans, onions and paprika) recently and had about half left over. I put my super thrifty hat on and decided to split the meat away from the pulses and freeze them separately, giving me two goes at the leftovers. With some uncooked pearl barley knocking about as well I thought I would try a pearl barley risotto, a first for me.
I asked for some advice too late – the ever helpful Fuss Free Flavours recommended I soak the grains beforehand. Unfortunately I was making it that night! Luckily I had time to spare.
And what a treat it was. Really hearty, which is fortunate in these gloomy September evenings, and full of flavour. The pearl barley was plump with still a bit of bite, the beef still rich and tasty. Well worth the effort.
Beef and mushroom pearl barley risotto (serves 4):
6 rashers streaky bacon
2 onions, diced
1 celery stick, diced
1 carrot, peeled and diced
2 cloves garlic, minced
1 sprig of rosemary, leaves finely chopped
250g chestnut mushrooms, sliced
180g pearl barley
4 tablespoons Marsala
300g cooked brisket, shredded
1 litre beef stock
Heat a little oil in a deep casserole with a lid. Fry the bacon until browned and then add the onions, celery and carrot. Cook slowly for 5 or so minutes until the veg starts to soften.
Add the rosemary, garlic and mushrooms and fry for another few minutes until the mushrooms start to get tender. Turn the heat up high and add the Marsala. Once it has all but evaporated, stir in the pearl barley and cook for a minute to coat in all the lovely flavours.
Add the beef and the stock, simmer and cover for 45 minutes until the barley is tender. If the barley's cooked but it's still very liquidy in there, crank the heat up and boil away unlidded until it's a little less juicey. Check for seasoning. If you have some parsley it would be really nice stirred through as you serve.