beef chilli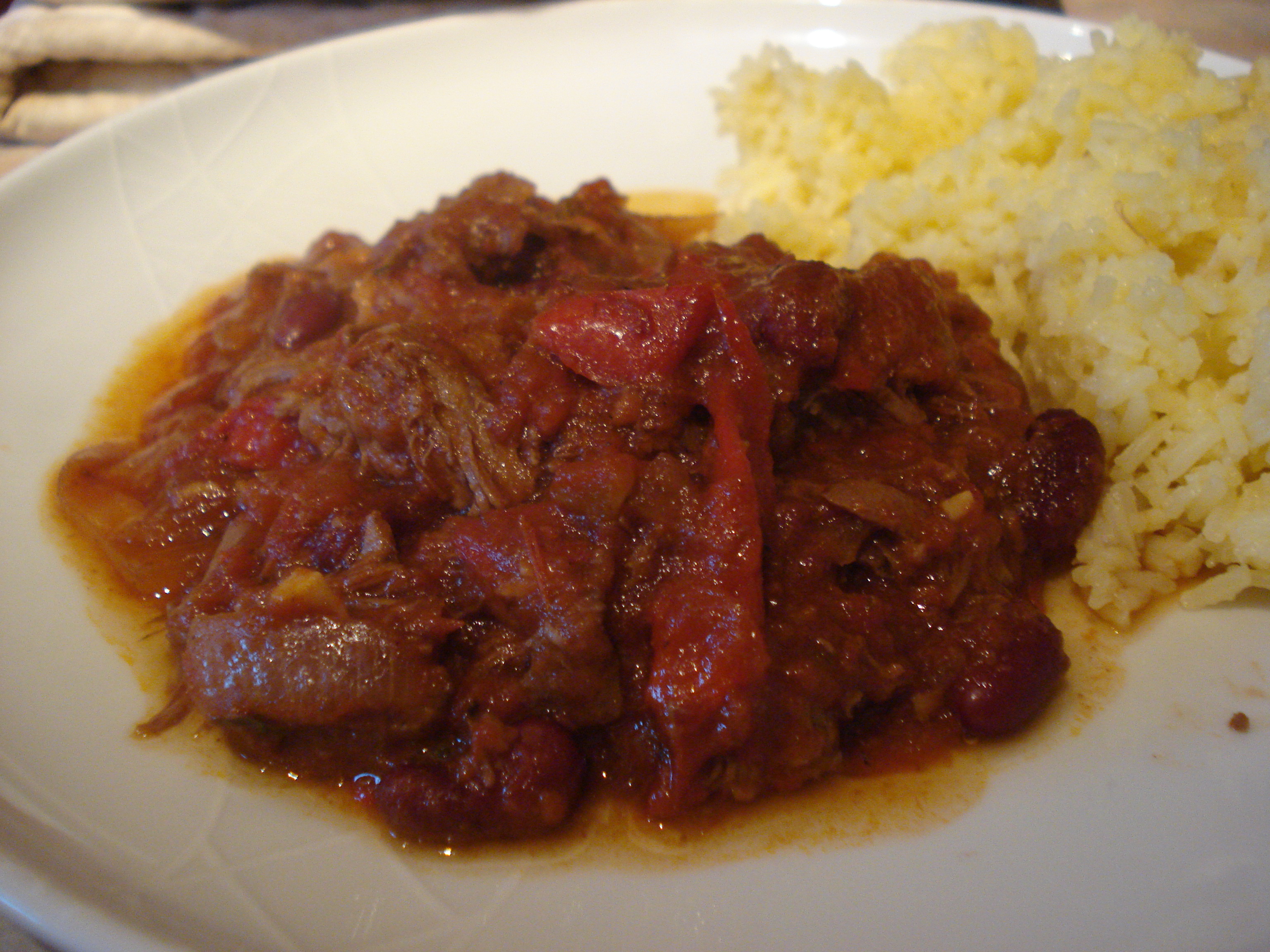 Sometimes you see a recipe on TV and you have to do it immediately. And so it was with Jamie Cooks Summer, where Jamie Oliver cruises around a festival and cooks a bit. He made a chilli with a big slab of brisket as opposed to mince, rubbed it with spices and then braised it in tomatoes for hours. Watching the tender meat pull apart with a spoon is guaranteed mouth-watering.
I couldn't find reasonably priced brisket (what's happened to the price of brisket?!) so I used a large chunk of casserole steak instead, which still gave the same loose texture and great taste. I also added peppers and kidney beans to mine to round it out a bit. I left out the absurd amount of chillies that Jamie puts in every recipe, but still left plenty of tongue-tickling heat in there. It's a great fun recipe though and a big hit for a party.
Beef chilli (serves 6):
800g casserole steak, scored
Paprika
Oregano
Cumin
Chilli powder
2 tins of tomatoes
2 large onions, sliced
4 cloves garlic, minced
2 red peppers, sliced
1 tin kidney beans, drained
Get a large lidded casserole dish on a low hob, and a large frying pan on a high heat with a splash of oil.
Rub a dusting each of oregano, paprika, cumin and chill into the meat with a sprinkle of salt. Make sure it's well massaged in and sear the meat all over in the frying pan to get a lovely spicy crust on it.
While this is searing, add the tomatoes to the casserole and half as much water again. Remove the meat to the side for a minute while you fry the onions and garlic until softened, then chuck the onions, garlic, meat and peppers into the pan. Stick the lid on, turn the heat down and simmer for 2 hours.
Add the beans and cook out for another hour, or until the beef just falls apart. Serve with wraps, guacamole, salsa and rice.