black forest trifle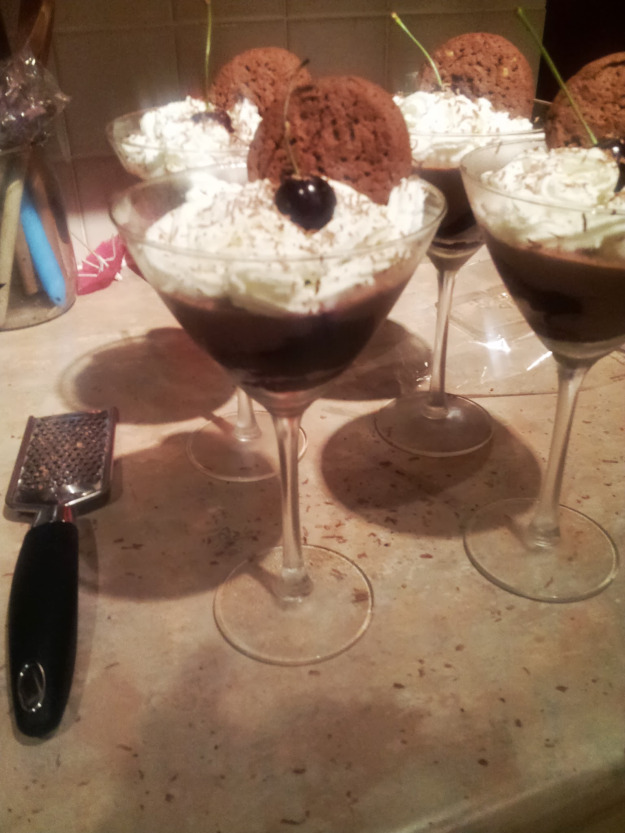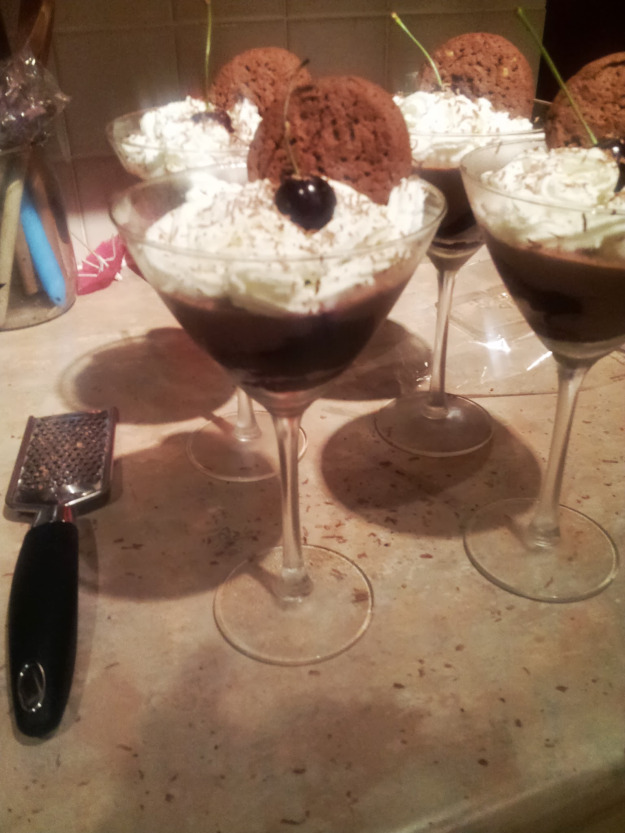 When making this, I had to search my blog in case I'd made something like this before. I have a severe weakness for 'black forest'-flavoured things and I appear to have 4 separate choc-cherry desserts in my collection!
This one has been back and forth with In Search of Heston and me, we've noticed how obsessed Heston Blumenthal is with both Black Forest things. and trifle. There was one made for Waitrose but to be honest it sounded weird (lime?). This version is not likely one that Heston would make – not quite enough genius touches – but a tribute nonetheless. A Heston version would no doubt spherify intense cherry compote into cherry shapes and impale them with a stick of dark chocolate for the stem. This version is dead easy to do, kid-friendly (if you skip the Kirsch) and great fun to assemble.
I also hadn't planned on sticking a biscuit in the top, but a friend had brought these smashing things from Border and they were tremendous. I could've skipped making this and just eaten the biscuits instead, they were that good.
Black forest trifle (serves 4):
1 chocolate swiss roll
1 jar black cherry jam
12 cherries
Kirsch (a couple of tablespoons I guess)
500g chocolate custard
1 meringue nest
Squirty cream
Dark chocolate (for grating)
Put swiss roll slices at the bottom of your trifle bowl or individual serving dishes. Douse with Kirsch. Slather the swiss roll with jam.
Halve nine of the cherries and stone them. Bury the cherries in the jam. Steep the remaining 4 cherries in a little Kirsch until time to serve.
Top the jammy cherries with chocolate custard and refrigerate until serving. Top with crumbled meringue nest, squirty cream, a grating of chocolate and a final boozy whole cherry.