black pepper steak stir fry

I've been enjoying a lot of noodles in the past year. Most of it down to MiMi's fabulous education via her Noodle! book
, which has encouraged me to explore on my own. I've made dozens of stir fries in 12 months, with many types of noodle and rice, meat, vegetables, the works. I've also made several trips to See Woo Stores to keep my cupboards stocked with fantastic ingredients!
It also means I've been attempting to recreate dishes I've had. Like this one: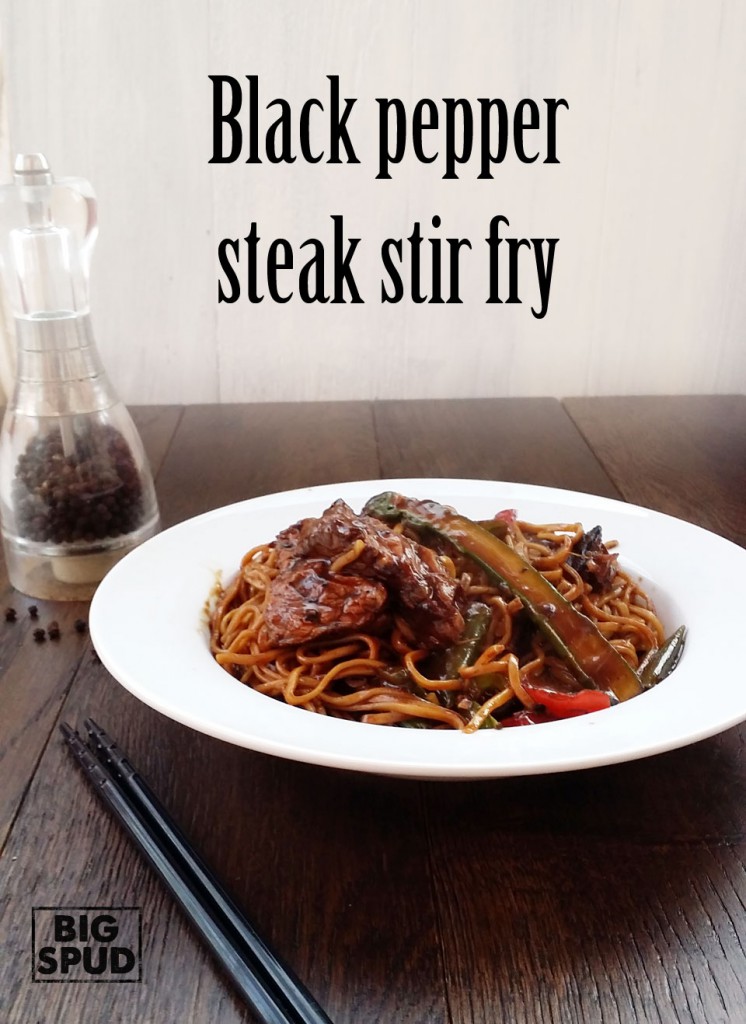 It's inspired by a dish I had at Hakkasan, the stir-fry black pepper rib eye beef with merlot. It had a glutinous coating, yielding to tender beef and leaving a sticky pepper flavour on the palate. Really, seriously good Cantonese cooking with Western influences. I polished off the whole lot very quickly, and a few minutes later one of my dining companions asked me a question. I had to confess that I'd missed the question, as I was deep in thought as to how they'd achieved the textures and flavours in the beef!
So here's my version of the Hakkasan dish. It's not as clean tasting as their version, but retains the heart of it. It ticks all the boxes I was after and one I'll be making many times.
You start by marinating bavette (skirt) steak. Whilst I love rib-eye – it's probably my favourite steak – bavette is brilliant in stir fries and extremely tasty. But you must cook it very quickly to avoid it getting tough.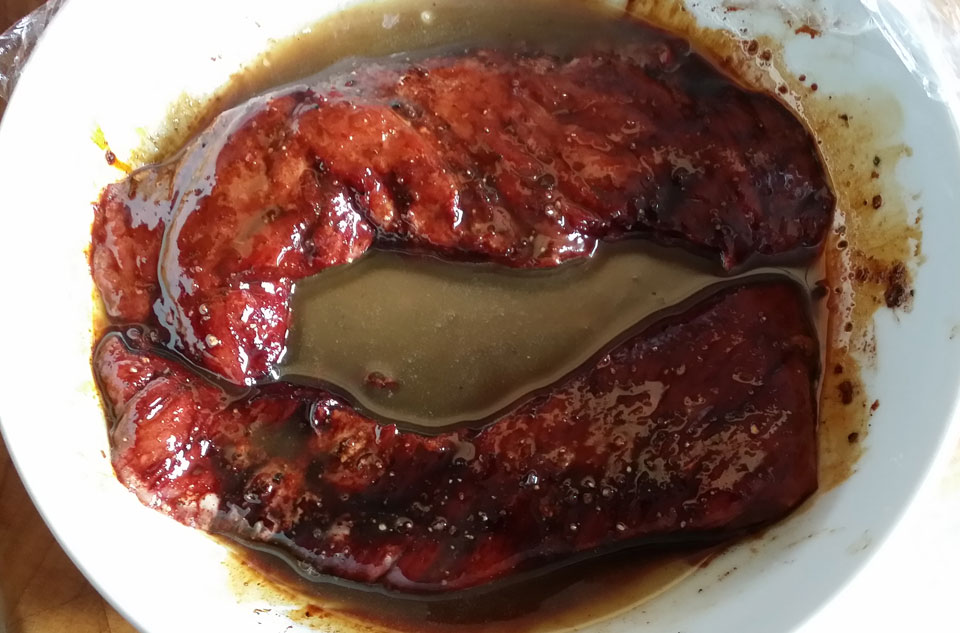 A quick flash-fry later: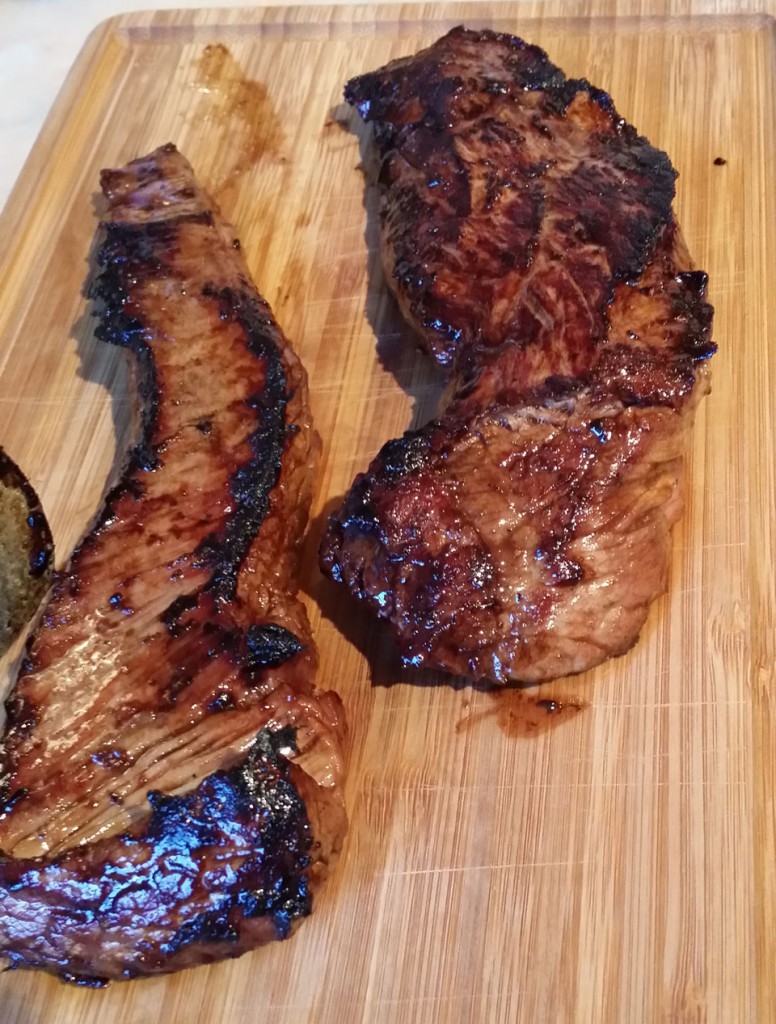 After a period of resting, it's thinly sliced and added to stir fried vegetables, noodles and a quick sauce.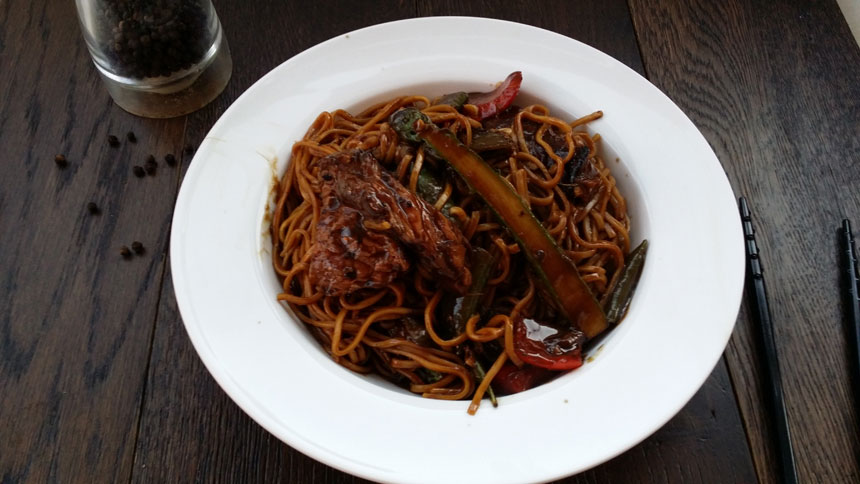 I think it's a cracker-san. Give it a try!

black pepper steak stir fry
Ingredients
For the beef:
400

g

bavette steak

1

teaspoon

cornflour

1

teaspoon

garlic powder

1/2

teaspoon

ginger powder

1

tablespoon

dark soy sauce

1

tablespoon

sesame oil

1

tablespoon

olive oil

A good six or seven grinds of black pepper
For the sauce
300

ml

beef stock

1

teaspoon

cornflour

2

cloves

garlic

minced

1

inch

piece of ginger

minced

1

tablespoon

dark soy sauce

1

tablespoon

sesame oil

Plenty of freshly ground black pepper to taste
For the stir fry:
200

g

sugar snap peas

halved

100

g

asparagus

halved

1/2

red pepper

diced

2

nests egg noodles

boiled, drained and rinsed
Instructions
Combine all the ingredients for the beef marinade well and baste liberally on the steaks. Leave covered for at least an hour.

Make your sauce by combining all the ingredients, whisking well to dissolve the cornflour.

When you're ready to cook, get your wok on screaming hot. Shake excess marinade off the beef and fry the steaks for 90 seconds on each side, until they have coloured well but still quite squishy to the touch. Leave on a board to rest on one side while you carry on with the rest.

Keep the wok hot and add a tablespoon of oil. Stir fry the vegetables until starting to soften. Keep stirring to avoid them catching, and then add the sauce (at this point you don't have to stir so diligently).

Slice the steak thinly. When the sauce in the wok is bubbling and thick, tip the steak and the cold noodles into the pan. Stir fry for another minute to warm up the beef and noodles, and serve immediately.