burger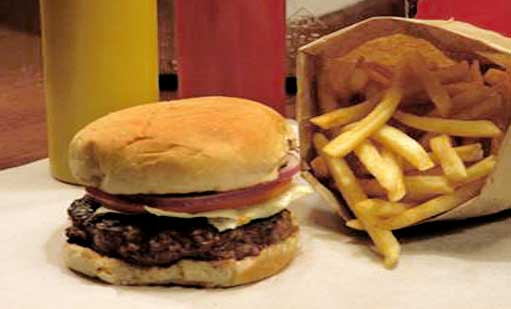 I had the most sublime fast-food experience in New York: it was a burger.
As a devotee of Heston Blumenthal, I owed to myself to check out a bizarre little place where he had the best burger in the world. Nestled in an upmarket hotel was a greasy little burger shack without a name.
I entered the hotel and immediately felt out of place: opulence, grandeur and marvel. Marble floors, leather chaises longues, martinis served on platters by penguin waiters. But I knew the burger was here – I could smell it!
I darted through the lobby following my nose. Then to one side, between two innocent curtains, I glimpsed a neon outline of a burger. Down this corridor was a boxy little greasehouse, wood-panelled walls, red PVC banquettes, and loud rock music. What struck me was the chaos. Cardboard, hand-written signs were plastered around the serving area-cum-grill, urging that you get your order ready or face queuing up a second time.
I ordered two burgers with "the works" (lettuce, tomato, onion, sliced pickles, mustard, ketchup, mayo) and gave my name, while we were offered a cosy booth amid the heaving crowd. What struck me were the different people: suits, designer wear, builders, tourists… all here to grab a burger, and god knows how they'd found the place. The walls were also covered in scribbles, with notables such as Chuck Liddell, Joss Stone and Hiro from Heroes.
A minute later my name is barked (all burgers are cooked to order and to desired doneness) so I push through and grab my waxpaper-wrapped treats. I can't wait to sit down and try it, so after some feverish unwrapping I take my first bite. It's the texture that gets me, all loose and moist. But the flavours are then running through my mouth; savoury and salty. For what has become the ultimate symbol in garbage food, this was high dining indeed.