catherine wheel sausage with leek gravy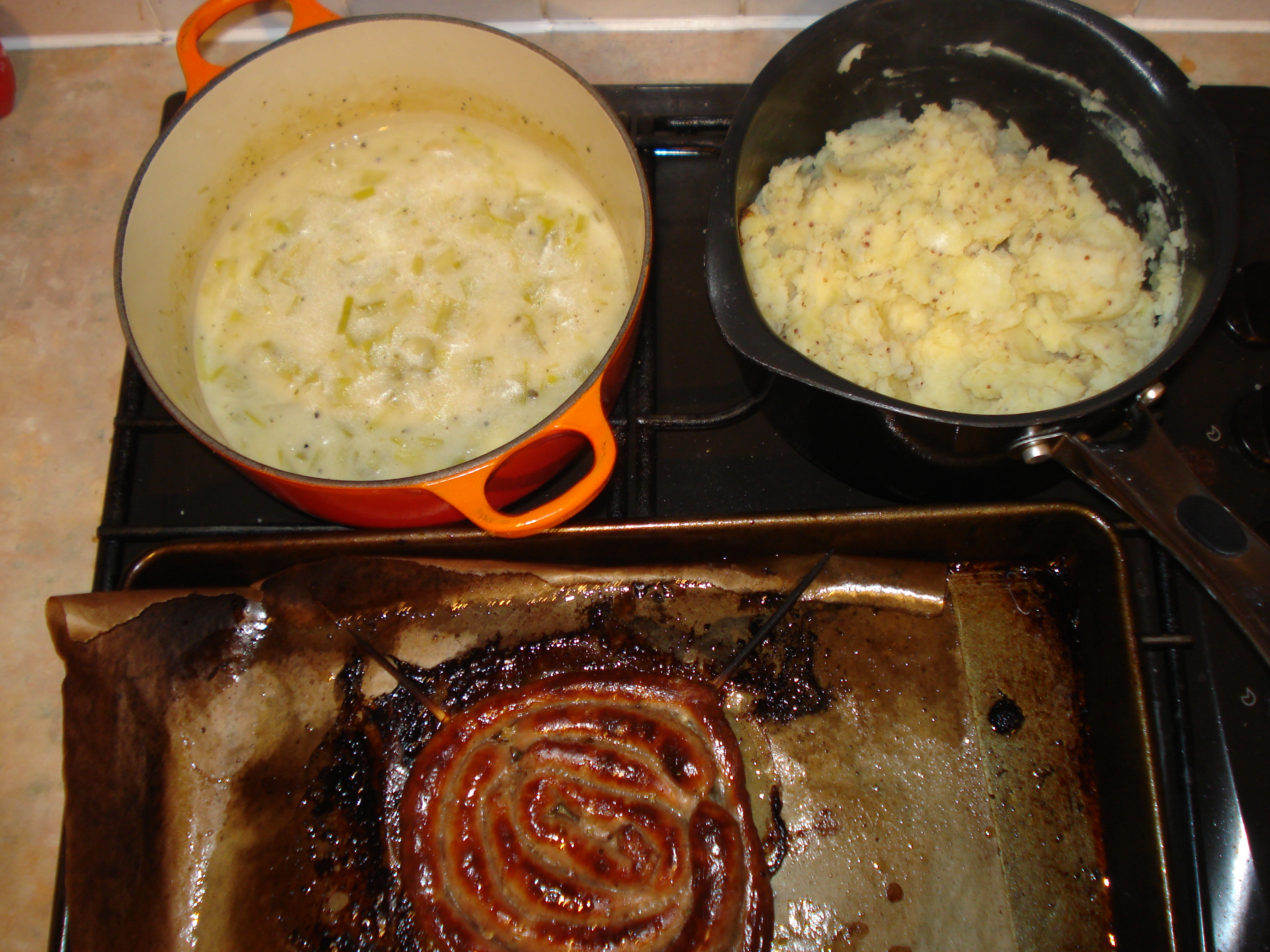 This is largely based on a recipe from Jamie's 30-Minute Meals
(yes, I still haven't cooked them all) but without the crazy Ryvita-apple salad (?). I'll be honest: the only reason I made it was to have a squirly-whirly sausage which somehow makes me grin more than regular daisy-chained sausages. But the leek gravy is the surprise star, all sweet and silky. I've added a dollop of creme fraiche to make it even more smooth and tasty. Great stuff as the nights draw in.
Catherine wheel sausage with leek gravy (serves 4):
12 linked chipolatas
1 large teaspoon dried sage
500g potatoes, peeled and diced
3 cloves garlic, peeled
2 leeks, quartered and sliced
1 chicken stock cube
1 tablespoon flour
200ml cider
50g butter
1 heaped teaspoon wholegrain mustard
1 tablespoon creme fraiche
Get the grill on medium, and two lidded saucepans on a low heat. Fill one of the pans with boiling water, add the potatoes and garlic, a large pinch of salt and get them simmering away.
Allow the sausages to unravel and squidge the meat together so you get one long sausage as opposed to lots of links. Push a couple of skewers through the sausage to hold it in place. Douse with olive oil and sprinkle with half the sage. Pop under the grill for 10 minutes.
Chuck the leeks along with some olive oil and the remaining sage into the other pan and a splash of boiling water, then clamp the lid on. Let these whistle away for 5 minutes until tender, then sprinkle in the stock cube and flour. Stir well and when well combined add the cider. After a minute or two bubbling away top up with the same amount of hot water and simmer.
Flip the sausage over for a further 5 minutes or so until browned. In the meantime check the potatoes are cooked through; when done drain well and add the butter and mustard. Allow to sit for a minute and then mash until it's a smooth as you like. Check for seasoning.
Take the leek gravy off the heat and whisk in the creme fraiche. Serve up the sausages with a pile of mash and drown with leeky gravy.