cauliflower macaroni cheese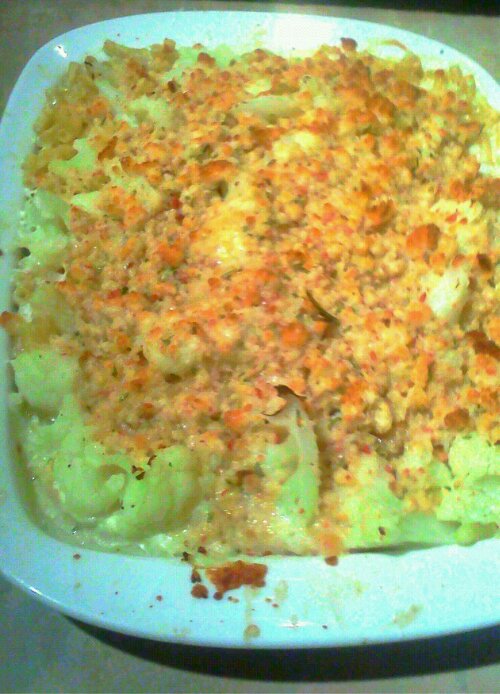 Not quite a 30 minute meal. It's simpler than that. It's yanked from Jamie's 30 minute cauliflower macaroni, chicory salad with insane dressing, and lovely stewed fruit
. But I only fancied the cauliflower macaroni bit.
I loused up the recipe a bit – I somehow ended up blitzing the cheese with the lovely breadcrumbs, which meant the topping was cheesy but the sauce too bland. Stupid spud. I still feel like the whole thing could use a little more seasoning though.
Cauliflower macaroni:
8 rasher of pancetta
1 head of cauliflower, quartered
300g macaroni
Large sprig of rosemary, leaves picked
200g cheddar
2 thick slices of bread
2 cloves of garlic
150g creme fraiche
Get the oven on 220°C. Lay the pancetta in a baking tray ready to take the finished dish and pop in the oven while you carry on.
Put the cauliflower and the macaroni in a large pot and fill with boiling salted water, and keep on the simmer.
Get the food processor out with the chopping blade. Get the pancetta out of the oven and whizz this up with the bread, rosemary and a dash of olive oil.
Drain off the cauliflower & pasta and reserve some of the water. Tip the veg/mac into the roasting tray you used for the pancetta and put on a low heat. Pour in a little water, crush in the garlic and mix in the creme fraiche and cheddar. Mix everything right up, adding more water and seasoning as necessary to get a smooth, silky sauce. Spread out evenly, top with the breadcrumbs and bake in the oven for about 10 minutes, or until bubbling.