champagne and strawberry jelly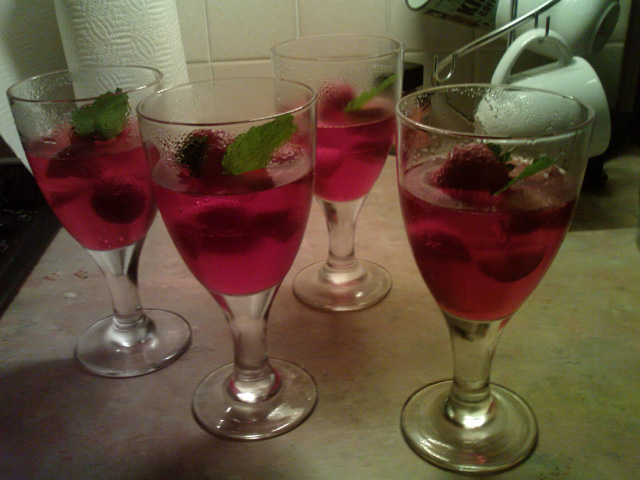 I wanted to treat some guests to something a bit fancy and a bit special, yet could be made well in advance. I hit on a "strawberries and champagne" theme and sidetracked over to jelly. So I had strawberry jelly made with champagne with strawberries suspended in it. I'd intended to make a champagne foam to top it off too, but I just couldn't be arsed! I recommend making half the mixture, setting the first lot with fruit in, then pouring the remainder on top to allow the fruit to dangle in jelly-space.
Champagne and strawberry jelly:
135g strawberry jelly, diced
100ml boiling water
300ml champagne
Strawberries, 5 or 6 per serving
Mint leaves to garnish
Melt the jelly cubes with boiling water in a jug. Top up with champagne.
Pour half of the mixture into serving glasses and put the fruit in. Put in the fridge to set (about two hours).
Top up with the remaining jelly mix and allow that to set. Garnish with mint leaves.