cheese and onion tart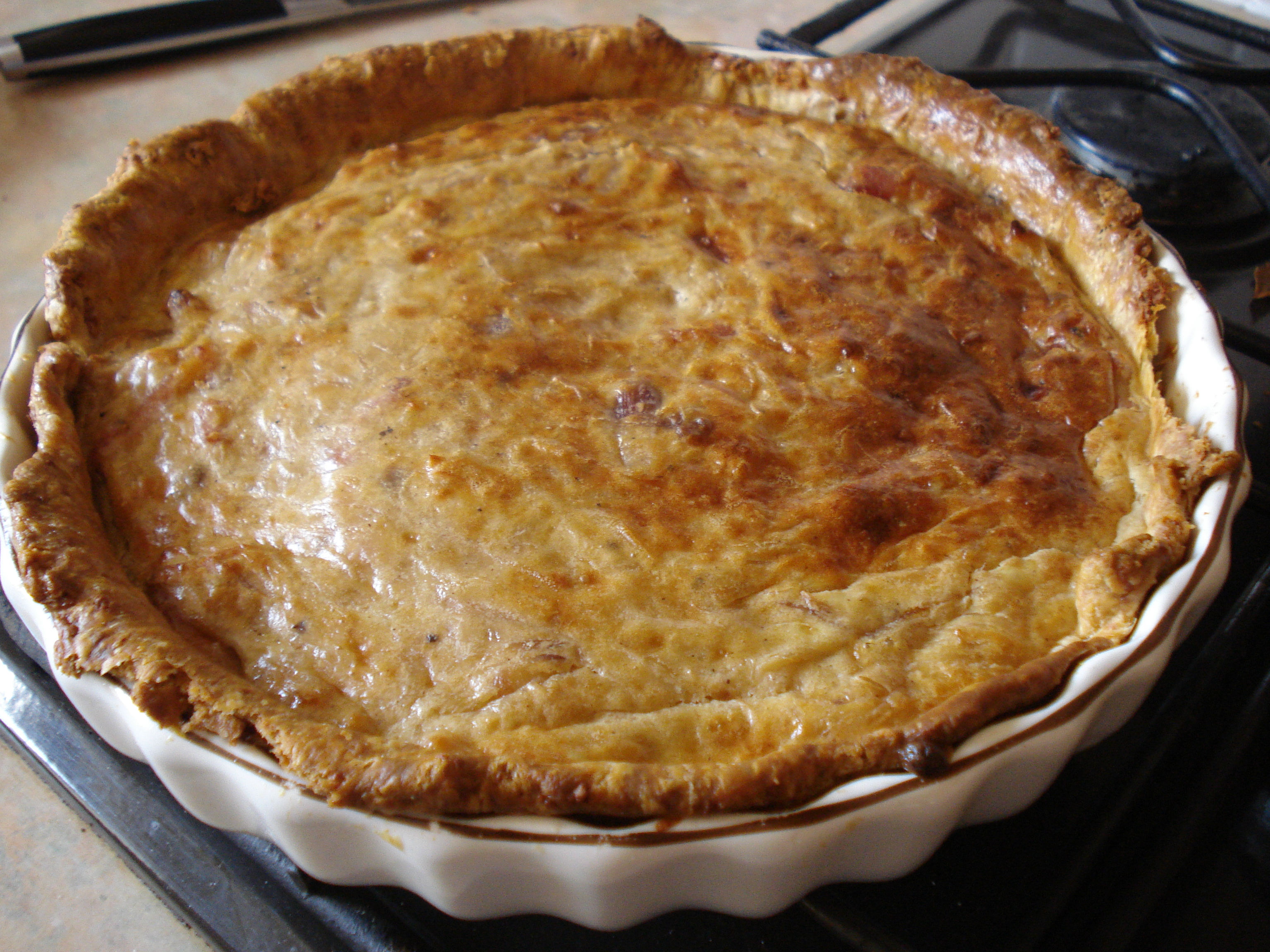 Raymond Blanc has recently trotted around France cooking for locals. In A Very Hungry Frenchman Raymond acted as part guide, part tourist in a manner similar to Two Greedy Italians. I couldn't quite figure out whether Raymond was well known in his home country or not – sure he has a spot in Paul Bocuse's Les Halles de Lyon but little clues other than that. The program was very entertaining if a little long, with Raymond giggling his way through the food and showing his affable passion. Each programme showcased a different region.
In his Alsace episode this recipe for an onion tart stopped me dead. I thought it looked the business so I had to give it a go. Not content to leave it alone, I added cheese to the pastry to add another layer to the flavours. I was recently sent some Old Amsterdam cheese, not a brand I'd previously heard of. Trying it raw out of the packet I was knocked out by it's punchy flavour, like a soft, tangy parmesan with a cheddar-like texture. I'll definitely be picking some more of this up.
The tart itself is quiche-like, set with eggs and packed with sweet onion flavour. I didn't have the deluxe variety Raymond was celebrating so used a mixture of regular brown and red onions. It's a dense and tasty tart, and I was very pleased to have the cheesy pastry as an accompaniment; cheese and onion is a classic combination for good reason and the saltiness crumbled beautifully next to the onions.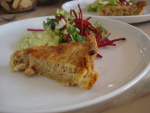 It's a lovely recipe for a Sunday lunch or cold as a part of a picnic. I served mine with salad and a lemony avocado dressing (the dressing from this one).
Based on this recipe by Raymond Blanc
Cheese and onion tart (serves 4 – 6):
For the pastry:
200g plain flour
70g Old Amsterdam cheddar, grated (a strong cheddar would also work)
30g unsalted butter, diced
1 egg
For the filling:
100g bacon lardons
450g mix of red and brown onions, peeled and finely sliced
50g butter
Nutmeg
1 tablespoon flour
100ml milk
100ml creme fraiche
3 eggs, beaten
First prepare the pastry. Pulse the flour, cheese and butter with a pinch of salt in a food processor until you get breadcrumbs. Add the egg and maybe a splash of milk to bring it all together. Wrap the dough in clingfilm and rest in the fridge for at least half an hour before using.
Pre-heat the oven to 180°C. Melt the butter in a large saucepan and gently fry the onions for 15 minutes until soft and golden.
Roll out the pastry (Raymond recommends rolling it between two sheets of cling film, great tip!) and lay into a baking dish. Prick all over with a fork and blind-bake for 15 minutes until golden. Brush with a little of the beaten egg to glaze and bake for a further 2 minutes.
Add the lardons to the onions and fry for a couple more minutes. Tip in the flour and stir well for 2 more minutes. Add the milk and stir vigorously to make a thick oniony paste. Add the creme fraiche and stir a little longer, then remove from the heat. Add the eggs to incorporate, season well then pour into the pastry case. Bake for 30 minutes until golden, then allow to rest for 10 minutes before serving in thick wedges.