chestnut gnocchi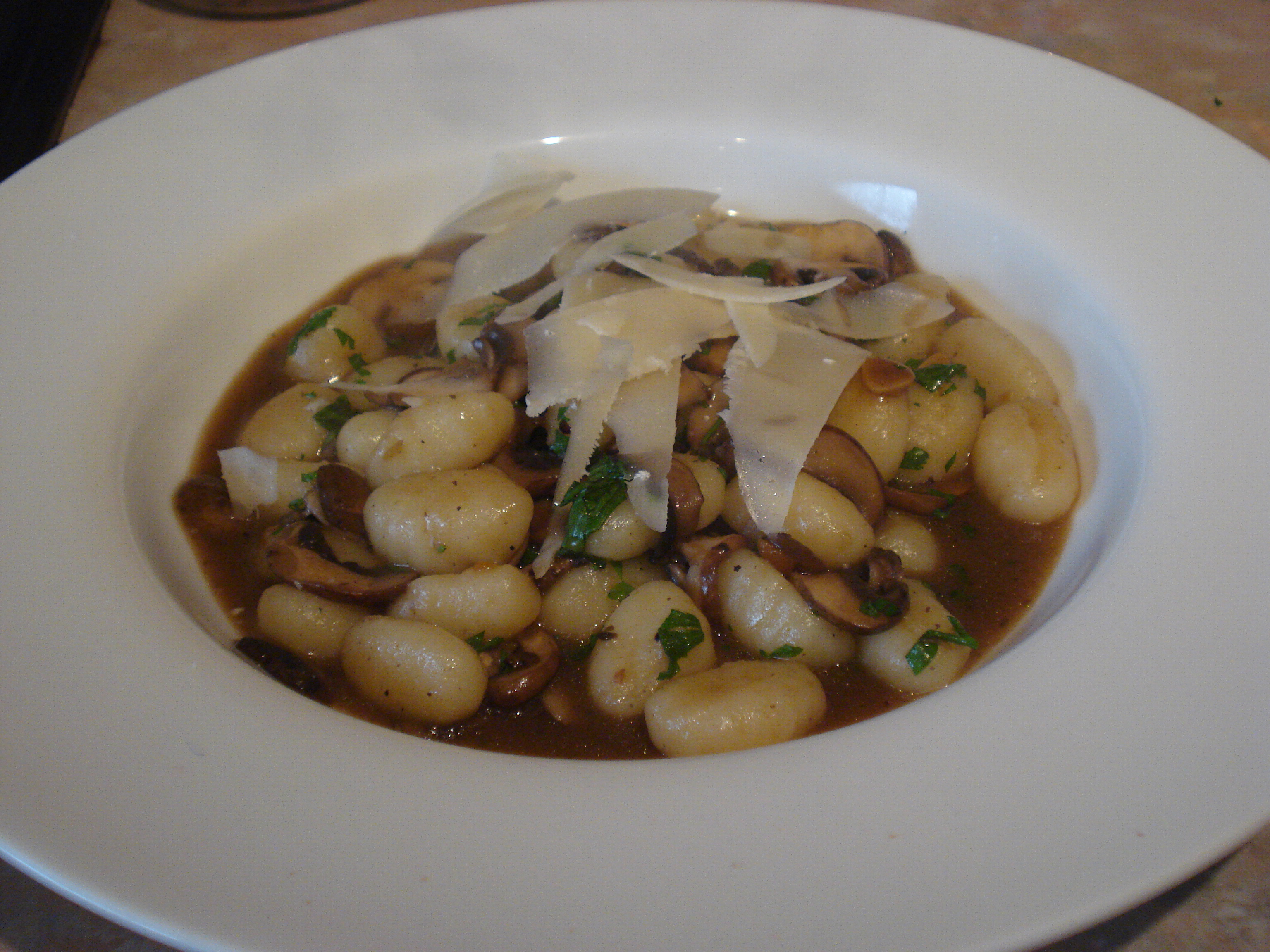 I absolutely love Two Greedy Italians. Not only are Gennaro Contaldo and Antonio Carluccio the most avuncular and affable guys on TV, joshing and fondly trading insults, they also serve up some jaw-droppingly good Italian food. In the series where they tour Italy, revisiting places of their youth and being tourists everywhere else the former colleagues eat their way through just about every culinary region of the Old Boot.
In this episode traversing the Alps, they went to a region where they historically couldn't grow wheat so used chestnuts for all their flour. Gennaro then used this to make a delicious chestnut gnocchi with mushrooms. I had to give it a go myself, but all my previous attempts to make gnocchi have been messy, hideous and not worth the effort. The recipe also isn't listed on the site. So I bought shop-made gnocchi and improvised a sauce. This was fab, I'm definitely doing it again and I hope I've paid enough tribute to Gennaro's original recipe. Watch the sweetness, you will probably need a good dose of salt to balance it out.
The recipe is probably in Two Greedy Italians Eat Italy
, but I don't have it so no guarantees!
Chestnut gnocchi (serves 2):
2 cloves of garlic, peeled and finely sliced
2 tablespoons Worcestershire sauce
100ml Marsala
300ml beef stock
200g chestnut mushrooms, sliced
1 tablespoon chestnut puree
1 pack of potato gnocchi
Handful of parsley, roughly chopped
Parmesan shavings to serve
In a small saucepan heat some oil over a medium heat. Add the garlic, Worcestershire sauce, a pinch each of salt and sugar and cover the pan. Cook for 3-4 mins, stirring regularly until the garlic is starting to brown. Add the Marsala and allow to reduce by half. Then add the beef stock and reduce this by half. Add the chestnut puree and check for seasoning. Keep warm while you do everything else.
Into a frying pan add a knob of butter and the mushrooms. Fry for 8-10 mins until the mushrooms are browning, then add a good whack of black pepper. While the mushrooms sizzle, cook the gnocchi for 2-3mins in salted boiling water until floating at the top. Drain until needed.
When the mushrooms are ready, add the sauce and gnocchi to the pan and toss vigorously to combine. Give it a final check for seasoning and top with parsley and parmesan for serving.