chicken and ham pies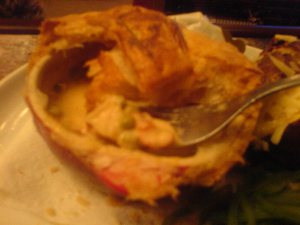 Not my finest photography ever. Thankfully it ate a lot better than it snapped.
I fried some pancetta, and added Sunday's frozen chicken. Then some peas in there. Sticking it in an individual pot and topping with frozen puff pastry was the hardest part. Sometimes I just get a craving for a pie, with a crispy brown top, that slightly soggy undercarriage, followed by a warm and gooey filling. This satisfies those cravings and then some.