chicken skewers, satay sauce and noodle salad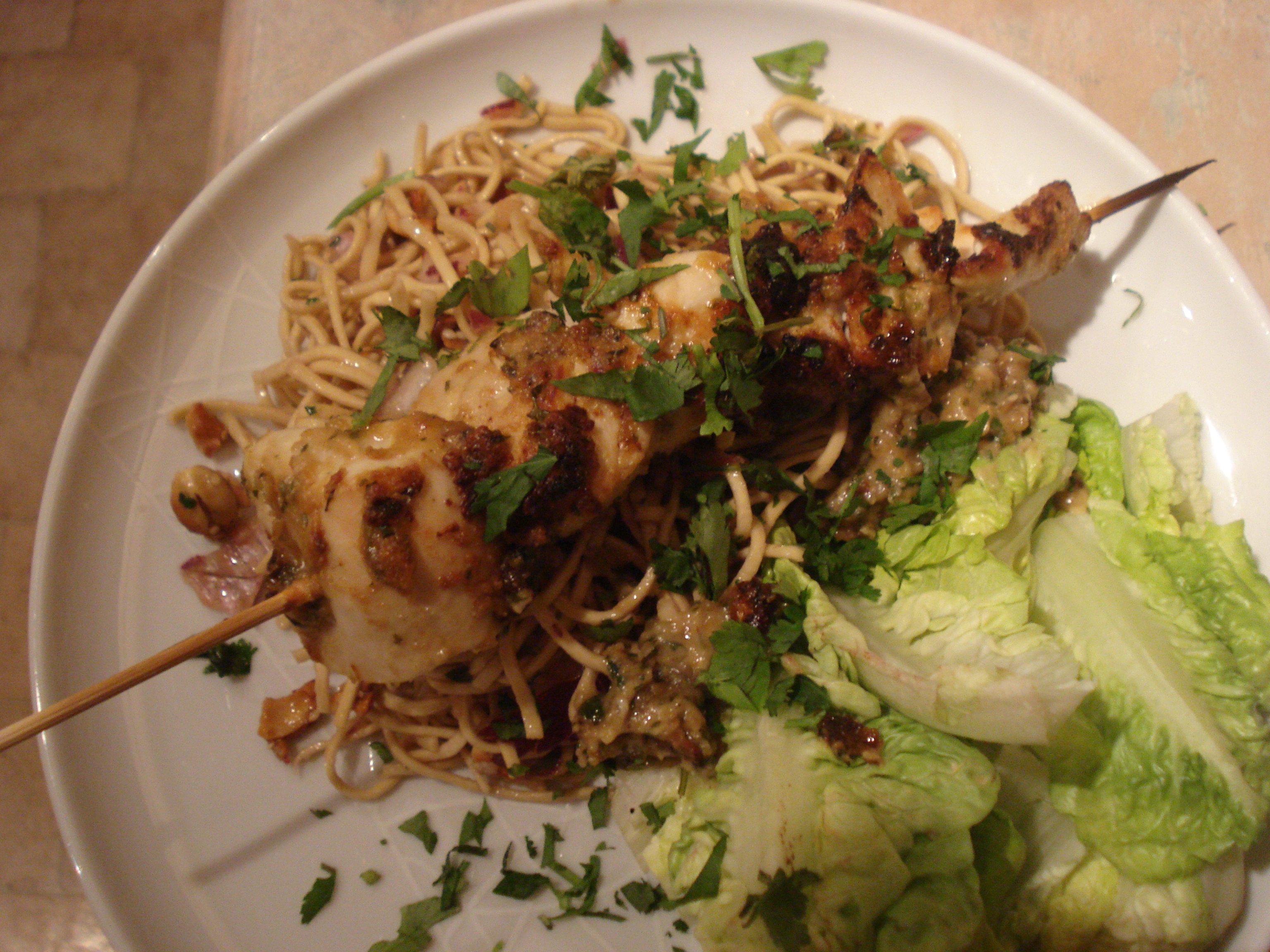 This recipe is adapted from one of Jamie's 30-Minute Meals
. If you've browsed around this blog in the last couple of months, you'll have noticed that I've gone through quite a lot of them, and they've all been pretty fantastic. This is the first one that felt like a lot of fuss for okay results. I'm sure it could be simplified to a more straight-forward stir fry style recipe. I'll be back with this one.
Chicken skewers, satay sauce and noodle salad (serves 2):
For the satay sauce:
½ a bunch of fresh coriander
A few slices of red chilli
1 clove garlic
3 tablespoons crunchy peanut butter
1 tablespoon tahini
Soy sauce
2cm ginger
Zest and juice of 1 lime
For the chicken:
2 chicken breasts, diced
Runny honey
For the noodles:
1 nest per person
50g unsalted cashews
½ red onion
½ bunch fresh coriander
Soy sauce
1 lime
1 teaspoon sesame oil
1 teaspoon fish suace
1 teaspoon honey
1 teaspoon sesame seeds
To serve:
More fresh coriander
2 little gem lettuces, shredded
Get a grill on screaming hot. Whizz together all the satay sauce ingredients in a food processor. Taste and check – more lime? More soy?
Skewer the chicken breasts and baste with half the satay sauce. Drizzle with olive oil and pop under the grill for 10 minutes on each side, or until golden and cooked through. When you stop to turn them over, drizzle over the honey.
Put the noodles in a bowl, pour boiling water over and cover for 5 minutes. Bash the cashew nuts to pieces and add to a frying pan and heat gently – make sure they don't burn.
Peel the red onion and pulse with coriander. Mix with the soy, lime juice, sesame oil and fish sauce. Taste and check for seasoning. By this time the noodles are probably ready drain, wash them under cold water and toss with the red onion salad.
Back to the cashews, adding honey and sesame seeds to coat. Once golden, tip into the bowl with noodles and combine well.
Serve the skewers on top of the noodle salad with lettuce, more coriander and the remaining satay to dip.