chicken with sherry and cream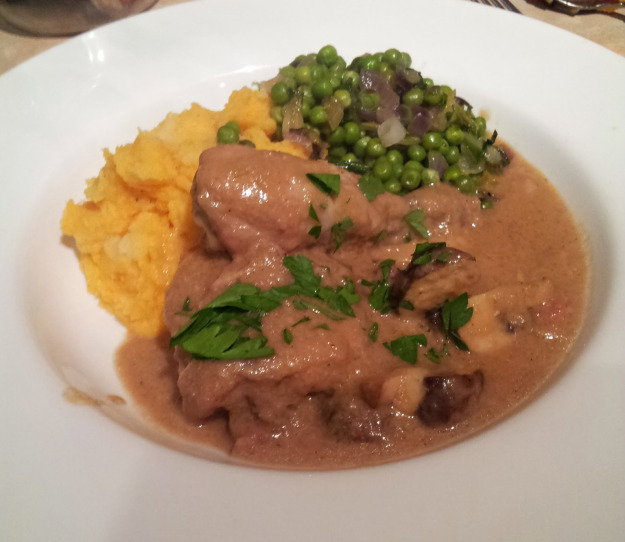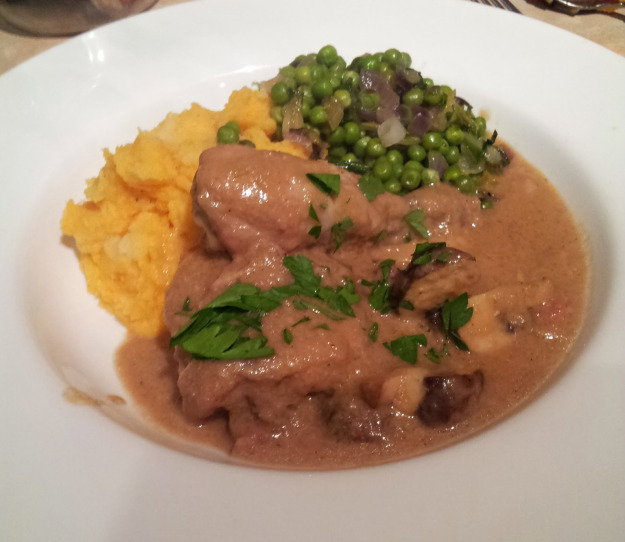 Two thirds of the post title are wrong. This is my take on a Heston Blumenthal recipe so read on to find out what I've changed…
I've read Heston at Home a bunch of times but I've always glossed over this recipe. The picture isn't very appealing – in fact you can barely see the dish. It took good old In Search of Heston blogging it to make me give it a go. Handily, they'd pointed out a few quirks in the method worth noticing so I'm totally surfing their experience here. Such as using an expensive sherry – no way am I buying booze for a one-off but I always keep a bottle of Marsala on hand for cooking. And using double cream is just too indulgent, so I went for creme fraiche. Seem like reasonable substitutions to me. There's a brining stage too which I went for but you can skip if you're short on time.
There's also a heart wrenching moment after you've simmered diced veg in the broth that you're supposed to throw the vegetables away. No chance am I binning that goodness and frankly, money. I chose to blitz this up my trusty Kitchen Wizz Pro which thickens the sauce and makes it more wholesome.

This recipe also gave me the opportunity to try a product I think Heston would approve of. Joel Robuchon chicken boullion comes in these giant tea bags that you poach gently. I admit to being skeptical – it had the whiff of duff endorsement about it. But it creates a surprisingly interesting flavour, wholesome but clean-tasting. A step above a stock cube for sure.
The finished dinner is rib-sticking and gorgeous. In fact, to be thrifty I'd get to the point where the chicken is cooked and stop there. You'd have a delicious cream of chicken style soup, plus some poached chicken portions for other recipes. The broth really is delicious, I had to shoo Mrs Spud away from the wooden spoon. In fact, I think the finishing touches of mustard, cheese and truffle oil are completely superfluous and the parmesan in particular only serves to muddy the taste. Next time I'd skip the garnish (apart from the parsley – needs that fresh edge to it).
I served mine with sweet potato mash and petits pois a la francais, but you definitely need some greens on there to offset your carb intake!
Creamy chicken with Marsala (serves 4):
6 chicken thighs
A brine of 8% salt, 50g brown sugar and 1 star anise
1 red onion, sliced
1 leek, sliced
3 cloves of garlic, bashed
300g Marsala wine
500g chicken stock
250g creme fraiche
200g chestnut mushrooms
6 rashers streaky bacon
20g parmesan, grated
5g Dijon mustard
Dash of truffle oil
Parsley, chopped
Place the chicken in the brine, chilled, for 6 hours, not too much longer as it'll be too strong. Drain and pat dry when ready.
Season the chicken with flour, salt and pepper and fry in a large casserole dish with a little butter until golden. Remove from the pan to one side, and gently fry the onions, leek and garlic for 15 minutes.
Preheat the oven to 100°C. Add the Marsala to the casserole pan, crank up the heat and set alight. When the flames have died down turn the heat back down and add the stock and creme fraiche. Simmer for 20 minutes.
Return the chicken to the pan, cover and roast for 40 minutes or until the chicken is cooked to 70°C throughout. Allow the chicken to rest and cool to room temperature in the liquid.
Remove the chicken, pour the liquid & veg into a food processor and blitz until fine. Pour this back into the casserole pan and boil until reduced by half. Resist all urges to drink from the dish. Meanwhile, fry the bacon and mushrooms until tender, then add to the casserole pan. Stir through the cheese and mustard and pop the chicken back in to warm through. Serve garnished with chopped parsley.