chicken wrapped in bacon with red cabbage and champ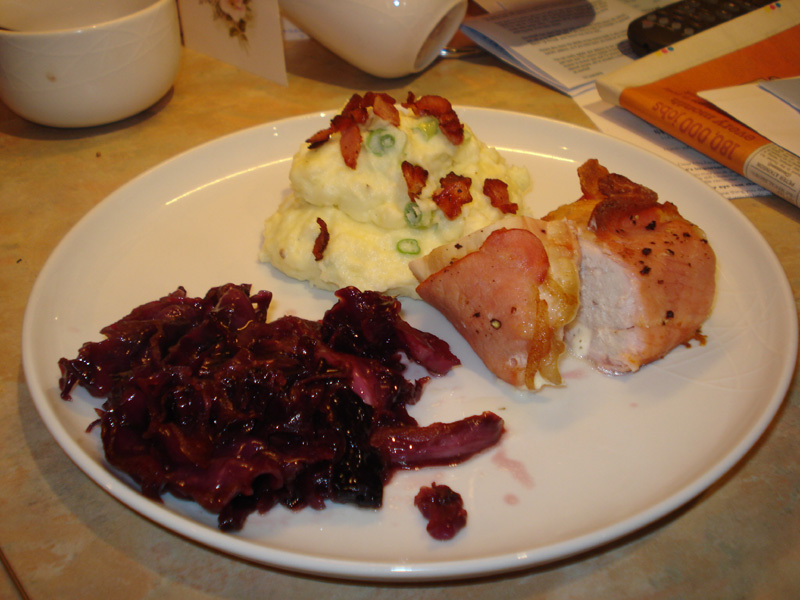 Last week I watched a great series from the wonderful Hardeep Singh Kohli, Chefs and the City, where norms bring their signature dish to battle against a pro chef. One guy lost in a brazen fashion, daring to take on a French chef at something right up their street. He was destroyed, but there was something promising in his quail wrapped in bacon. I decided to adapt it to my own means.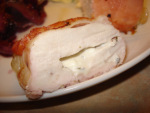 I started with chicken breasts, skin-on, seasoned well. I then lifted the fillet and filled with a generous splurge of garlic Philadelphia before folding back over. Then the whole breast was wrapped in two pieces of bacon, seasoned again and brushed with olive oil. On a baking tray it went, into a 180 oven for about half an hour til golden brown. I made sure it rested for at least five mins before serving.
The red cabbage was proper rich: butter, brown sugar and red wine vinegar melted together then poured over the shredded cabbage and bunged in the oven.
Meanwhile, some excessive mash: potatoes boiled to tenderness of course, but on the side I was allowing some leftover double cream to infuse on a gentle heat with half an onion, some nutmeg and some peppercorns. When the potatoes were ready and drained I added butter and some of the cream, then whipped the potatoes with a fork (smoother paste through the tines you see) until they were slick and floury. I chucked in some spring onions for good measure, to give some acidity through the richness. I couldn't resist adding a few fried crispy bacon bits on top for fun.
I sliced the chicken on the diagonal and plated it up – admittedly I wish I'd served it with a little more thought so it wasn't three dollops of things, but it was one of the best things I've ever made. Really top-grade stuff.