churros with hot chocolate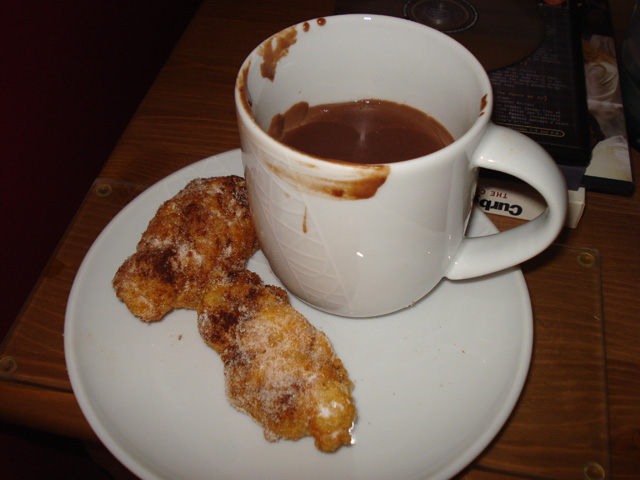 This was another foray into Jamie's America
. Sticking with the Navajo theme, the idea of little balls of fried batter with hot chocolate for dipping was too much to resist. Churro comes from the breed of lamb that the Navajo farm, and the dumplings are supposed to be shaped like sheep's horns!
It starts with butter and water boiled together and then flour added with baking powder and salt, with an egg beaten in to bind. That's your batter made. This was then deep fried for 3 minutes until puffy and brown, then tossed in cinnamon and caster sugar for sweet-spicy flavour. The chocolate was made with boiling full-fat milk and cinnamon, mixed with a little cornflour and sugar until thickened. When it was the right consistency I added chopped dark chocolate and whisked like billy-o until I had a gloopy sweet sauce.
My gripes were three-fold: the chocolate while tasty was too thick and unctuous. It was more like chocolate custard. Next time I might forgo some of the cornflour. Also, the churros were a little doughy in the centre – I tried making smaller ones but the problem was still the same. I'd probably aim for something more like a doughnut recipe next time to get a lighter filling. Thirdly I used nearly every pan in the house! There's so many things happening concurrently I needed pots and pans galore. (And therefore washing-up galore – ugh).
That said, it was very tasty and pushed lots of sweet / rich buttons, and I can really imagine this being a hit on bonfire night when everyone's wrapped up warm, or possibly Christmas time as a fun snack. I'll bring this one out again – with a few modifications.