cold sesame noodles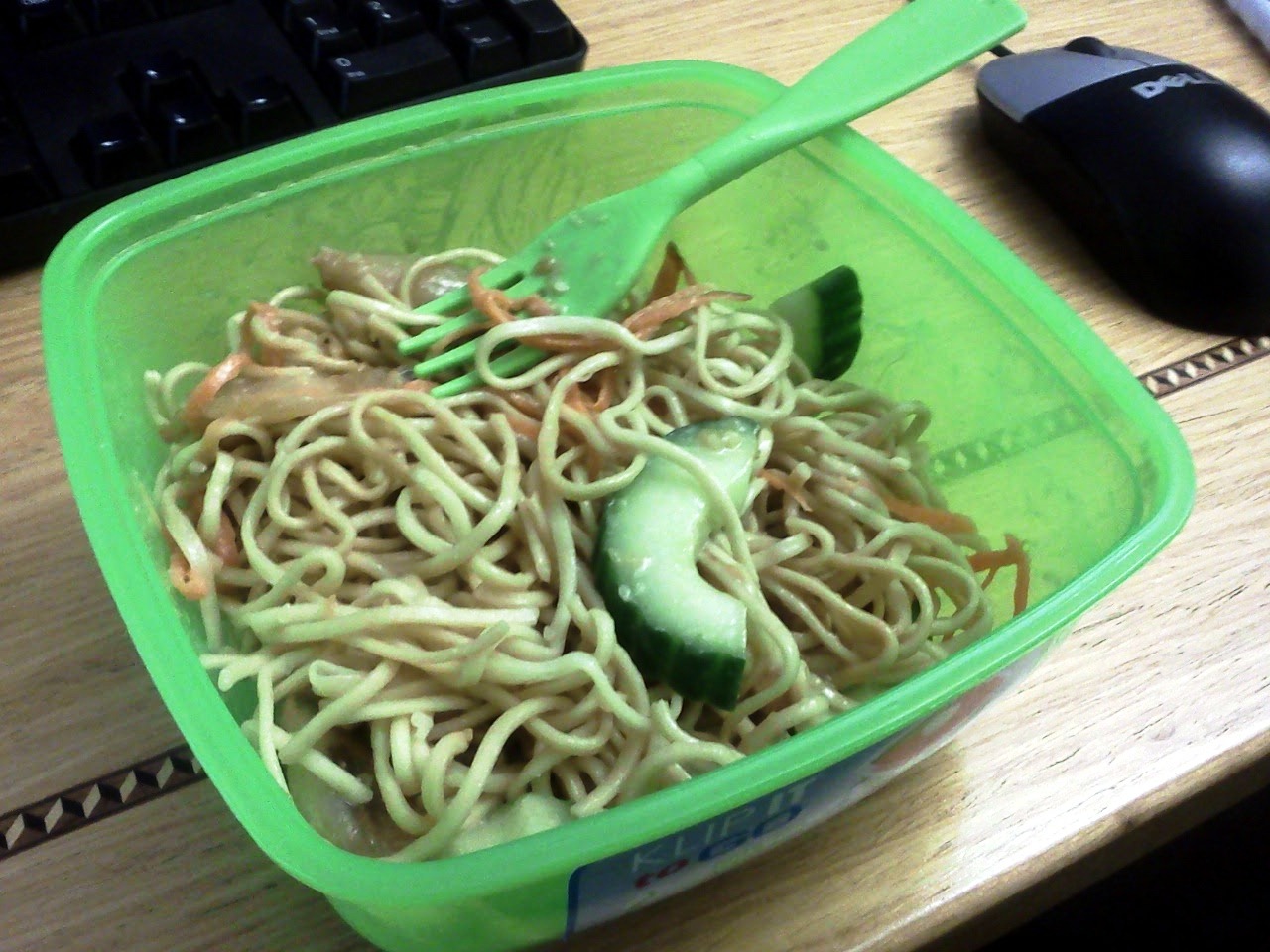 In my most recent monthly roundup, looking at my favourite food posts of the last month, I highlighted Helen Graves's cold sesame noodles as one I definitely wanted to try. It struck me as a perfect lunch, so I made it the night before for the next day's al desko treat (see, there's a mouse and keyboard in the picture and everything).
I made a few tweaks based on my store cupboard. I gave the veg a light pickling to provide a tangy edge, as I was fresh out of pickled mango (not an ingredient I am familiar with). I ended up with a salty, sweet, savoury, crunchy yummy pot of noodles. I transport mine in a snazzy Sistema lunchbox where the dressing, noodles and veg can be separated from each other until the perfect moment. Much more interesting than a flabby cheese sandwich.
Cold sesame noodles (serves 2):
½ cucumber
1 large carrot
1 tablespoon white wine vinegar
Pinch of sugar
2 roasted onions, roughly chopped
2 dried noodle nests
1 teaspoon ginger
1 clove garlic, crushed
1 large heaped tablespoon peanut butter
1 tablespoon soy sauce
1 teaspoon sesame oil
1 teaspoon spiced rice vinegar
Pinch of chilli flakes
A shake of sesame seeds
Halve the cucumber lengthways and use a teaspoon to scoop out the seeds. Cut at an angle to get little 1cm-wide bridge shapes. Grate the carrot into the cucumber, splash over the vinegar and add a pinch each of sugar and salt. Toss gently and allow to macerate while you get on with everything else.
Bring a pan of water to the boil and cook the noodles according to the packet instructions. Drain and rinse the noodles thoroughly with cold water.
While the noodles cook, combine the rest of the ingredients in a bowl. Add water if necessary to make a runny dressing. When you're ready to eat combine the lot and wolf down! (Warning: wear a napkin tucked into your collar).